News > Spokane
Spokane massage parlors under investigation for prostitution, human trafficking
Mon., July 16, 2018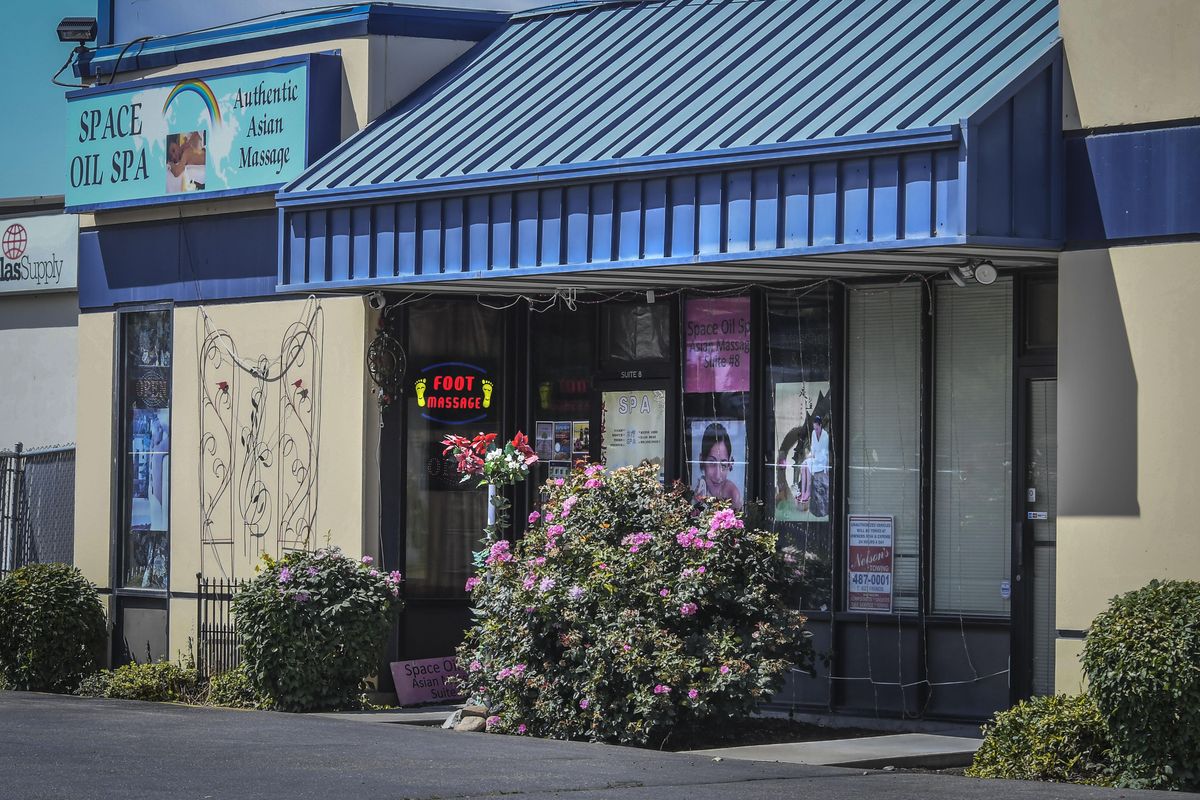 The owner of Space Oil Spa in Spokane Valley is accused of running a sex trafficking/prostitution ring. (Dan Pelle / The Spokesman-Review)
A pair of Spokane-area massage parlors employing only Chinese workers is under investigation on suspicion of promoting prostitution, human trafficking, practicing without a license and money laundering.
In a search warrant filed Monday in Spokane County Superior Court, investigators with Homeland Security and the Washington State Patrol describe an atmosphere at Crystal Sea Massage in north Spokane and Space Oil Massage in Spokane Valley where masseuses from China who speak little-to-no English are required to petition customers for sexual activity.
On Thursday, an undercover agent with Homeland Security paid for an hour-long massage at Space Oil, where a woman in a tight red dress with bra straps visible on the sides touched his genitals multiple times and asked if he was "interested."
He also noted she spoke no English and communicated through a translation app on her phone.
Kelan D. Johnson, who has owned the parlors since the beginning of the year and later opened 3 Piers Oil Spa on Division Street in June, denied the allegations. He has not been arrested or charged with a crime.
"Those guys are the sneakiest criminals there are," he said of the federal investigators.
Johnson said that on Thursday night, after the Homeland Security officer was finished with his undercover investigation, a team of law enforcement officers raided the Spokane Valley location and took piles of cash, receipts and daily log books as evidence. They didn't close the place down, however, and told him he could open up the following day.
Johnson said neither he nor his wife, a Chinese woman he married in the beginning of the year, directed any of his masseuses to perform sexual favors for cash.
Court documents allege area law enforcement have received multiple complaints from customers reporting prostitution and forced sex.
In April, court records say the FBI received anonymous reports that a client was told by a female masseuse that she was "forced to perform sex acts and wanted him tell authorities."
Days later, the agent found an ad for the Space Oil parlor on backpage.com, a classified advertising website known for promoting prostitution that was shut down in April by federal authorities. When he arrived, according to records, a female approached him and reportedly said "for sex it will be more money." She also told him the owners of the shop were "forcing" the ladies to prostitute themselves and that she wanted him to call authorities.
Johnson said over the phone that his wife was heavily involved in hiring the Chinese women. He said she used a Chinese multipurpose messaging website and app called WeChat to connect with the women who would arrive from California once they received their license.
He denied making posts on backpage.com. He also denied linking his parlors to a website called adultlook.com, where clients can apparently hire escort services, according to the website's home page.
"Somebody has drug that Google site of ours over on to that page," he said. "I'm sitting there explaining to these cops, if you were real investigators, you would see that."
Johnson said his businesses have a strict policy on not allowing sexual acts. And if customers request them, they're to be kicked out and aked to never return.
"I've got signs posted in every room," he said. "Signs posted in the office. They've got their house rules posted in the lobby. It says 'no sex, no harassment, no touching.' We have the right to refuse service to anyone. We will call the law. It's posted everywhere in there."
As of Monday, Johnson said all three parlors are open as usual. On average, he speculated he receives about 500 customers a day between the three. Most are men.
About 95 percent of them are good people, Johnson said. The remaining few are those who cause the problems and may be behind the controversy surrounding his parlors.
"Five percent think it's a trashy Chinese parlor," he said. "It's that 5 percent we struggle with."
Local journalism is essential.
Give directly to The Spokesman-Review's Northwest Passages community forums series -- which helps to offset the costs of several reporter and editor positions at the newspaper -- by using the easy options below. Gifts processed in this system are not tax deductible, but are predominately used to help meet the local financial requirements needed to receive national matching-grant funds.
Subscribe now to get breaking news alerts in your email inbox
Get breaking news delivered to your inbox as it happens.
---