Ad watch: Latest attack ads against Brown make questionable claims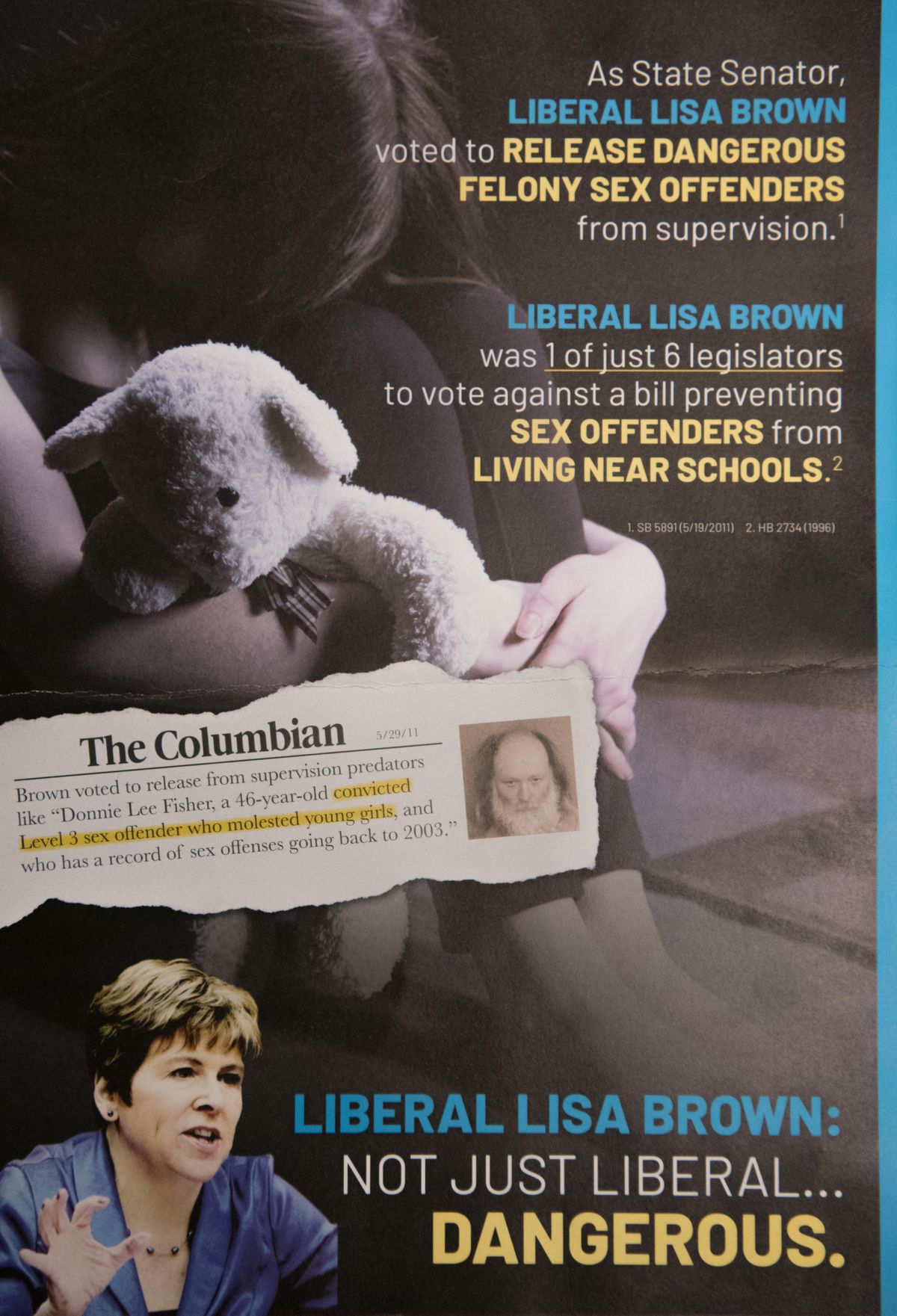 Rep. Cathy McMorris Rodgers and the state Republican Party are stepping up attacks on Democratic challenger Lisa Brown with a mailer that suggests the former state legislator is soft on sexual predators and a newspaper ad that she claims credit where it's not due.
They rely on selective interpretations of legislative history and questionable claims.
A mailer from McMorris Rodgers' campaign claims Brown "chose to protect dangerous sex offenders instead of our children" in two votes she took as a legislator. One side of the mailer features a sinister shot through the legs of a man with a teddy bear on the floor. The other side features a small child clutching a stuffed animal, a shot of Brown and what seems to be a criticism of her in a snippet from a news account in the Vancouver Columbian.
An ad in today's Spokesman-Review sponsored by the state GOP accuses Brown of "taking credit for things she didn't do," challenging campaign ads that cite her work on establishing the new medical school at Washington State University-Spokane and questioning her role in the construction of the north-south freeway.
The mailer relies on selective interpretations of bills that either failed or changed in the legislative process.
By supporting Senate Bill 5891 in 2011, the mailer claims, Brown "voted to release felony sex offenders from supervision." It also repeats a claim, aired in an earlier ad, that in 1996 she voted "against a bill preventing sex offenders from living near schools."
The 2011 bill was a revision to the way the Department of Corrections supervised offenders after they were released from prison. It changed the way the state would calculate the amount of time they must be supervised if they wind up in county jail for offenses or parole violations.
The bill made specific exceptions for sex offenders that kept them under supervision longer if they were placed in county jail "for any reason."
Brown was one of 29 senators – mostly Democrats but a few Republicans, including Sen. Mark Schoesler, of Ritzville – who voted for the early version of that bill. When the bill went to the House, money was added to the budget and a provision that allowed supervision to last more than one year was added. Brown and Schoesler were among 26 senators who voted for the amended version, and it became law.
The mailer also features text under the logo of the Columbian, implying through the selective use of quotation marks that she was criticized for the vote. A grainy mug shot of a convicted sex offender stares out from what appears to be a piece of newsprint torn from the May 29, 2011, edition.
"Brown voted to release from supervision predators like 'Donnie Lee Fisher, a 46-year-old convicted Level 3 sex offender who molested young girls and who has a record of sex offenses going back to 2003,' " the mailer says. The quotation marks in the ad are only around the part of the sentence beginning with Fisher's name and ending with the year, a fragmentary excerpt from a long article about the 2011 legislation.
In fact, Brown isn't mentioned in that news story and Fisher isn't named in the legislation. A Vancouver community corrections officer who lobbied for changes to the bill mentioned Fisher as someone who could have been affected by the early version of the bill because he recently had been released from county jail and was being monitored by city, county and state law enforcement. The mug shot didn't run with the story, and is actually more recent so it shows him older than he was in 2011. The corrections officer also said the final version of the bill was improved.
As previously reported, Brown was one of only six House members to vote against a 1996 bill that would have required sex offenders in community placement or community service programs after release from prison to live at least a quarter-mile from a school, college or university. Brown said she considered the bill a poorly worded "political stunt," and said it should have included preschools. That bill never got a vote in the Senate, and didn't become law. In 2005, she voted for a bill that established "community protection zones" that prohibit sex offenders from living within 880 feet of a school.
The state GOP newspaper ad quotes two Republican senators taking issue with Brown's role in major initiatives for Spokane.
Sen. Mike Baumgartner, of Spokane, contends Brown can't claim credit for bringing the medical school to Spokane because she left the Legislature at the end of 2012 and "we passed the medical school bill in 2015."
Brown participated, he says in the ad. "The person most responsible was, of course, Elson Floyd … Brown is in no way the primary force that she claims."
Baumgartner is right on his timing, but wrong on statements Brown makes in her campaign ads – although a viewer of her video ads might think that was the claim because of the way the 30-second ad is constructed.
Brown's written campaign ads describe her work on the medical school as WSU-Spokane chancellor, contending she "built a coalition and led the creation of a new medical school for Eastern Washington." One video ad talks about her work in the Legislature, then quotes someone as saying "she has brought a medical school to Eastern Washington" while the screen shows boxes checked for Senate Leader, Experience Across Party Lines and Medical School. A viewer could easily infer that those three things are all connected.
There is little debate that Floyd, the late president of WSU, was the person who lobbied hardest for the medical school, as Baumgartner said. But he was also the person who tapped Brown for chancellor of the Spokane branch campus as those plans were being formulated. This was after Brown, as Senate majority leader, had helped secure funding for what would become a major building block for the new medical school, the Biomedical and Sciences Building at Riverpoint. In 2011, then-Gov. Chris Gregoire's initial capital budget did not include money for that building; the Senate, where Brown was majority leader, and House both put the project in their budget proposal and protected the second year's funding in 2012.
When Floyd later pitched an independent medical school separate from the University of Washington program in Spokane, Brown helped lobby the Legislature for that and continued to move the project forward when Floyd died in 2015 shortly after it was approved, until she stepped down in 2017.
The state GOP ad also contends Brown "has no reason at all to take credit for funding the North-South corridor" and quotes Schoesler as saying a gas tax that passed while Brown was majority leader "put a lot of money into Seattle and put very little money" into the freeway.
Schoesler is right that the 2005 bill, which raised the gasoline tax by 9.5 cents over four years to pay for major highway projects, was heavily weighted in favor of Western Washington projects. Of the $2 billion it was projected to raise its first six years, only about $150 million was scheduled for the freeway. Brown voted for it, Schoesler voted against it.
But the freeway is a decadeslong project, and just two years earlier, when a 5-cent-per-gallon tax increase was approved, it also had money for the north-south freeway. Brown voted for that bill; Schoesler voted against it.
Schoesler is correct the gas tax increase approved in 2015, when Republicans controlled the Senate, had more money for the freeway, although by that time Brown was no longer in the Legislature. That bill passed with bipartisan support, including Schoesler's, although the only no votes came from Republicans.
Editor's note: An earlier version of this story incorrectly described the size of the ad paid for by the state Republican Party in Friday's print edition of The Spokesman-Review. The story was changed on Friday, July 27, 2018 to correct the error.
---