News > Spokane
100 years ago today in Spokane: Woman forced to register as German alien was born in Chicago cemetery
UPDATED: Wed., June 20, 2018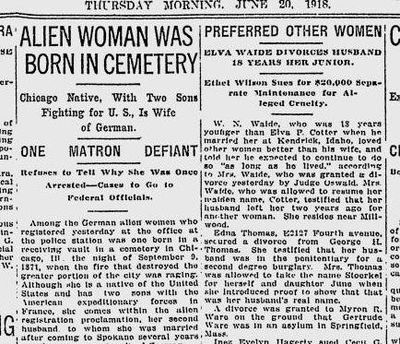 A Spokane woman who was forced to register as a German alien said that she was not born in Germany – but in a Chicago cemetery, under highly dramatic circumstances.
She told the registration board that she was born in 1871 during the night of the infamous Chicago Fire. Her father was away at work and the fire began to ravage her family's neighborhood, so her mother, a Scotswoman, went to the only place she thought would be a haven from the flames – a nearby cemetery. She carried with her a feather mattress, because of her condition. There, in the cemetery, her mother went into labor and was "taken by other refugees into the receiving vault, where she gave birth to twins." Her mother and her twin died, but she survived.
The sexton kept her alive with "water sweetened with sugar" until her father came to the cemetery, searching for his family. He found only his newborn daughter alive.
Her father raised her, but he died a few years later and she was raised by friends. She married and had two sons, both of whom were now fighting for the U.S. in France. Later, she married a second time, to a German subject.
"And now I find myself, a native born woman, the mother of two soldiers, being compelled to register as an enemy of my country," she declared, with obvious resentment.
Local journalism is essential.
Give directly to The Spokesman-Review's Northwest Passages community forums series -- which helps to offset the costs of several reporter and editor positions at the newspaper -- by using the easy options below. Gifts processed in this system are not tax deductible, but are predominately used to help meet the local financial requirements needed to receive national matching-grant funds.
Subscribe now to get breaking news alerts in your email inbox
Get breaking news delivered to your inbox as it happens.
---