News > Spokane
Athletics and art collide: Cirque de Soleil's 'Crystal' brings glittering talent
May 3, 2018 Updated Thu., May 3, 2018 at 5:49 p.m.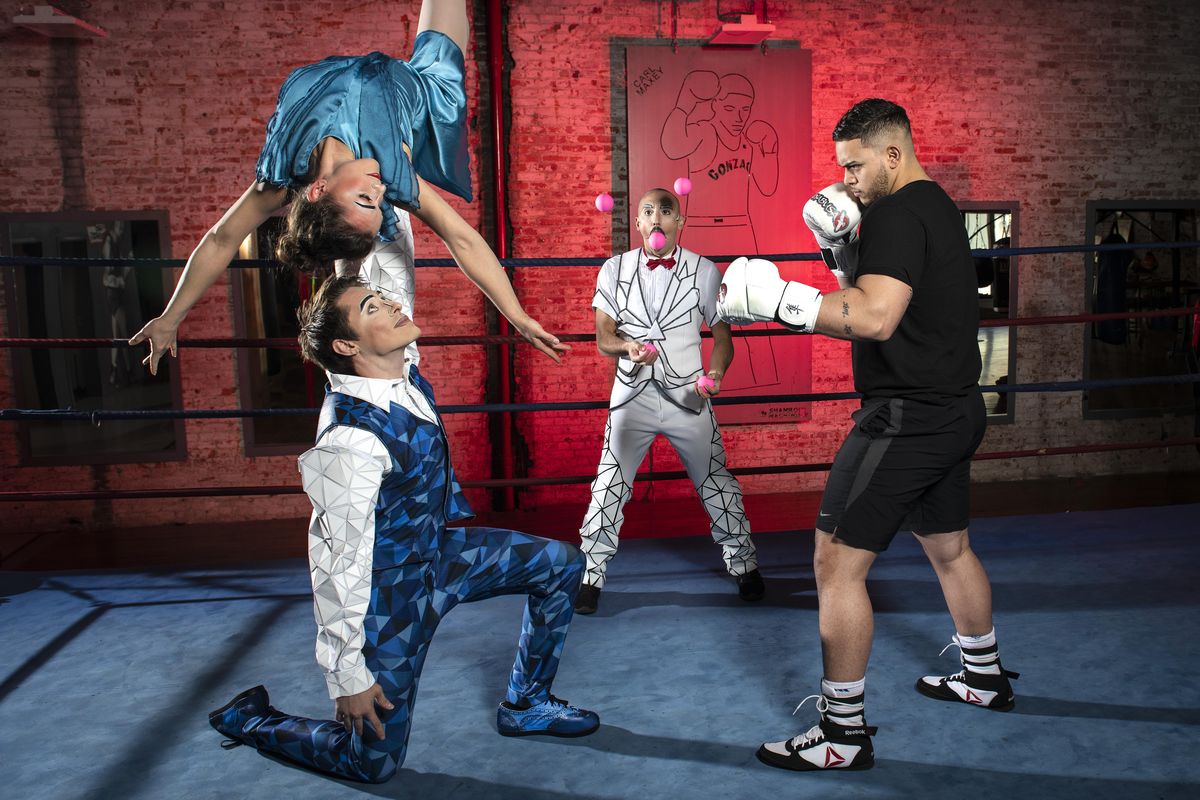 Cirque du Soleil Crystal performers, acrobat Harley McLeish, acrobat Anne Marie Godin and juggler Jorge Petit join boxer Damian Coger in the ring at the Spokane Boxing Gym, on Wednesday, May 2, 2018. (Colin Mulvany / The Spokesman-Review)Buy a print of this photo
There's no way, thought Nobahar Dadui.
The skater and gymnast had just gotten a message from Cirque du Soleil asking her to come to a workshop in Montreal to audition for a new show called "Crystal."
"I just took it with a grain of salt," she said.
Dadui, 29, was born in Iran and moved to Toronto at age 4. Even at that early age, she said, her dad already had determined she'd become an Olympic skater. "Before I was born, my dad basically knew I was going to be a figure skater. He already called it, and my mom was like, 'You're crazy.' "
"But it happened," she said.
Dadui is now the lead role in Cirque du Soleil's "Crystal," playing at Spokane Veterans Memorial Arena through Sunday. It's the first show that the world-renowned company has made specifically for the ice.
"Crystal" publicist Julie Desmarais said ice influenced nearly everything in the show, including the storyline and the performance. "But we also wanted the disciplines of skating and acrobatics to blend," she said.
Decked out in elaborate costumes, performers skate, dance, juggle, play music and fly through the air over the course of the show's 12 scenes.
Dadui showed up to the "Crystal" workshop in Montreal with a lengthy resume. She had done gymnastics and skating for 12 years, she said, "eight hours of training a day, six days a week."
"It was kind of just almost surreal," she said of the interview. She told herself, "I'll take it every moment as it comes."
Dadui got the lead, playing the character of Crystal. Her favorite part about the role: "I get to take audience members away for their lives for about two hours," she said.
A total of 40 artists perform in "Crystal." They come from 11 countries and include 15 skaters.
But it isn't all fun and games for Dadui. Her performance requires a level of acting that she said is emotionally exhausting. She said sometimes she exits the stage and her friends will tell her, "You look so sad," to which Dadui responds, "Crystal, my character, just went through an emotional roller coaster."
That level of method acting wears on her, she said. To cope, she turns to exercise, meditation or simply watching a movie – just to center herself "and come back to Nobahar's reality," she said.
The Spokesman-Review
But while the show, and touring, take a toll, she said she is fueled by the chance to make her audience feel something.
"If they feel something from you, that means you've done something," she said.
Dadui had to learn how to scuba dive for a scene that's projected on the elaborate cliff-like stage with ramps jutting out the sides. "The stage was designed to resemble a pinball game," Desmarais said.
Desmarais said the show's development was so unique that workers had to make special shoes for running and tumbling on ice safely, and they had to make special gloves that would adhere to ice. "These challenges became opportunities," she said. Specially crafted juggling balls bounce well on the cold surface of the ice, and ramps carry air compression systems, which allow them to stick the ice to stay in place.
The life span of a Cirque du Soleil show can be up to five years, said Desmarais, but it depends on demand.
"Just follow the story," Dadui said, "and let Crystal take you on a little journey."
Local journalism is essential.
Give directly to The Spokesman-Review's Northwest Passages community forums series -- which helps to offset the costs of several reporter and editor positions at the newspaper -- by using the easy options below. Gifts processed in this system are not tax deductible, but are predominately used to help meet the local financial requirements needed to receive national matching-grant funds.
Subscribe now to get breaking news alerts in your email inbox
Get breaking news delivered to your inbox as it happens.
---