Surging northern pike population in Lake Roosevelt could threaten salmon, steelhead downstream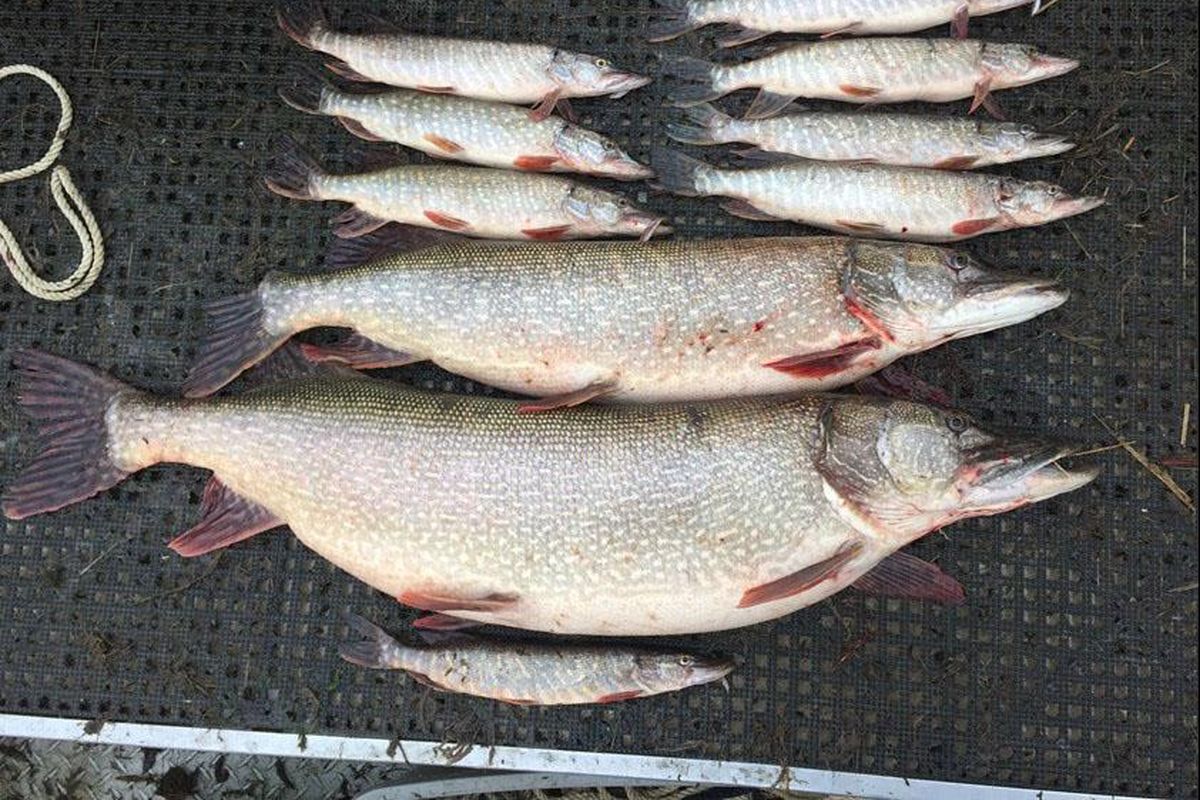 In most ways, heavy mountain snowpacks are positive.
Melting snow brings much-needed water to farmers and recreationists alike. It protects against forest fires and replenishes watersheds.
But in at least one way, the flood of water can do harm by carrying undesirable interlopers downstream – northern pike.
Raging rivers flush the invasive predatory fish over Montana dams and into Idaho and Washington waterways. That's how biologists believe the fish were first introduced to Washington waters in the 1990s.
With this year's deep snowpack and swollen rivers, more pike will likely come to Washington, exacerbating an already serious problem.
"Well, I think over time northern pike in Lake Roosevelt will wipe out all the trout," said Chris Donley, the Washington Department of Fish and Wildlife's Eastern Region fish program manager. "That's how serious a problem it is."
What's more, if the fish make it farther down the Columbia River system, they could decimate an already struggling salmon population.
"They've demonstrated that they can collapse a salmon fishery in a manner of a couple decades," said Nick Bean, fisheries conservation program manager for the Kalispel Tribe.
Despite Donley's dire prediction, he believes there are ways the fish can be suppressed. But it will take money and decisive action.
"I would say no, we're not at this point being successful," he said of current suppression efforts. "We don't currently have enough money or staff to be effective at controlling the overall number of pike in Lake Roosevelt.
"We've invested billions into salmon and steelhead recovery. (Pike) are capable of eating adult sockeye and adult steelhead when they get to size. It could be problematic."
The vicious-looking fish were the topic of a well-attended session at the 2018 Lake Roosevelt Forum in Spokane on April 24.
Two biologists from Alaska spoke about using chemicals and gillnetting to successfully control northern pike populations. They also gave words of warning, noting that Alaskan officials delayed suppressing the pike populations. The pike decimated some salmon fisheries.
"Knowing now what we know now in the state of Alaska, we would not have waited decades to get on this problem," said Kristine Dunker, an invasive species biologist with the Alaska Department of Fish and Game. "Get on this early. Figure out what your resources are. Figure out your plan."
Since 2015, tribal and state mangers of Lake Roosevelt have been actively suppressing pike, but much of the funding is grant-based, lasting only a year or two.
WDFW spends between $60,000 and $80,000 per year on pike suppression. Donley estimates that to be effective, WDFW would need to spend about $400,000.
According to the Columbia Basins Fish and Wildlife News Bulletin, Roosevelt lake managers anticipate spending more than $1 million a year on removing northern pike.
Some of that money comes from the Bonneville Power Administration's fish and wildlife division. BPA is considering a request made by lake managers to increase funding and commit to a four- or five-year suppression program. Previously, BPA has funded pilot studies for a year or two.
As part of that process, the current pike suppression efforts have been reviewed by a panel of scientists.
The Independent Scientific Review Panel for the Northwest Power & Conservation Council was skeptical about the effectiveness of suppression efforts in an April analysis. The ISRP also questioned whether pike were any more dangerous to native species than walleye and smallmouth bass.
The analysis has been sent to the council. The council will make a recommendation on whether to provide more funding for pike suppression efforts, said David Wilson, a spokesman for the BPA.
Peter Lofy, a supervisor for BPA's fish and wildlife department, said the pike are a concern. What isn't clear is how pike will do farther downstream. Lofy believes it's important that tribes and WDFW have enough funding and resources to keep the current pike population in check.
The Scientific Review Panel analysis approached the issue scientifically and carefully, Lofy said. Regardless of the scope of the issue, something has to be done, he said.
Although northern pike are relatively new to Lake Roosevelt, they've been in the region for decades.
In the 1970s, the fish were found in Lake Coeur d'Alene and the Upper Spokane River. By 2004, they'd made their way into the Pend Oreille River.
The invasion of northern pike originated from illegal introductions in Montana. The pike found their way down the Flathead River and into the Clark Fork. By the early 2000s, they were finding ideal habitat in the Box Canyon Reservoir reach of the Pend Oreille River.
The pike were spawning and booming by 2010. The Kalispel Tribe and WDFW biologists worked several years developing methods for gillnetting the pike in mass numbers, which started in 2012.
The program was successful to a degree, but some pike continued downstream and into British Columbia where the Pend Oreille flows into the Columbia.
Bean, the Kalispel biologist, said when they started suppressing pike in the Pend Oreille River, they would gillnet seven days a week from March through June.
"For us, it took two or three solid years of intensive labor to get the population to the point where we were getting ahead of the curve," he said. "We were really close to losing control in the early years, I think. Because the population spiked so quickly … similar to what they're doing in Lake Roosevelt."
Managing pike in the river has become much easier. In 2018, officials killed 127 pike in the Boundary Reservoir. During the first two years of the suppression program, Bean estimates the Kalispel Tribe and WDFW officials killed about 10,000 pike.
By 2011, biologists were catching pike regularly in the northern parts of the Lake Roosevelt reservoir. In 2017, northern pike were confirmed as far downstream as Hunters, Washington.
Donley said no one knows how many of the fish are in the lake, but he estimates it's in the tens of thousands.
It might be too late to prevent the downstream spread, Donley said. Whether that's the case, he emphasizes that Lake Roosevelt managers still need funding to keep pike from ravaging native fish species in the lake.
"I think everybody takes it very seriously and understands that they could be quite damaging to salmon and steelhead recovery," he said. "But nobody has taken it seriously enough, yet, to invest the amount of money that it takes to control the problem."
---