State 1A, 2B, 1B boys track and field: Lakeside's Zach Annanie claims third straight javelin title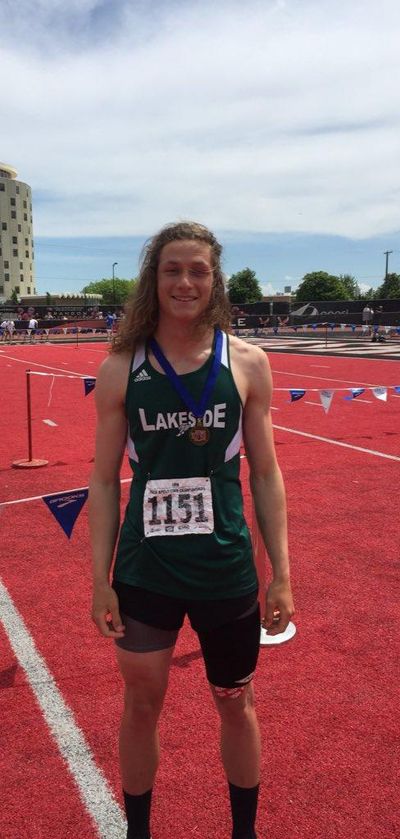 The end to the day wasn't as good as the start for Zach Annanie on Friday.
The Lakeside senior wasn't overly disappointed, though.
Annanie captured the state championship he desired even if his pursuit for another didn't get off the ground.
He tossed the javelin 195 feet, 3 inches to capture his third straight State 1A championship during the second of three days of the State 1A, 2B and 1B meets at Eastern Washington University in Cheney.
Annanie long had the state title wrapped up. But as has been his wont, he saved his best for last with his final throw.
"Maybe I just get to the last (throw) and I'm not happy with the rest," Annanie said, trying to find an explanation. "Or maybe I just more relaxed."
Annanie was hoping to break his school record (203-1). He gave it a good try on his last throw in the prelims when he heaved the spear more than 200 feet. But he threw it out of the sector.
"It felt really nice, smooth," Annanie said.
Annanie gave credit to his coaches.
"I've been lucky to be around my great coaches," he said. "I wanted to beat my PR. I'm happy and disappointed, but I still won so I can't be too disappointed."
Annanie would be disappointed later.
Nearly six hours after the javelin, Annanie took his first attempts in the pole vault. Third a year ago, Annanie wanted to win.
But he didn't clear his opening height, 13-6.
He's been nagged by an injured left thigh, and the injury has limited his practice time.
Annanie didn't use his injury as an excuse.
"I just couldn't get the standards right," he said. "I really wanted to do something in the javelin. The pole vault was my second event. I'm not heart broken."
His coach said the injury limited him all season. Annanie started the year strong, going 14-4 and hitting a personal best 14-6.
"It'd be scary to see what he could have done with a healthy leg," Lakeside assistant Paul Huffman said.
Annanie's teammate, Anthony Sylvester, took second in the pole vault, clearing 14-0, an inch shy of a personal best he set last week. It was his first trip to state.
"I was hoping to get at least second," Sylvester said. "I felt pretty good, pretty confident."
Zach Trumble of Freeman took second in the discus with a throw of 159-5.
2B
The best showing by a local athlete was from Charlie Andrews of Kettle Falls.
Andrews took second in the high jump with a vault of 6-2.
1B
Oakesdale sophomore Matt Hockett didn't know what to expect.
He missed the first third of the season recovering from a fractured foot suffered in basketball.
Hockett started throwing the javelin in early April.
A state qualifier as a freshman when he took seventh, Hockett's form returned to him quickly.
He captured a state title with a throw of 175-8, a personal best by five feet.
"It feels pretty good," Hockett said.
Prelims and qualifying for all the races were held Friday.
The balance of the field events will take place Saturday along with all the racing finals.
---