Sports > Gonzaga basketball
Live updates: Gonzaga offense comes to life in second half in 94-71 rout of Texas A&M
Nov. 15, 2018 Updated Thu., Nov. 15, 2018 at 10:45 p.m.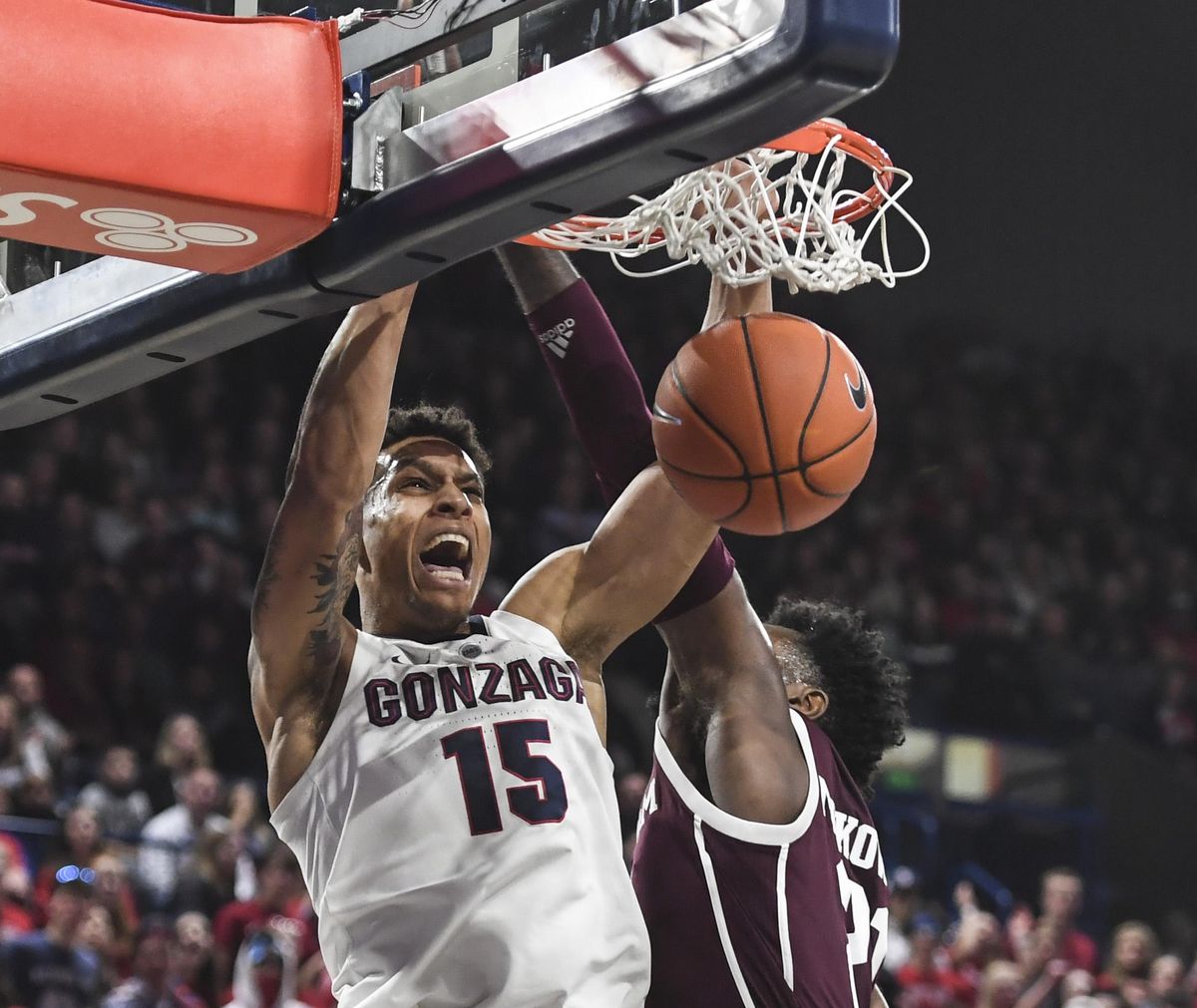 Gonzaga forward Brandon Clarke slams over Texas A&M forward Christian Mekowulu on Thursday in the McCarthey Athletic Center. (Dan Pelle / The Spokesman-Review)
Follow along here for updates and analysis as the Gonzaga Bulldogs host the Texas A&M Aggies at McCarthey Athletic Center in Spokane. You can watch the game on ESPN2.
Second half
Final – Gonzaga 74, Texas A&M 71: Reserves see this one through as Gonzaga cruises to a 3-0 start.
3:47 – Gonzaga 90, Texas A&M 58: Bulldogs just toying with the outmatched Aggies now as a double-digit pass sequence leads to an uncontested layup for Brandon Clarke.
Again, credit A&M for sticking with GU for the first 15 minutes or so, but this is a team that is trying to find its identity after a mass departure this offseason.
Josh Perkins getting it done again from the point as he's up to six assists and three steals. GU has 16 assists on its 31 makes.
GU starters get more of a runout than expected with this kind of lead, but with tough tests awaiting on the island, it's doubtful Few will go too deep into his bench over the next week.
Perkins and Hachimura the first starters to finally take a seat with five minutes remaining, followed shortly by Zach Norvell, Corey Kispert and Clarke. Norvell finishes the night with a team-best 22 points.
8:05 – Gonzaga 77, Texas A&M 51: Rout is on in the Kennel as Gonzaga's offense once again overcomes a less-than-stellar start and sprints toward the finish line.
Geno Crandall joins the pack of Bulldogs in double figures with 10 points, while Kispert and Petrusev sit at eight apiece.
Gonzaga also nearing the 50 percent mark from the floor.
Rui Hachimura still leading the well-balanced Bulldogs with 18 points on 7 of 11 shooting.
Brandon Clarke also gets his double-double as he has 10 points and a game-high 11 rebounds.
Goal is keeping the bodies healthy now before a long flight to Hawaii and the Maui Invitational
11:42 – Gonzaga 64, Texas A&M 45: Brandon Clarke is cleared for liftoff as he throws down a massive two-handed slam off a steal to get to double figures. He's now at 10 points and eight rebounds.
Corey Kispert also nearing double figures for the Zags with eight points.
It's been a dominant display by GU so far this half, completely shutting down the Aggies. Unfortunately, this one might crawl to the finish as Gonzaga is already in the bonus against a foul-happy Aggies team.
GU now shooting 46 percent overall and 31.3 percent from deep. A&M at 37.5 percent overall and just 25 percent from range.
Bulldogs have also turned A&M over 10 times. Zags barely winning the battle on the baords (32-31)
15:47 – Gonzaga 54, Texas A&M 37: Brandon Clarke is a force on the glass for Gonzaga. His seventh board of the game leads to an easy put-back bucket after a Josh Perkins miss. Clarke has eight rebounds so far.
He then uses his defensive prowess with redirect a shot and block two more on the same A&M possession. Stat sheet shows him with only two blocks, but he's played a part in several more A&M misses.
Fouls late in possessions really slowing the offensive flow so far, but the Zags are doing a great job of picking when to attack, while the Aggies are trying to force difficult looks.
Zags finish the opening minutes on an 11-2 run, capped by a beautiful rebound and baseline spin bucket for Zach Norvell Jr., who gets fouled on top of the make. He's at 15 points and will go to the line after the media break.
First half
Halftime – Gonzaga 43, Texas A&M 33: Zags lock down on the defensive end as A&M goes nearly 3:30 without scoring.
Milestone is also hit as Perkins dishes out his 500th career assist. He quickly makes it 501 on a Norvell 3-pointer as GU slowly puts some separation between itself and the Aggies.
Hachimura (13 points) is the first GU player into double figures on the night, but Norvell matches that mark with a pair of triples.
Gonzaga finishes the half shooting 41.7 percent overall and 26.7 percent from deep. A&M at 36.4 percent overall and 37.5 from 3-point range. GU with nine assists to two turnovers, while the Aggies have five assists and seven turnovers.
Zags lead 20-16 in points in the paint and 8-2 in points off turnovers.
Clarke with six rebounds for GU, while Perkins is up to four assists and a steal. Two blocks apiece for Kispert and Petrusev, who also has four boards.
Starks leading Texas A&M with a game-high 14 points and three assists, while Christian Mekowulu has six rebounds.
3:38 – Gonzaga 32, Texas A&M 28: Texas A&M creeps back to within a score, but the Zags answer back with a fantastic series. Starting on the defensive end with a big Kispert block and ending with a Norvell one-handed slam to get the advantage back to four.
Norvell up to seven points, while Hachimura has eight.
A&M not giving up yet though, as Starks is having himself quite the half. The speedy guard is up to 12 points and three assists.
GU also struggling to find its range from deep so far, shooting just 16.7 percent (2-12) from 3-point range.
Aggies have every right to be upset about not leading in this one. Seven fouls and seven turnovers hurting the visitors.
7:54 – Gonzaga 24, Texas A&M 19: Both offenses playing a little frantic so far, but credit that to the defenses – both of which are very long and very athletic.
Bulldogs shooting just 34.8 percent from the floor so far, while holding the Aggies to 35 percent overall.
Zags benefiting greatly from some A&M mental mistakes. The Aggies have already been called twice for goaltending while slapping the backboard on GU misses.
Gonzaga forces another A&M turnover, its sixth of the game. Aggies also up to seven fouls, putting GU in the bonus for the rest of the half.
11:14 – Gonzaga 16, Texas A&M 14: Bulldogs keep with their trend of early subs as Geno Crandall and Filip Petrusev check into the game for the first time. Petrusev makes an immediate impact on defense, forcing a pair of A&M turnovers, and on offense with two boards.
Speaking of defense, Clarke gets his first block of the game with a nice swat on A&M's TJ Starks.
Quick break in the game as the refs take a look at a possible hit to the head of Gonzaga's Josh Perkins, but no flagrant is assessed.
Starks with a strong take to cut the GU lead to three, but Corey Kispert answers right back for the Zags with a corner triple. The sophomore wing has three rebounds to go with his three points. With two fouls though he's likely on the bench for the rest of the half.
Credit to A&M who are keeping this one close. It's been a shaky start to the season for last year's Sweet 16 participants. The Aggies lost five of their top seven scorers from that team.
15:58 – Gonzaga 10, Texas A&M 6: Delayed start for TV viewers across the country on ESPN2 as Iowa's upset of Oregon ran long. We're joined in the Kennel with the Zags taking an early lead after a Zach Norvell Jr. 3-pointer and three quick points from Rui Hachimura.
Bulldogs come out of a made free throw showing half-court pressure on defense, first time we've seen them press this season. GU's aggression almost results in a turnover, something to watch tonight.
Forward Brandon Clarke also off to a good start for the Zags. The junior has four points and two rebounds in the opening minutes.
Gonzaga announces starting 5
Killian Tillie has cast removed
Pregame
SWX
Local journalism is essential.
Give directly to The Spokesman-Review's Northwest Passages community forums series -- which helps to offset the costs of several reporter and editor positions at the newspaper -- by using the easy options below. Gifts processed in this system are not tax deductible, but are predominately used to help meet the local financial requirements needed to receive national matching-grant funds.
Follow along with the Zags
Subscribe to our Gonzaga Basketball newsletter to stay up with the latest news.
---