News > Spokane
Vince Grippi's TV Take: Pullman ups the ante on GameDay excitement
Oct. 20, 2018 Updated Sat., Oct. 20, 2018 at 8:10 p.m.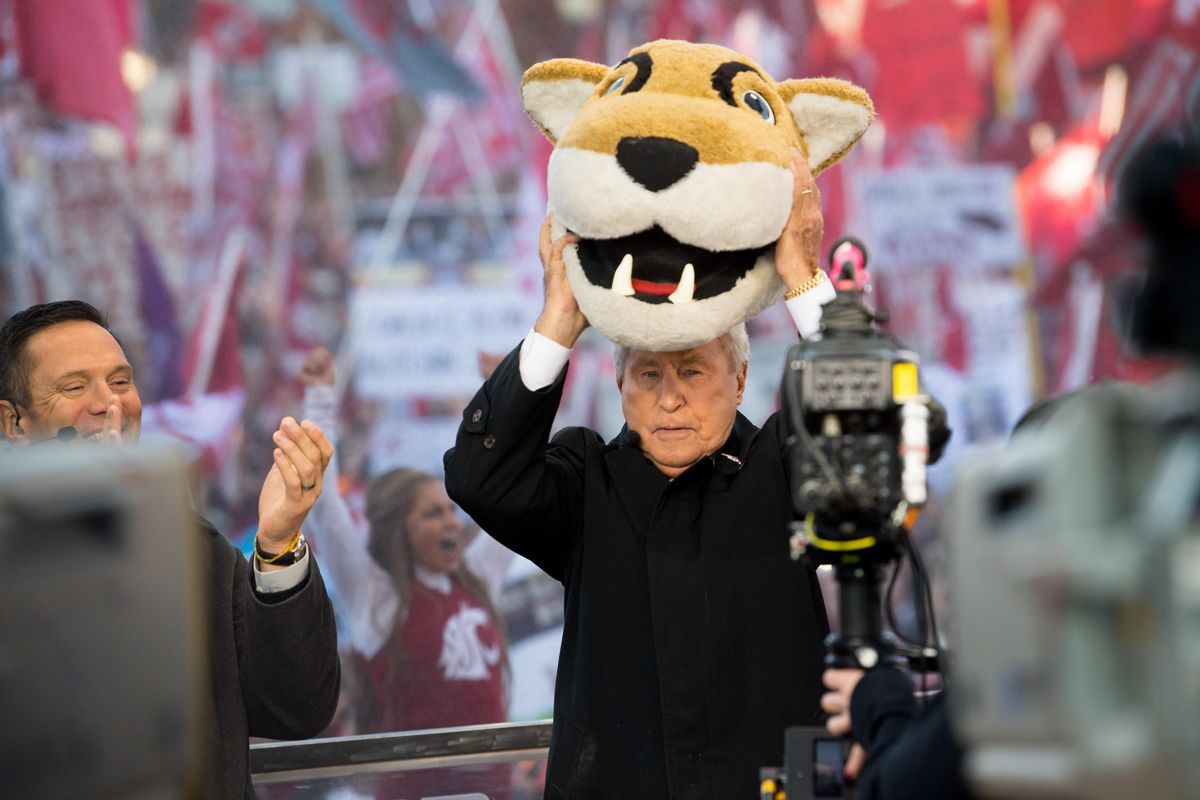 Lee Corso holds the Cougar mascot head high, indicating his prediction of a WSU win in the closing minutes of Saturday's ESPN GameDay show, much to the delight of former WSU quarterback Drew Bledsoe, left, and the raucous WSU crowd. (Tyler Tjomsland / The Spokesman-Review)
The formula has been perfected over the course of 31 years.
But that doesn't mean College GameDay, ESPN's Saturday morning pregame football show, can't reach new heights.
Though maybe not anymore. Not after the show's long-awaited and anticipated trip to Washington State University. This was Everest, K2 and Annapurna all mashed into one.
A raucous crowd? Does an estimated 10,000 to 20,000 full-throated folks qualify? A perfect fall day? Well, it was a comfortable 48 degrees at the 6 a.m. start, but after the sun came up at 7:13, so did the beautiful views of the Palouse in October, colors and all. More stories to tell than Netflix or HBO? You can check that box, too.
Favorite sign No. 1: Do you want to be a UW kicker? (Two boxes; one yes, one no. The Xs are all outside the yes box.)
What they saw …
The GameDay crew – Rece Davis, Kirk Herbstreit, Lee Corso, Desmond Howard, David Pollack, Maria Taylor and Chris Fallica, who goes by "Bear" – were greeted with such adulation and adoration that Davis, who replaced Chris Fowler as the host three years ago, turned to the thousands gathered outside Martin Stadium and reportedly yelled something scatological before the show began.
Indeed. From the beginning, with the overhead camera shots framing the chamber-of-commerce-perfect morning, to the end, when Corso made his traditional headgear-donning game pick, the scene was expletive-dropping perfect.
"Exactly as we expected," Howard said early on. After 15 years of flag-waving and pleading, Cougar fans finally had the show on their turf. It was almost as if they never wanted to let it go.
"We should have had a five-hour show today," Davis said at one point, and he was right. There were enough public displays of emotion – thanks, Tom Rinaldi, for making everyone cry not once, but twice – and Cougar touchstones to fill a couple of more hours.
Favorite sign No. 2: I'm just here for the Cougar Gold cheese
If Saturday's show was your first exposure to College GameDay, you may need a quick primer on the importance of the show coming to the Palouse.
In September 1987, ESPN began a college football pregame studio show preparing viewers for the network's games later in the day. Six years later the show took to the road, broadcasting from game sites.
In 2003, WSU alum Tom Pounds took a homemade Cougar flag to Austin, Texas, and waved it from the small crowd behind the stage, hoping to entice the show to Pullman before a Washington State game someday. Two weeks later the flag waved in Wisconsin, and a streak was born.
But never in Pullman, despite 15 years and 216 consecutive appearances. Though the flag was a GameDay tradition, its spiritual home wasn't.
Until now.
Favorite sign No. 3: It's like Woodstock, except Corso has his clothes on
Corso is the only cast member from 1987 still on the show, another of the traditions. He plays to the crowd – he loved getting the Cougar faithful riled up by mentioning the school from across the state – and plays the role of the slightly eccentric, holiday-upsetting old uncle to perfection. But he's another of the show's traditions, and he was on point in this one.
Especially at the end, when Corso, who seems to pick Oregon to win every time GameDay is at one of the Ducks' games, told the crowd "this is a special time and a special place" just before putting on the Butch T. Cougar head and allowing the real mascot to wrap a Cougar flag around him.
"What a scene," Davis said, catching the sentiment perfectly.
Favorite sign No. 4: I was conceived at the '98 Rose Bowl
What we saw …
Just about everything you would think. And more.
Who would have anticipated fireworks from atop Martin Stadium at the first commercial break – and how that must have gone over with a guy over on Crestview Street trying to sleep in on a Saturday morning.
But there was more.
A rousing rendition of Andy Grammer's "Back Home," a WSU football game staple, of which Davis rightfully said, "If that doesn't send chills up your spine, you probably don't have a spine."
A taped message from Steve Gleason, the WSU alum and Spokane native fighting amyotrophic lateral sclerosis, holding his newborn daughter Gray in his lap. It was followed by a tribute to Gleason from Davis, with a "No White Flags" sign, the name of Gleason's ALS-research charity, visible next to his left shoulder.
Flags from every campus the Cougar flag visited during the streak. Gene Wojciechowski hunting down "Popcorn Guy" from the 2013 Stanford blowout loss. A feature on senior quarterback Gardner Minshew's mustache.
Favorite sign No. 5: Justin Herbert throws like Conor McGregor
A Rinaldi piece on the flag's history – and another on a Purdue student fighting a losing battle against cancer. Four WSU grads waving the flag from the deck of the aircraft carrier USS Carl Vinson. Videos from people who waved the flag – and others, including KXLY's Derek Deis, a WSU alum, and Tony Thompson, Jack's son and a former Washington State player as well.
Tributes to Keith Jackson. Drew Bledsoe explaining why he attended WSU by just pointing at the crowd. A mention of Tyler Hilinski – and an online feature about Hilinski's Hope, the foundation founded by the quarterback's parents.
Just about everything, it seems, other than maybe a mention of Bob Robertson, the recently retired radio play-by-play voice – though there was a sign of thanks in the crowd.
All the notes of a perfect traditional symphony with alum Pounds in the conductor's role, waving the Cougar flag as his baton.
"It started with a flag as a symbol," Davis said as the show opened. "Not just of a campaign, but a crusade," before the camera showed Pounds doing his flag-waving thing. "Fifteen years they've waited for this moment. And there is pandemonium in the Palouse."
Yes, there was.
Local journalism is essential.
Give directly to The Spokesman-Review's Northwest Passages community forums series -- which helps to offset the costs of several reporter and editor positions at the newspaper -- by using the easy options below. Gifts processed in this system are not tax deductible, but are predominately used to help meet the local financial requirements needed to receive national matching-grant funds.
Subscribe now to get breaking news alerts in your email inbox
Get breaking news delivered to your inbox as it happens.
---