Sports > Whitworth
Whitworth wide receiver Garrett McKay turns after-hours work into on-field success
Wed., Sept. 12, 2018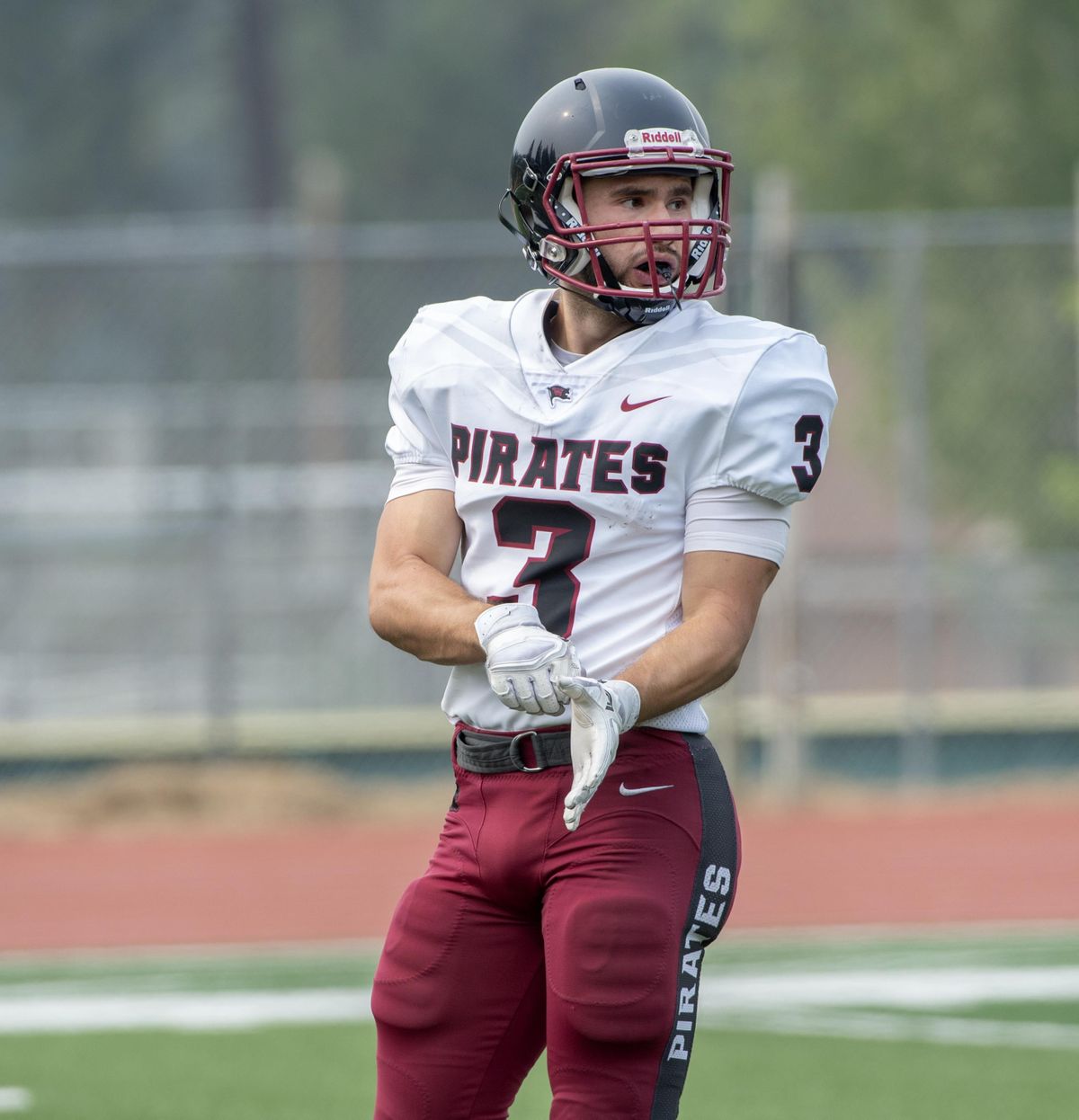 Garrett McKay of the Whitworth Pirates prepares for the next play Aug. 25 during a scrimmage at the Pine Bowl at Whitworth University. (Jesse Tinsley / The Spokesman-Review)
The sun is starting to set on the Pine Bowl. His Whitworth teammates have left the practice facility, but senior Garrett McKay is still running sprints, from one end zone to the other.
"I've seen him here early, here late, during season, out of season," Pirates junior quarterback Leif Ericksen said. "He's a guy who works his tail off."
McKay doesn't claim any special motivation for his extra reps. Just that he didn't get quite as much running in during practice as he'd like, he said as he finally left the field, catching his breath after Monday's session.
It's this sort of follow-my-example leadership that drew teammates to elect the redshirt senior as captain for a second year. His production on the field is a big reason why Whitworth has high hopes for this football season, which continues at home Saturday against Chapman ( California) University.
Alan Stanfield, Whitworth's offensive coordinator, recruited McKay out of Bellarmine Prep in Tacoma and said he was drawn to his athleticism and playmaking ability. But what's been more impressive, Stanfield said, is McKay's diligence.
"When you look at all the seniors who graduated last year, he was the only one coming back as a starter, and he could have easily said, 'I'm done, my spot's good,' " Stanfield said. "And he's continued to work as hard as ever and set that bar so high for these young guys. That's what you want your veteran players to do."
McKay is the only returning starter at wide receiver, back for a fifth season because of a medical hardship redshirt he was awarded after two games of his first season. He scored a touchdown in his first game – "not many freshmen do that," Stanfield said – but tore his ACL in the next, ending his year.
That gave McKay more time to study film and hone his understanding of the game, something teammates and coaches praised. He bounced back to make 53 catches in 2015, and the next year was even better. As a redshirt sophomore, he caught 72 passes for 1,024 yards and eight touchdowns in 10 games.
Through 34 career games, including the season-opening 38-2 win over La Verne on Sept. 1, McKay has 188 catches for 2,171 yards and 14 touchdowns.
Even though he could have chosen to finish up his classes and graduate last spring, McKay said there was no chance he was going to give up the opportunity to keep playing.
"I love the game," said McKay, who plays to go into coaching after he graduates in December. "I've dreamed about playing football since I was 2 years old. When I started walking, I was probably walking with a football in my hand."
Not only is McKay the son of a football coach, he's the grandson of one. McKay said this fall is the first season in the last 60 that his grandfather isn't coaching.
McKay's understanding of the game and experience with Whitworth's offense has earned him freedom in his routes, Stanfield said, something toward which he trains all his receivers.
"We have routes for our guys to run, but we give our guys freedom to take grass within their routes where they see open space, and he has so much game experience, he just kind of finds where the coverage isn't," Stanfield said. "He's always open."
"It's a receiver's dream," McKay said.
Stanfield said they are moving McKay around the field more this year, hoping to avoid double-teams and get him the ball six to 10 times a game.
"As a quarterback, Garrett just makes everything easier," sophomore quarterback Connor Johnson said. "He's the type of guy where you know he's going to make the right read, so if you're thinking something, he's on the same exact page. Having the experience and talent that Garrett has is very nice and helpful as a quarterback."
Teammates said McKay isn't a vocal leader. Ericksen could think of only one instance in which he heard the receiver raise his voice to the team. But as he glances over his shoulder at McKay's final few sprints, Ericksen sees all the evidence he needs to recognize his teammate's importance to the Pirates.
"He's always doing something extra," Ericksen said. "Whatever he can to be in prime condition for Saturdays."
Local journalism is essential.
Give directly to The Spokesman-Review's Northwest Passages community forums series -- which helps to offset the costs of several reporter and editor positions at the newspaper -- by using the easy options below. Gifts processed in this system are not tax deductible, but are predominately used to help meet the local financial requirements needed to receive national matching-grant funds.
Subscribe to the sports newsletter
Get the day's top sports headlines and breaking news delivered to your inbox by subscribing here.
---