Peyton Pelluer briefly contemplated move to Alabama before deciding on return to Washington State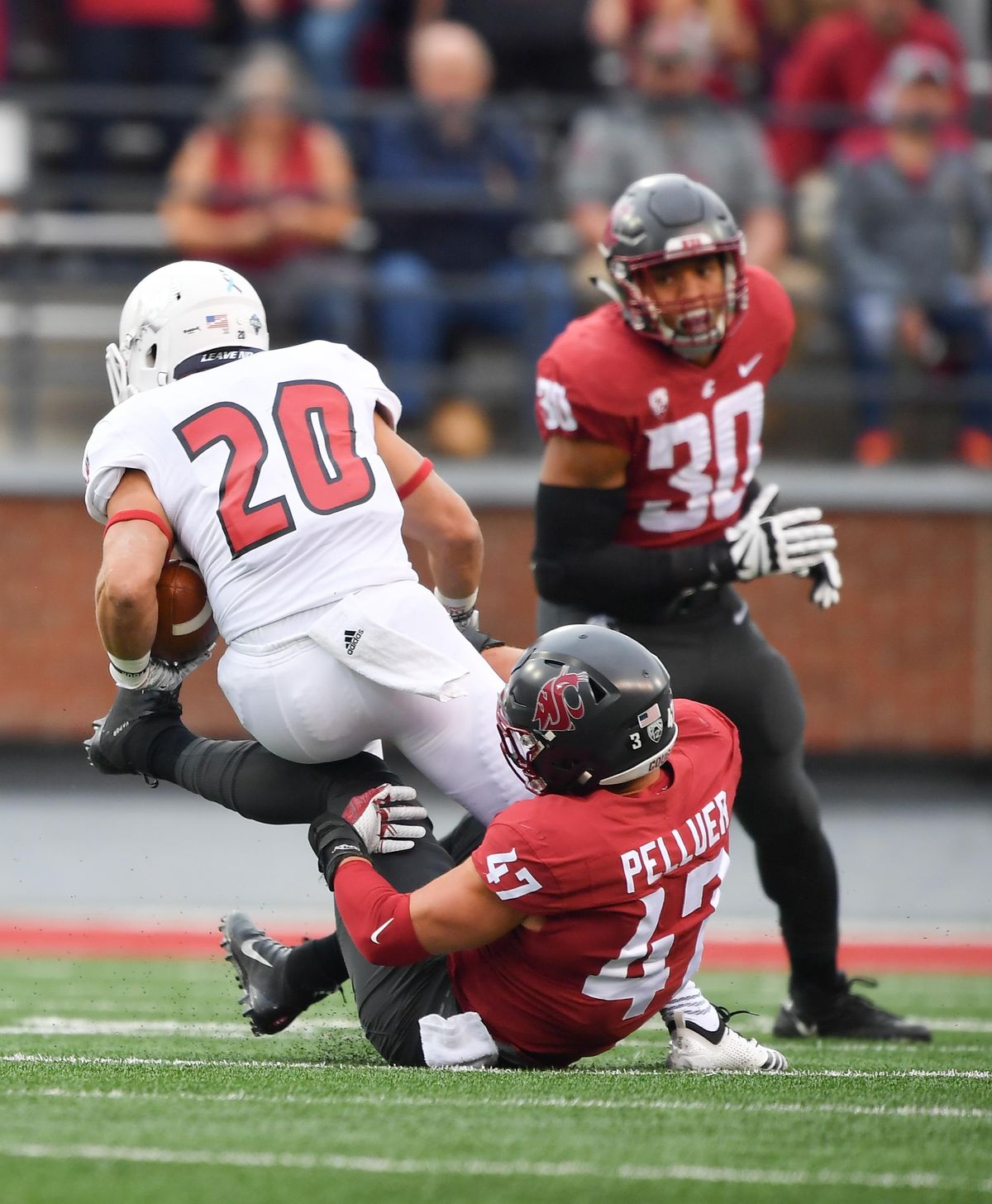 PULLMAN – In an alternate universe, Washington State linebacker Peyton Pelluer and quarterback Gardner Minshew could've been teammates at Alabama this season, lending Nick Saban and the Crimson Tide a hand as the nation's top-ranked college football team tries to defend its national championship.
No, this scenario was never likely per se, but both Cougar players were indeed presented with opportunities to finish out their careers with the Crimson Tide. And both thought long and hard about it.
Minshew, as most know, verbally committed to Alabama not long after he elected to transfer from East Carolina, before eventually receiving an offer from Mike Leach and a WSU program that was searching for a new starting quarterback.
The Crimson Tide's pursuit of Pelluer, however, was not as public and most outside of Pelluer's circle of coaches, friends and teammates were not aware that the middle linebacker had briefly considered spending his sixth season of eligibility in Tuscaloosa.
"Yeah, Alabama offered me to go over there this last summer, and so i spent a good week or so contemplating that, praying, talking to (inside linebackers) coach (Ken) Wilson and (defensive coordinator) (Alex) Grinch, who's no longer here, but just having a lot of heart-to-hearts and really thinking it out," Pelluer said Saturday after the Cougars' 59-24 dismantling of Eastern Washington. "I just decided to stay because this is where I wanted to be."
Alabama knew of Pelluer because defensive coordinator Tosh Lupoi, a former defensive line coach and defensive run game coordinator at the University of Washington, is married to the WSU linebacker's older sister, Jordan. Pelluer's family is from Sammamish, Washington – a suburb of Seattle.
Pelluer had also contemplated leaving school and going directly to the NFL after a foot injury forced him to miss the final 10 games of his original senior season. The NCAA granted Pelluer a medical hardship waiver, which would allow him to return to WSU this fall, or graduate transfer to to another school.
Saban and Alabama have manufactured one of the most successful eras in college football history, winning five national titles between 2009-17. So Pelluer gave the offer some thought before ultimately deciding he belonged in Pullman, where the senior captain, in his own right, has been key in helping WSU return to football prominence.
"I wanted to finish what I started," Pelluer said. "We had a class last year, 20 or so guys who helped build this program up from 3-9 in 2014 and now we're here. I believe in this team that's here right now. I just wanted to come back and lead and help this team the best way i could."
Pelluer is also a fourth-generation Cougar whose father Scott, grandfather Arnie and great grandfather Carl Gustasfon all played for WSU. That helped lead Pelluer back to Pullman, he said.
"Definitely. Crimson is in my blood. I just wanted to stay here and finish what I started and keep this train rolling and this program going up."
---