Sports > High school sports
Hunter Chodorowski bears the burden as Central Valley tops Mt. Spokane 31-14
UPDATED: Fri., Sept. 21, 2018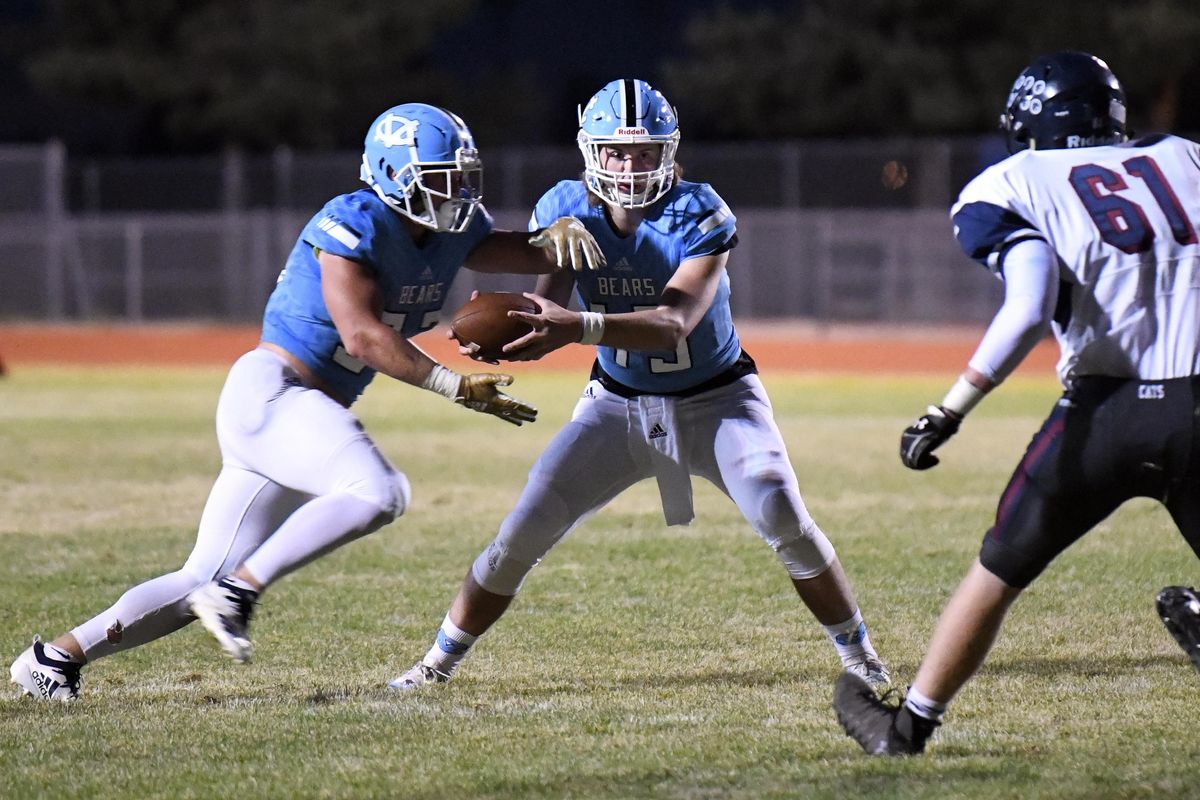 Central Valley quarterback Matt Gabbert, center, hands off to runningback Hunter Chodorowski, left, as Mt. Spokane's Matt McNitt, right, approaches Friday, Sept. 21, 2018. (Jesse Tinsley / The Spokesman-Review)
It should have been a closely fought battle between teams destined for the top of the standings in their respective classifications in the Greater Spokane League.
While it didn't end up in a rout, exactly, the outcome really wasn't ever in doubt.
Central Valley shook off last week's tough loss to Lewis and Clark and took advantage of its opportunities – and Mt. Spokane's significant injuries – and after a slow first quarter wore out the Wildcats 31-14 on Friday.
After the atypical 1-2 start to the season for CV, coach Ryan Butner didn't mince words about how big the win was.
"We needed it. We needed it bad," Butner said. "We're a couple plays away from being 4-0 right now.
"We've played really good teams here at the start of the year and last week's game was a little bit of a hiccup for us and I think a wake-up call."
"Early in the week, we were a little down from the adversity (last week)," CV quarterback Matt Gabbert said. "But we got the intensity back up and coming back and winning this game was a big confidence booster.
Mt. Spokane (3-1) played without QB Brady Hill – injured in last week's 56-6 win over Sandpoint – and lost leading rusher Kannon Katzer following a 93-yard kickoff return for a touchdown just before halftime.
Katzer did not play in the second half and before his injury had eight carries for 32 yards.
CV's Hunter Chodorowski carried 22 times for 175 yards and three touchdowns and Gabbert went 11 of 20 for 143 yards and a score to pace the Bears (2-2).
"(Chodorowski)'s a workhorse. We put everything he have on him," Butner said. "He played everywhere on the field for us tonight."
Mt. Spokane coach Terry Cloer wasn't going to use the injuries as an excuse.
"We just didn't have all of our weapons, but give credit to them," he said. "They played well up front and dominated the line of scrimmage and we didn't respond."
Mt. Spokane made good progress on the opening drive to get a first down at the CV 26. A pair of penalties stalled the drive and forced a punt.
CV took over at its 14. Three carries by Chodorowski moved the ball to midfield, then Gabbert hooked up with Cameron Sheley on a pair of slants down to the Mt. Spokane 22.
Chodorowski picked up 4 yards on a third-and-3 to the 11, but two passes fell incomplete and the Bears settled for a 32-yard field goal by Landon Rehkow and a 3-0 lead with 2:29 in the first quarter.
On the next Wildcats possession, a batted ball on third down ended up in CV defensive lineman Wyatt Wickham's arms for an interception and set the Bears up at the Mt. Spokane 44.
CV moved it to the 16, but Gabbert took a deep sack and Rehkow's 44-yard field-goal attempt was short.
Mt. Spokane took the ball at its 20 and went on a 16-play drive. The Wildcats went for it on fourth-and-15 at the 32, but Quenton Ayers' pass into the end zone fell incomplete and they turned it over on downs.
Zack Jongeward (11 carries, 94 yards) busted one for 38 yards to get back into Mt. Spokane territory. Two plays later, Chodorowski broke several tackles up the middle and rumbled 22 yards for a touchdown and 10-0 lead with 1:52 left in the half.
Katzer took the ensuing kick at the 7, burst through the first wave of defenders and juked to the sidelines. He picked up a block on the kicker and sprinted the rest of the way to pull the Wildcats within three.
CV got the ball back at its 16. Gabbert found Grant Kelly on a fly pattern for 33 yards, then hooked up with Chodorowski on a middle screen down to the Wildcats' 12.
With 18 seconds left, Gabbert threw a dart to Kelly on a down-and-out just inside the left pylon for an 11-yard touchdown and a 17-7 lead at intermission.
"We've been repping a lot of the throws in practice and we just connected today," Gabbert said.
Mt. Spokane's first drive of the second half stalled and after a punt the Bears took over on their 17. Gabbert hit Carsen Raab for 16 yards and Sheley for another 13 to move the ball to midfield.
On fourth down and less than 1 yard, Chodorowski burst up the middle and went the distance for a 54-yard touchdown run and put CV up 27-7 with just less than 3 minutes to go in the third.
Mt. Spokane had some fire left. After exchanging possessions, CV had a second down run from the CV 25. Josh Osso stripped Chodorowski and took the fumble back to the 6.
On the next play, Ayers called his number up the middle for a touchdown run to trim the Wildcats' deficit to 24-14.
"(Ayers) is a great competitor," Cloer said. "He stepped up there and did the best that he could."
Ayers finished 7 of 22 for 67 yards and carried 11 times for 35 yards.
But the Wildcats didn't find any more magic and the Bears took advantage of a late turnover in Wildcats territory to add a Chodorowski 10-yard TD plunge late.
Local journalism is essential.
Give directly to The Spokesman-Review's Northwest Passages community forums series -- which helps to offset the costs of several reporter and editor positions at the newspaper -- by using the easy options below. Gifts processed in this system are not tax deductible, but are predominately used to help meet the local financial requirements needed to receive national matching-grant funds.
Subscribe to the sports newsletter
Get the day's top sports headlines and breaking news delivered to your inbox by subscribing here.
---