A&E > Beer/Drinks
On Tap: Selkirk Abbey, Hidden Mother merge operations
Tue., April 23, 2019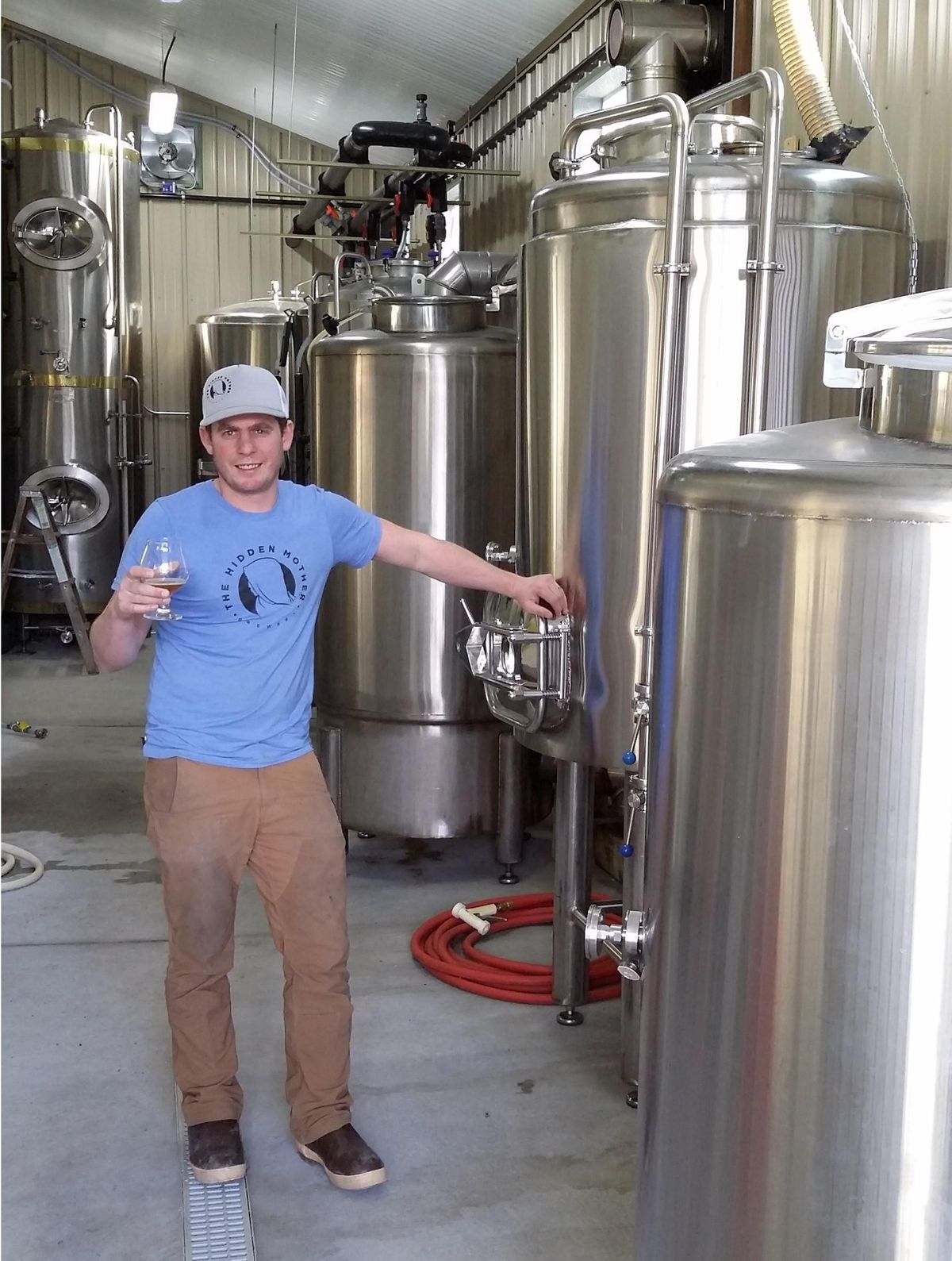 The Hidden Mother Brewery on 1303 N. Washington St. in February.
Six years ago this summer, an ambitious young man stopped by the Selkirk Abbey taproom in Post Falls and told owner Jeff Whitman (plus a local beer writer) about his dream of opening a groundbreaking brewery.
Today, Mike Detar's year-old Hidden Mother is making a name for itself locally and beyond with creative beers, some run through hollowed-out tree trunks, using ingredients ranging from mushrooms to serrano peppers to pink peppercorns.
And now he and Whitman are joining forces and merging their operations, giving Detar access to Selkirk Abbey's sizable brewing system.
Whitman, who launched his Belgian-themed brewery in 2012, said it's running at about 30 percent of peak capacity.
"The concept for this has made sense for a long time," he said of the partnership. "Finding the right person to do it with has been incredibly problematic."
For his part, Detar said, "I feel pretty honored to get asked to do it. We complement each other extremely well. Everything (Whitman is) doing is something I can learn from, which is really, really important to me."
Selkirk Abbey's bottling line also will allow the Hidden Mother to get bottled beer into stores, with cans under consideration for the future.
Plans still are proceeding for a new Hidden Mother brewery and taproom at Washington Street and Sharp Avenue, which could open as soon as June. Detar will use the medium-sized system there (with 15-barrel fermenters) for adventurous recipes and brew his more mainstream offerings on Selkirk Abbey's system, with its 30-barrel fermenters.
"Now that I have a production facility (in Post Falls) where I can put out a decent amount of beer, I can go crazy beyond my wildest dreams with the new setup," said Detar, who has been brewing on a home-based five-barrel system in Liberty Lake.
Added Whitman: "I think the magic is going to happen over there (in Spokane). It's going to be something to behold."
Detar said the new taproom also could boost the Spokane presence of Selkirk Abbey beers and their companion, non-Belgian Northern Cross line.
But for now, Whitman said, the focus is on the Hidden Mother. "We'll let Mike do what he does, come up with these wonderful new ideas, and help him empower that."
Freshly tapped
Among the latest releases from area breweries:
The light, German-style Piccolo Pilsner (4.6 percent alcohol by volume) at Twelve String (11616 E. Montgomery Drive, Spokane Valley).
A heftier, lightly hopped pilsner (5.3 percent ABV) at Trickster's (3850 N. Schreiber Way, Coeur d'Alene).
The "raw" N'Boil Rules double dry-hopped hazy IPA (5.5), brewed without boiling for a fresher grain character, at Humble Abode (1620 E. Houston Ave.).
A juicy, filtered Sorry Not Hazy imperial IPA (9.5) by Young Buck at the Steel Barrel (154 S. Madison St.).
A Leaps and Bounds session IPA (4.6) at English Setter (15310 E. Marietta Ave.).
The seasonal Strawberry Sour (4.8) has returned at the Steam Plant (159 S. Lincoln St.).
Gru-It Ourselves, an herbed beer brewed last fall using contributions from customers, will be rereleased Thursday at Bellwether (2019 N. Monroe St.) after aging for six months.
An Apple Smoked Oak Stout conditioned on applewood-smoked oak will be released May 4 at Hopped Up (10421 E. Sprague Ave.) as part of a Bacon & BBQ Brewfest from 3 to 6 p.m. Customers can sample the entries in an amateur barbecue cooking contest for $1 each.
Save the date
The Coeur d'Alene Growler Guys (225 W. Appleway Ave.) hosts a Pint For a Pint blood drive Thursday from 3:30 to 5:45 p.m. Donors will receive a $4.99 voucher toward a future pint purchase; call (208) 930-4382 to register.
A Brewery Battle from Friday through Sunday at the Valley Steady Flow Growler House (328 N. Sullivan Road) will pit defending champion Humble Abode against Genus, with the winner decided by customer votes in a blind tasting.
Sample an assortment of offerings from local breweries at this year's Micros For Mamas, Saturday from 6 to 9:30 p.m. in the Western Aviation hangar at Felts Field (6095 E. Rutter Ave.) Tickets are $45 through the event's Facebook page, which includes five beer tasters, appetizers, dinner and an auction; proceeds benefit Spokane YoungLives, which supports teen mothers.
The monthly First Friday party May 3 from 4 to 10 p.m. at River City (121 S. Cedar St.) will include an open mic night starting at 5:30 (sign up at the door) and pizza for purchase from Veraci Spokane.
A Maifest on May 3-4 at Community Pint (120 E. Sprague Ave.) will feature German-style beers, food from Frankie's Wood Fired Creations and dancing around a maypole.
The Inland Brewers club marks National Homebrew Day on May 4 from 11 a.m. to 3 p.m. at Iron Goat (1302 W. Second Ave.) with a demonstration brew and an equipment swap and sale.
Daft Badger (1710 N. Second St., Coeur d'Alene) celebrates Cinco de Mayo a day early May 4 from noon to 8 p.m. with three different taco stations and beer pairings, plus DJ music.
The annual EOD Memorial Fundraiser on May 4 at Mad Bomber (9265 N. Government Way, Hayden), owned by former Army explosive ordnance disposal specialists, will include live music, the Wurst Man food truck, Bomb Suit Beer Pong (with the chance to win free beer each day for a year) and a gun raffle. A portion of proceeds benefits the EOD Warrior Foundation.
Local journalism is essential.
Give directly to The Spokesman-Review's Northwest Passages community forums series -- which helps to offset the costs of several reporter and editor positions at the newspaper -- by using the easy options below. Gifts processed in this system are not tax deductible, but are predominately used to help meet the local financial requirements needed to receive national matching-grant funds.
Subscribe to the Spokane7 email newsletter
Get the day's top entertainment headlines delivered to your inbox every morning.
---