Sports
A Grip on Sports: The journey WSU's football program has taken the past decade towers over the Palouse
Wed., Aug. 7, 2019, 8:19 a.m. A GRIP ON SPORTS • Driving south on U.S. Highway 195 is something akin to taking a trip back in time. The wheat fields that line both sides look no different than they did 50, 40, or even 10 years ago. Many of the barns have been around for seemingly forever. They traffic still slows occasionally to allow a John Deere the right of way. But if you look closer, you can see huge differences, not only en route but at your destination.
•••••••
• There is no better metaphor for how Washington State's football program has progressed than something you see just south or Rosalia. Off to the east is a growing field of windmills, large towering things that move the air and protect our power grid. They weren't there 10 years ago, just like many aspects of the Palouse's only Pac-12 program.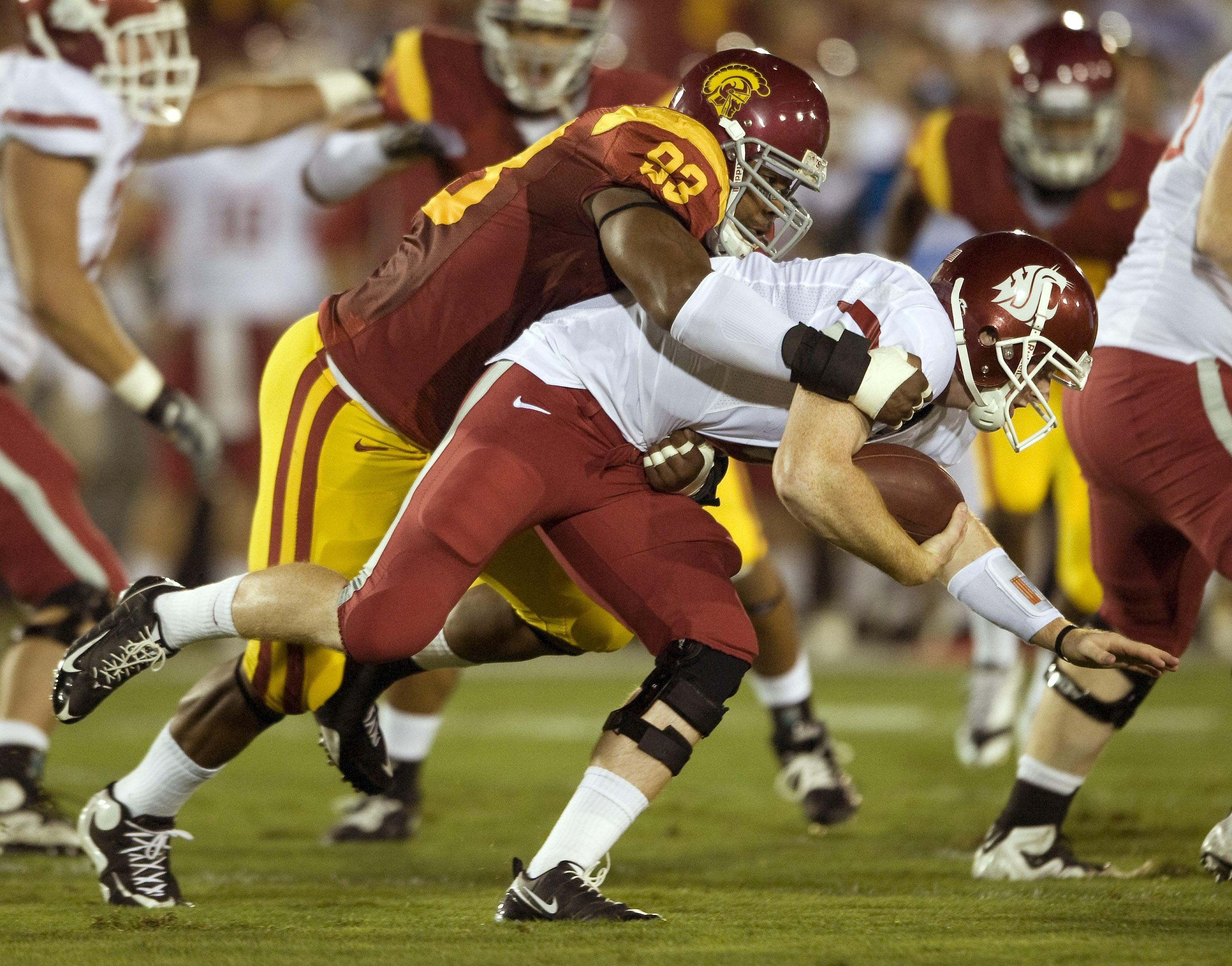 Ten years ago. Has it really been a decade since Paul Wulff's second WSU team went 1-11 and finished last in the Pac-10 for a second consecutive season?
You can't tell by watching the 2019 Cougars go through training camp in Lewiston. At least I couldn't. These Cougars bear little resemblance to the ones that occupied Martin Stadium then.
And that's a good thing for Washington State fans.
We'll start with the size up front on both sides of the ball. If you get a chance to stand up close to Abe Lucas someday, take it. The sophomore tackle, who was a freshman All-American last season, is listed at 6-foot-7 and 324 pounds. He looks bigger and yet not as big, all at the same time.
Part of the reason he doesn't seem that large is he doesn't stand out among his peers as he might have a decade ago. Pretty much every one of his mates on the offensive line is close to him in size. But that's not the only reason he seems a bit smaller.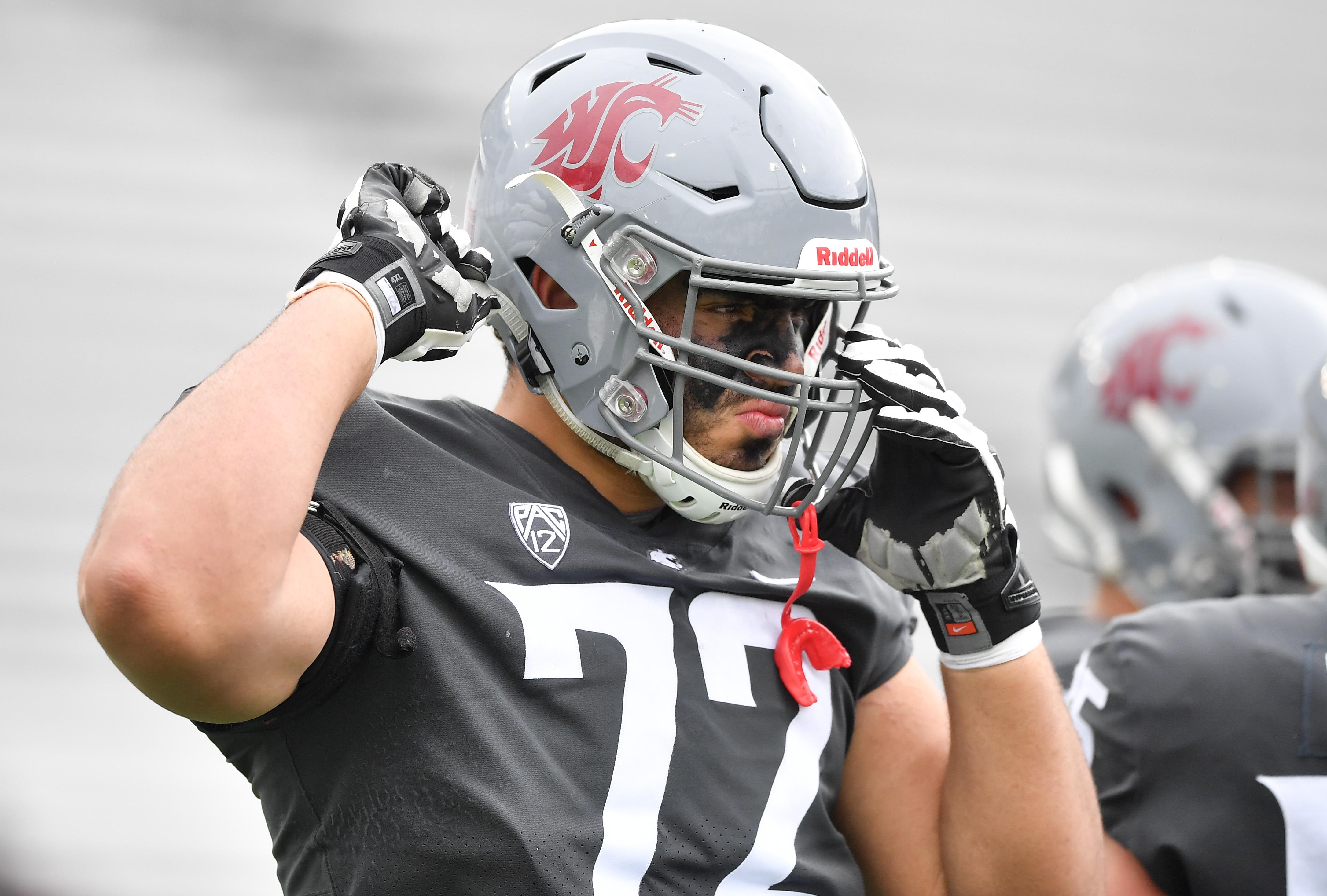 There is no way a man his size should be able to move has he does. It's too – what's the word I'm looking for? – athletic.
Take a play Lucas made yesterday during a wide-receiver screen drill vs. the scout team. It's his job to get out into the flat and flatten a defensive back. Many big guys can do that, as long as the target doesn't move. But those pesky fellows have a tendency to try to, you know, make a lineman miss. Good luck. On the play I'm thinking of, Lucas got out to the defender as quick as I can remember ever seeing a tackle do it. But just as he was about to deliver a blow, the defensive back (about half Lucas' size) dodged – and ducked, dipped and dove.
No matter. Despite the speed Lucas was moving at, he was able to plant, twist and still make good contact. I struggled to believe what I just saw.
It was a display of athleticism unheard of from an o-lineman Lucas size a decade ago – at least at WSU.
And that athleticism extends to the defensive side of the ball as well. The depth Mike Leach's team has amassed inside on both lines allows the program to continue to compete year after year, despite losing talent to graduation. And, at its core, is the difference in Pullman these days.
Remember when Washington State won 10 games three years in a row? Mike Price's (and Bill Doba's) Cougars did it because there was a deep talent pool built during three lean years. But Price left, the pool dried up and there was a talent drought between Doba and Leach. It took a while, but the pool is open again for cannonballs, triple Lindys and whatever deep dive Cougar fans might want to take.
Depth is no longer the issue it once was. Oh sure, there might be a dearth of young defensive backs – Tracy Claeys talked about it a bit yesterday – and the running back corps is mostly untested, but those are areas hit by an odd combination of circumstances that could affect all but the blue bloods of the game.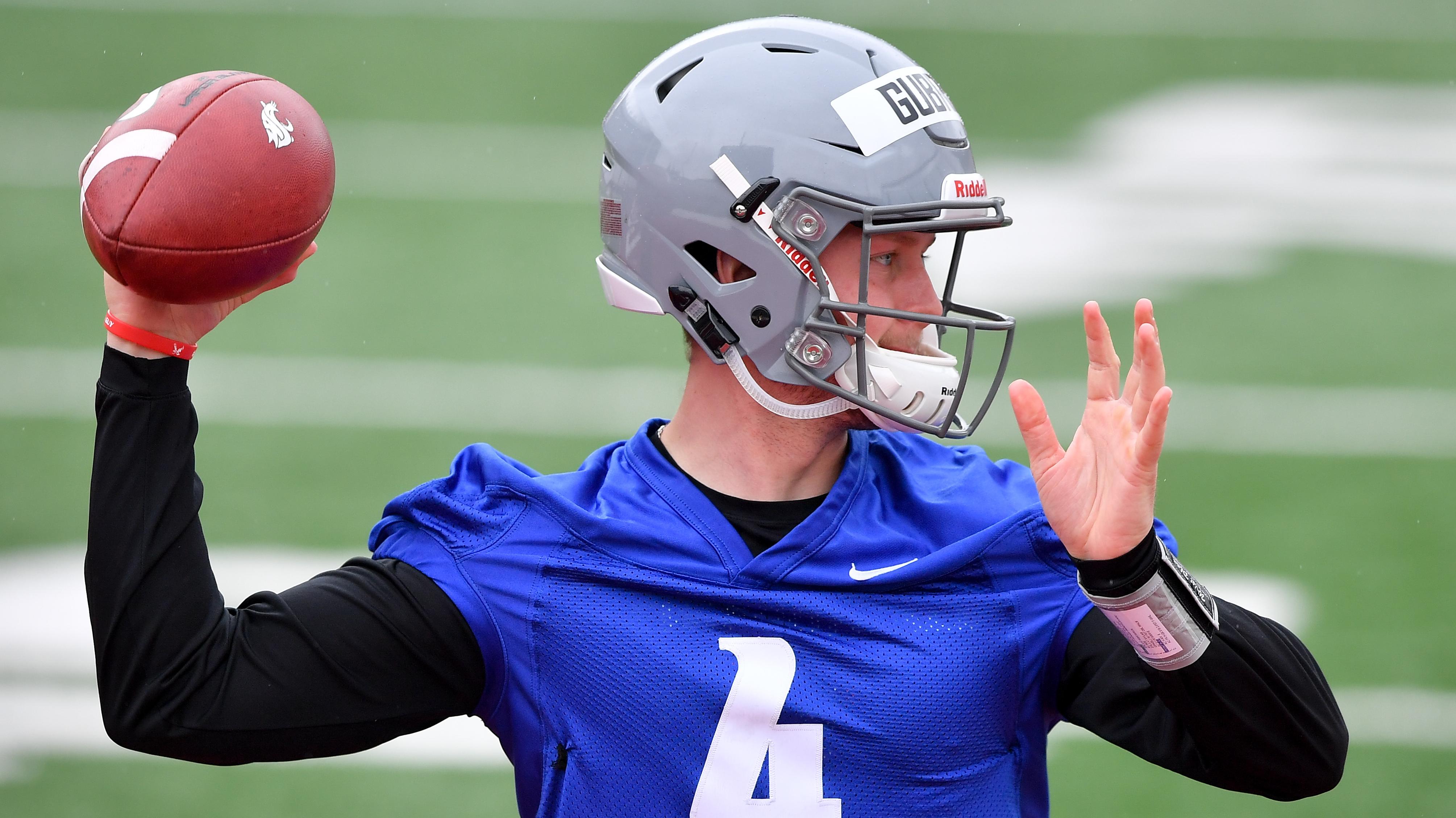 The outlier, in a sense, is quarterback. While Leach and his assistants have been able to build a wide receiver corps to rival any, in depth, in the nation, the guys throwing the ball to them are untested – at this level.
After Luke Falk graduated two years ago, there was a gap. We all know why it was there and it is still easy to tear up a little over it. But it existed.
Last season Gardner Minshew transferred in from Shangri-La or somewhere and filled it. The Cougars won 11 games.
This season Anthony Gordon, a fifth-year senior who spent a year playing junior college in California, Trey Tinsley, who did the same, and former Eastern Washington star Gage Gubrud, who transferred after receiving a rare sixth year from the NCAA, are vying to plug the gap.
Who will take the first snap at the end of this month against New Mexico State?
I don't think anyone knows, not even Leach.
The two frontrunners – Gordon and Gubrud – traded off running the offense yesterday in team periods – that's how Leach does it, rotating two of the three in each day – and neither looked like the second coming of, well, Minshew. Then again, this time last year Minshew didn't look like Minshew, the one who was the nation's leading passer for a while, either.
It's a crucial position, sure. But whoever takes the reins will have a more-than-solid offensive line protecting him, a deep wide-receiver corps, at least one standout running back (Max Borghi) and an offense that has proven to be effective at this level.
What a difference a decade makes.
•••
WSU: We didn't see Theo Lawson's FitBit numbers, but I'm guessing he crossed the 10,000-step threshold sometime in the practice's second hour. He was everywhere. He also passed the 10,000-word mark sometime yesterday as well, what with the Gubrud story and his practice summary. It also didn't hit his numbers that he wrote about Fred Mauigoa being on another watch list. … Elsewhere in the Pac-12, Washington's Chico McClatcher left the team halfway through last season. He's back and the receiver hopes to help the Huskies reach their goals. … Oregon has lost one of its best receivers to a foot injury for at least eight weeks. That's not good. … Watching offensive linemen get bigger through their five years of college is something. And it is something that happens at Oregon State as well. … Colorado will use its running backs for more than just running the ball. … Utah spends more on recruiting than any other Pac-12 public school. … There's a new offense at USC. It's called the Air Raid, or something. It seems to fit JT Daniels. … UCLA will be without a linebacker after he had surgery. … A Hall of Fame center made an appearance at Arizona State's practice. … Sometimes we forget football players, like this one at Arizona, are from the real world. And the real world intrudes into their life. … In basketball news, the NCAA slapped Utah's wrist for some minor violations, but the justification it used may come up again later.
Gonzaga: Nigel Williams-Goss is back in the Inland Northwest, making his annual trip to hold a youth basketball camp. This year is a big different, however, as Jim Meehan details. Williams-Goss also is getting ready for his best NBA shot yet. … Josh Perkins signed another contract with Charlotte, giving him more of an opportunity to work with the club. Jim has more on that as well. … Larry Weir delved into the WCC basketball season in the latest Press Box pod.
EWU: Injuries are never good ­– until they are in the past. Such is the case with the Eastern Eagles. Last season's injuries hurt but they also allowed a large group of backups to play. Those backups are now the starters heading into the 2019 season. Ryan Collingwood has more in this story. … Last year at this time, Jay-Tee Tiuli was getting ready for his last year with the Eagles. Now the nose tackle is getting ready for his first game with the Seahawks.
Indians: The Northwest League All-Stars fell 11-7 to the Pioneer League in Boise.
Mariners: For a while last night there was a no-hitter watch going. But the M's refused to become the first team in baseball history to be no-hit three times in a season. They still lost. … This season has been painful. But if Jerry Dipoto's plan was to improve the farm system, and it was, that part worked. … Tim Beckham was suspended 80 games for using performance-enhancing drugs. He obviously didn't rub them on his glove. … Gene Warnick has his Out of Right Field recap from the loss.
Seahawks: Hey, DK Metcalf was back in camp for day 10. The hype machine can start rolling again. … D.J. Fluker has always been big. But being a big part of a team's plans hasn't always been the case.
•••
• We will spend at least part of the day in Lewiston again. We have some interviews planned and then there is practice again, the last full-pad one before Friday's first scrimmage. It's going to be hot once more, which is fine. Heat doesn't bother folks who are about 50 pounds overweight, a category I fit nicely within. A sip of water or two every hour and I'm good. Really. I only fainted twice yesterday. (No, not really.) I did notice how slowly the offensive and defensive lines were moving though after practice. Even the promise of an ice bath didn't get them moving. Until later …
Subscribe to the sports newsletter
Get the day's top sports headlines and breaking news delivered to your inbox by subscribing here.
You have been successfully subscribed!
There was a problem subscribing you to the newsletter. Double check your email and try again, or email
webteam@spokesman.com
---