3 takes from Washington State's 58-7 victory over New Mexico State As Mike Leach walked off the field at halftime of Washington State's eventual 58-7 victory over New Mexico State, he stopped to talk with Pac-12 Networks' sideline reporter Samantha Peszek.
Peszek asked about quarterback Anthony Gordon's performance in his first start.
Leach didn't hesitate.
"He's doing a decent job."
At the time Gordon was 22-of-23 passing for 330 yards and four touchdowns.
What will it take to get something a little more effusive than "decent?"
Here are our three takeaways from the Cougars' season-opening win …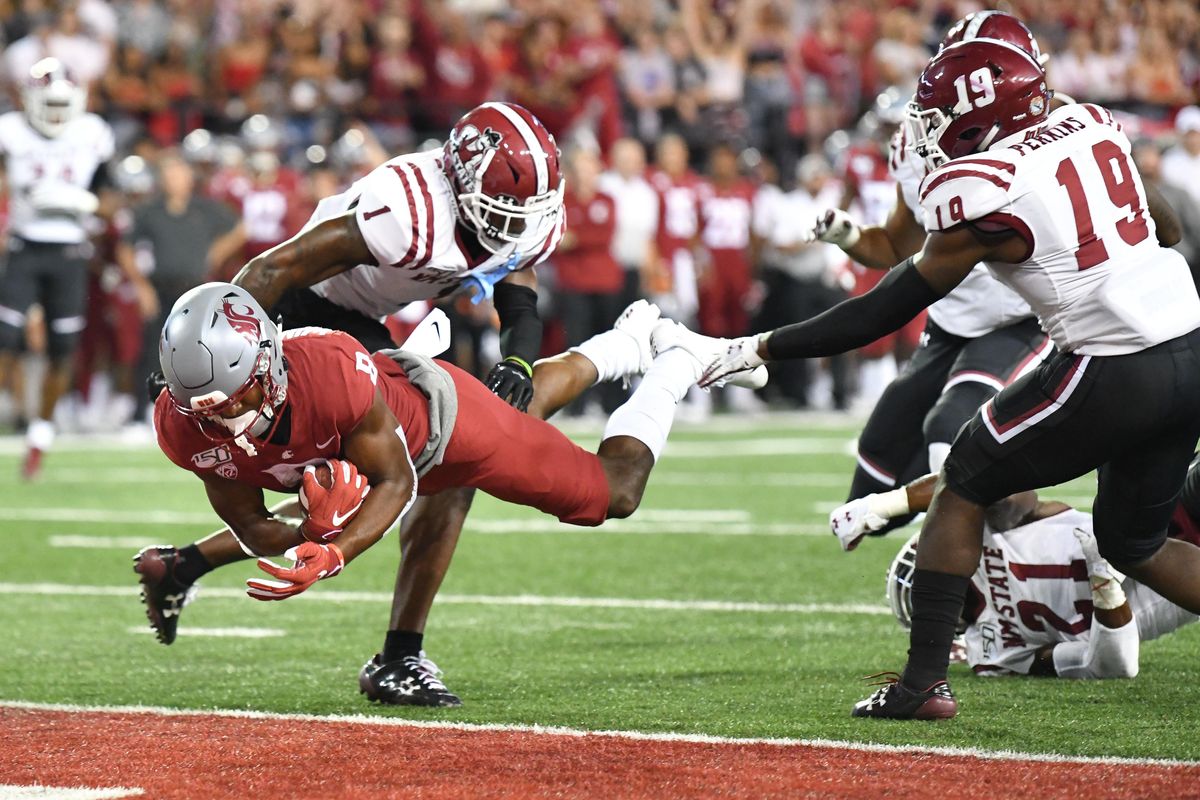 • Gordon's first game at the helm of Washington State's offense would probably at least earn another "decent" from Leach. The fifth-year senior completed 29 of 35 passes for 420 yards and five touchdowns in less than three quarters of action. He used nine receivers, including hooking up five times with four wideouts.
Those numbers compare favorably to the debuts of his two immediate predecessors, Luke Falk and Gardner Minshew.
Falk, the Pac-12 Conference's career passing leader, opened with a 39-32 win over Oregon State late in the 2014 season, throwing for 471 yards and five touchdowns on 44 of 61 attempts.
Minshew, the Pac-12's single-season passing record-setter in his lone WSU year, was 38 of 57 for 319 yards in last year's 41-19 win at Wyoming. He threw three touchdowns and a single interception.
But none of them started as hot as Gordon.
He hit his first 15 passes. His fourth completion was a 41-yarder to Rodrick Fisher, both his and Fisher's first Cougar touchdowns.
His only first-half incompletion was a threaded-needle rope through three Aggies that bounced off Brandon Arconado's hands. It probably should have been caught, if Arconado's chest tap with his right palm still means "my bad."
About the only thing that marred Gordon's night was an early second-half hit that caught a finger on his throwing hand, necessitating some tape. It didn't hurt, however, as two passes later he threw a bullet to Travell Harris, who threaded his way across the field and through the entire NMSU defense for a 20-yard touchdown.
• The quarterback of the WSU defense, strong safety Jalen Thompson, also needed to be replaced. Daniel Isom, a junior college transfer from Iowa, won the job, despite being earmarked as a cornerback coming in.
He and Bryce Beekman, another junior college transfer, manned the back line and did it efficiently. They combined for 11 tackles, including 10 of the solo variety.
The other new starters on defense, including middle linebacker Justus Rogers, end Karson Block, cornerback Armani Marsh and nose tackle Misiona Aiolupotea-Pei, all had their moments.
New Mexico State had some success moving the ball early, but the Aggies struggled after halftime and had just 241 yards of total offense when the Cougars went exclusively to backups in the fourth quarter.
• The Cougars may have to find even more ways to get Max Borghi the ball this season.
The sophomore running back touched the ball a dozen times. He ran for 126 yards on 10 carries, including his longest as a Cougar. That would be the 54-yarder he broke off early in the third quarter, a tackle-breaking run that started up the middle and finished down the left sideline.
It was his most productive run, but it wasn't alone among his highlights. There was a 12-yard, first-half touchdown run. There was a 23-yarder and one for 10 yards. More than once, he made an Aggies player miss in a tight space, leading to extra yards.
Borghi became the first Cougar since Gerard Wicks in 2016 to break the 100-yard rushing barrier.
---