Sports > Gonzaga basketball
Recap and highlights: Rui Hachimura helps No. 3 Gonzaga fend off San Diego for 30th straight WCC road win
Feb. 16, 2019 Updated Sat., Feb. 16, 2019 at 10:17 p.m. SAN DIEGO – Rui Hachimura finished with a double-double of 22 points and 10 rebounds as third-ranked Gonzaga outlasted San Diego 79-67 on Saturday at Jenny Craig Pavilion.
The victory was Gonzaga's 15th in a row and its 30th straight road win in West Coast Conference play.
The Bulldogs did run into some trouble for the second straight game. After leading Loyola Marymount by just one at the break on Thursday, the Zags and Toreros were tied at 30 on Saturday.
Josh Perkins added 15 points and dished out nine assists for the Bulldogs (25-2, 12-0 WCC), while Zach Norvell Jr. scored 18 points on 7 of 11 shooting.
Isaiah Pineiro paced the Toreros (16-11, 5-7) with 20 points.
Gonzaga shot 58.2 percent from the floor and 21.4 percent from deep, while holding USD to 39.7 percent overall and 34.6 percent from 3-point range.
Gonzaga dominated in the paint, outscoring the Toreros 50-16.
The Bulldogs return home for their lone game of the regular season against Pepperdine at 6 p.m. on Thursday (KHQ). GU will then host BYU for Senior Night on Saturday (7 p.m., ESPN or ESPN2)
Second half
Final – Gonzaga 79, USD 67: That's 30 straight WCC road wins for the Zags as the Bulldogs win another tough one against the Toreros.
Not the prettiest road trip for GU with tight wins over USD and Loyola Marymount, but the games show how much better the conference is this season compared to years past.
Another strong night from the duo of Rui Hachimura and Brandon Clarke, along with Josh Perkins.
Zags return home next week, starting with their lone game of the season against Pepperdine on Thursday.
3:31 – Gonzaga 71, USD 61: Brandon Clarke breaks the USD scoring run with a jumper, followed by a few possessions ending in fouls to slow down the pace.
Zags just a few minutes for their 30th straight WCC road win.
San Diego now throwing up tough shots, but getting nothing to fall. on the other end of the court, GU keeps feeding Rui Hachimura, who is at 22 points.
3-point shooting has kept USD in this, but the Zags dominance inside has been the difference.
5:48 – Gonzaga 67, USD 58: Toreros might not be done yet. A quick 6-0 spurt cuts the GU advantage back to single digits before Mark Few takes a timeout.
Tyler Williams (12 points) and Isaiah Pineiro (12) now into double figures for USD.
7:38 – Gonzaga 67, USD 52: Gonzaga's offense is clicking after another rough first half. The Zags surpassed their first-half total near the midway mark of the second half.
Rui Hachimura (20 points), Zach Norvell Jr., (14), Josh Perkins (13) and Brandon Clarke (12) in double figures. Perkins also has dished out eight helpers.
Hachimura also close to a double-double with eight rebounds. GU is outrebounding USD 27-19, and dominating in the paint 46-14.
11:37 – Gonzaga 53, USD 43: Third foul of the night called against Brandon Clarke as Isaiah Pineiro gets the bucket to go and hits the free throw.
GU goes right to Rui Hachimura though as the junior hits a jumper on the next possession. He's now at 16 points to lead all scorers.
Zags keep the pressure on with a fast-break Josh Perkins to Zach Norvell Jr. layup. Norvell now up to nine points, while Perk has a game-high six assists.
GU shooting 56.1 percent from the floor, while USD's shooting has dropped to 40 percent.
Gonzaga again sticking to an eight-player rotation, but all of the scoring belongs to the five starters as Filip Petrusev, Jeremy Jones and Geno Crandall have yet to score.
15:54 – Gonzaga 45, USD 37: Bulldogs open the half going right to Zach Norvell Jr., who hits his first 3-pointer of the game.
USD answering most of GU's makes though, including a matching triple from Tyler Williams.
Rui Hachimura also getting a few more touches and making the most of it with four quick points to get to 10 for the game.
Brandon Clarke also with four second-half points to get to 12. GU goes 7 of 9 from the field to open the half, its best offensive stretch of the game. Clarke being back on the floor a huge spark for Gonzaga's offense and defense.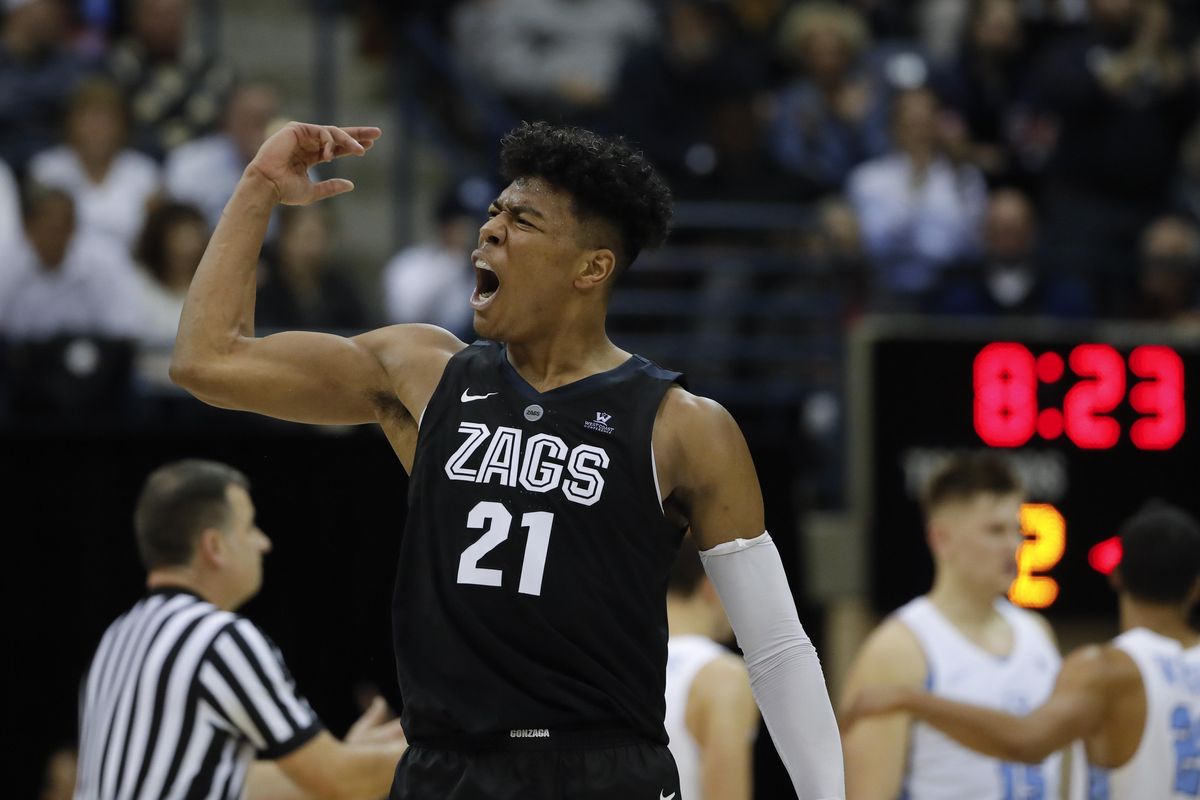 Gonzaga forward Rui Hachimura reacts during the second half of an NCAA college basketball game against San Diego, Saturday, Feb. 16, 2019, in San Diego. (Gregory Bull / AP)
First half
Halftime – Gonzaga 30, USD 30: Bulldogs in for another fight as San Diego is sticking right with the third-ranked Zags.
Major concern for USD is Isaiah Pineiro, who scored 30 in the Kennel two weeks ago, picking up three first-half fouls.
Fouls also a problem for Gonzaga as Brandon Clarke, Josh Perkins and Geno Crandall all pick up two fouls in the half.
Clarke and Corey Kispert lead GU with eight points each, while Rui Hachimura has six points and six boards.
Olin Carter III leads all scorers with 12 points for the Toreros, while Isaiah Wright has five.
Zags shoot 46.2 percent from the floor and hit just 1 of 6 shots from 3-point range, while USD shoots 40.7 percent overall and 33.3 percent from deep in the half.
Bulldogs outrebounding USD 17-14 and outscoring the Toreros 20-12 in the paint. Both teams have seven turnovers.
2:38 – Gonzaga 28, USD 25: Bit of a foul concern for Gonzaga as Brandon Clarke is called for his second of the half and heads to the bench. Josh Perkins follows with his second.
Zags forward depth behind Clarke and Rui Hachimura is freshman Filip Petrusev and senior wing/forward Jeremy Jones.
Perkins up to four points after a nice cutting layup, but the Zags are scoreless over the last 3:23 and have hit 1 of its last 6 shots.
Olin Carter III leads all scorers with nine points for the Toreros
7:52 – Gonzaga 22, USD 19: Another tight one here as San Diego's offense is heating up just enough to keep close to the Zags.
Brandon Clarke up to six points on 3 of 4 shooting for the Bulldogs. Rui Hachimura and Zach Norvell Jr. have four points each.
GU cleaning up on the glass early so far, a problem against LMU on Thursday. Zags outrebounding the Toreros 11-7, but they have allowed USD to grab three offensive boards.
Zags shooting 56.3 percent from the floor, while USD is hitting 42.1 percent of its shots.
10:32 – Gonzaga 18, USD 13: Super strong play by Corey Kispert, who has been a little quiet as of late on the offensive side of things. He collects a nice pass from Brandon Clarke and finishes the layup while getting fouled. He's up to eight points.
Olin Carter III, who missed the game two weeks ago, with USD's third 3-pointer of the night to get to five points. He, along with Isaiah Pineiro and Isaiah Carter, are the top scoring threats for the Toreros.
San Diego playing at a much faster pace than Loyola Marymount did on Thursday, but they're still keeping pace with the Zags
15:29 – Gonzaga 8, USD 5: Both teams working hard in the paint to get this started.
Rui Hachimura, Brandon Clarke, Zach Norvell Jr. and Corey Kispert with two points each for the Bulldogs, while Isaiah Wright has three of the Toreros' five.
Zags with a nice opening stretch on defense, forcing an early USD turnover and holding the Toreros to 3 of 6 shooting from the floor
Gonzaga announces starting 5
Game preview
Gonzaga roster
LEADERS
San Diego's roster
LEADERS
Local journalism is essential.
Give directly to The Spokesman-Review's Northwest Passages community forums series -- which helps to offset the costs of several reporter and editor positions at the newspaper -- by using the easy options below. Gifts processed in this system are not tax deductible, but are predominately used to help meet the local financial requirements needed to receive national matching-grant funds.
Follow along with the Zags
Subscribe to our Gonzaga Basketball newsletter to stay up with the latest news.
---