News > Washington
Report: Police did not violate policy in removing black man
Sat., Jan. 12, 2019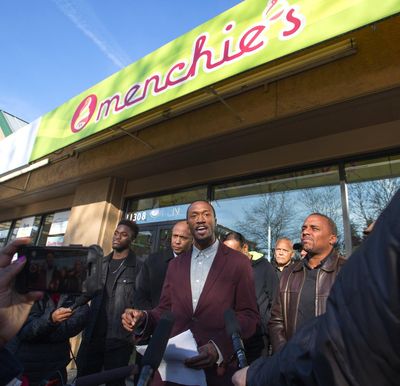 KIRKLAND, Wash. – The Kirkland Police Department has ruled that their officers did not violate internal policy when they helped the owner of a frozen yogurt shop expel a black man, Byron Ragland, from the store in November.
The Seattle Times reported the department said Friday that officers handled the call in accordance with "departmental norms" and did not act out of racial bias. However, officers "missed the opportunity to mediate between the employees and Mr. Ragland," the department said.
Ragland was at a Menchie's overseeing an outing between a mother and son as part of his work as a court-appointed special advocate.
The store owner called 911 saying his employees felt "scared." Police arrived, requested his personal information and told him the owner wanted him to leave. Ragland left.
Police later apologized and said the department has a new protocol of responding to such calls.
Local journalism is essential.
Give directly to The Spokesman-Review's Northwest Passages community forums series -- which helps to offset the costs of several reporter and editor positions at the newspaper -- by using the easy options below. Gifts processed in this system are not tax deductible, but are predominately used to help meet the local financial requirements needed to receive national matching-grant funds.
Subscribe to the Coronavirus newsletter
Get the day's latest Coronavirus news delivered to your inbox by subscribing to our newsletter.
---