News > Spokane
Mead High School Jazz Choir earns invitation to Monterey Next Generation Jazz Festival in April
Thu., Jan. 31, 2019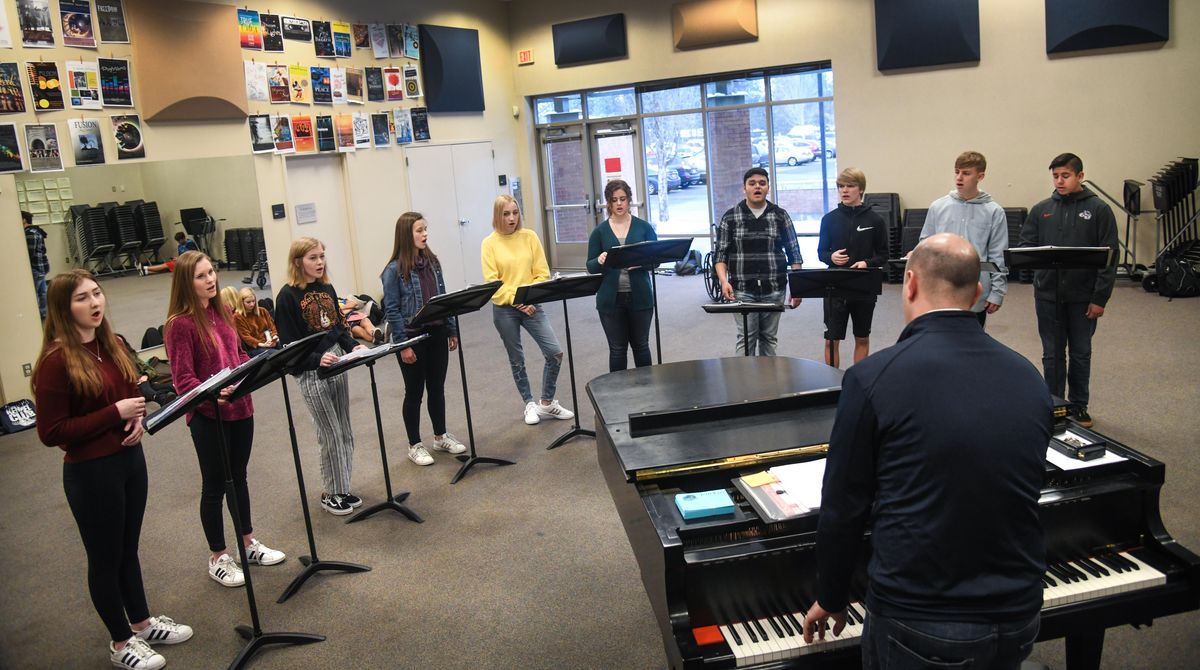 Mead High School Director of Choir, Mike Saccomanno, plays piano as members of the Mead Jazz Choir gather during class, Friday, Jan. 25, 2019. The choir was recently picked as one of eight (of 137) high school jazz groups to compete in April 2019 at the Monterey Next Generation Jazz Festival. (Dan Pelle / The Spokesman-Review)
The Mead High School Jazz Choir is one of eight high school jazz groups in the country to be invited to compete at the Monterey Next Generation Jazz Festival in Monterey, California.
The choir competed against 137 other schools to earn its coveted berth. The other schools selected hail from California, Dallas and Denver.
Choir director Mike Saccomanno said the Mead choir is the only one from a comprehensive high school to be chosen. The other high school choirs are all from schools of the arts or magnet schools.
"It's really an honor to be invited," he said.
Saccomanno, who has been teaching the jazz choir for 11 years, said this is his third trip to the Monterey festival. Choirs submit recordings in December and have no way of knowing who else is up for consideration. "The Monterey Jazz Festival is one of the oldest in the country," he said.
There are frequently Grammy award winners acting as judges during the Monterey competition, and students get to interact with them and learn from them, Saccomanno said. "We don't have that in Spokane," he said.
Students at Mead High School have to audition to join the jazz choir and the summer before every school year they go on a retreat. Saccomanno said he was immediately impressed with how this year's choir interacted with each other and their ability to be disciplined.
"You do get a sense of what they're capable of," he said.
That discipline could be seen early one morning in class recently. As the choir prepared, they chatted and goofed off as high school students do. But as soon as Saccomanno hit the first note on the piano, they instantly flipped a switch and became focused on their singing.
Jazz music includes old standards from Ella Fitzgerald and Frank Sinatra as well as pop songs, Saccomanno said. He calls jazz a contemporary exploration of what the human voice can do.
"We spend a lot more time in jazz choir on how do you attack a particular note, how do you leave a particular note," he said. "Learning the right note and the right rhythm will only take you so far."
Jazz is also known for its improvisation. The choir can sing the same song repeatedly and never sing it the same way twice, he said. The ability to do that requires a lot of teamwork. "It's a trust activity," he said.
The choir is only a dozen members strong, so everyone knows if someone is having an off day, Saccomanno said. "With a group of 12, nobody can hide," he said. "They do a good job."
Sophomore Jonah Rieder said singing is a good way to start his day. "I love to sing," he said. "The feeling of jazz, the kind of stuff we get to do, is really fun."
Senior Jillian Selley said it took a lot of work to prepare for the Monterey auditions. "That in itself was a cool experience," she said. "We got to go to SFCC (Spokane Falls Community College) and go into an actual recording studio."
"It was a long day, but it was definitely worth it," Rieder said.
The two say the jazz choir is a tight-knit group that enjoys spending their free time together. "We all have similar passions," Rieder said. "It's an amazing group."
Selley said she never expected to make it into the Monterey festival. "I'm not kidding you, I cried I was so happy," she said. "We were up against some pretty talented schools."
Saccomanno said he is working to organize some fundraisers to pay for the trip, which will happen during spring break in April. "We'll have fun, for sure, but they know it's a work trip," he said. "It's a competitive festival and the competition is fierce."
The choir is looking forward to the trip, but know they still have preparations to make, Rieder said. "This is only the beginning," he said. "We have our work cut out for us."
Local journalism is essential.
Give directly to The Spokesman-Review's Northwest Passages community forums series -- which helps to offset the costs of several reporter and editor positions at the newspaper -- by using the easy options below. Gifts processed in this system are not tax deductible, but are predominately used to help meet the local financial requirements needed to receive national matching-grant funds.
Subscribe now to get breaking news alerts in your email inbox
Get breaking news delivered to your inbox as it happens.
---