Sports > High school sports
Mead senior wrestler Chase Tebbets pursues another state title
Thu., Jan. 31, 2019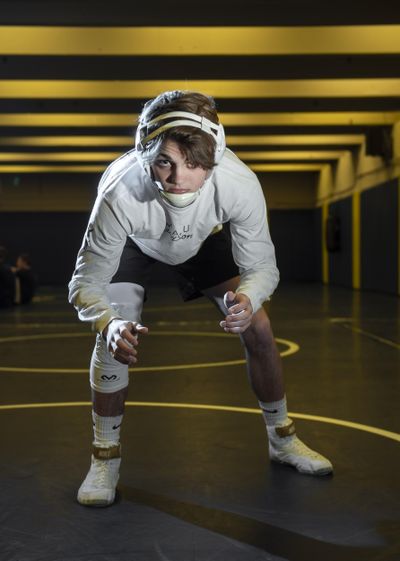 It's Tuesday and there are four practice days left before the District 8 tournament and the Mead wrestling room is doing something it hasn't done for a while.
Putting in a full week of practice sessions.
"We've been wrestling so much that we haven't had that many practices in a row lately," coach Phil McLean said. "It's going to be a bit of a grind. Before long these guys will be begging for a match."
Chase Tebbets can't believe his final wrestling season has gotten to this point so quickly.
"It's all gone by so fast," the senior said. "I still remember being a kid and going to matches with my dad. I sat up in the bleachers with my grandpa and he'd tell me, 'That's going to be you one day.' "
The Panthers enter the home stretch of the season ranked No. 2 in the state, just behind top-ranked Chiawana and ahead of Pasco. Tebbets, already a two-time state champion and a three-time state finalist, is ranked No. 1 at 132 pounds. If seedings hold, he will wrestle the No. 2-ranked wrestler, Jake Latimer of Camas, in the Region IV 4A finals.
If it feels like Tebbets has been around the Mead wrestling room for almost his entire life, it's because, well, he has. His dad, Jason Tebbets, is the Panthers long-time assistant coach, and he's been going to tournaments and matches for as long as he can remember.
"It feels like Chase and his brother are my own kids," McLean said. "They grew up here and they've been part of all this for a long time."
But it's all been on his own terms, the senior explained.
"My dad never forced wrestling on me," he said. "It was there, and if I liked doing it, he would encourage me. But there was no pressure on me."
It took a while, he said.
"I started wrestling when I was 4 years old and wasn't very good at first," he said. "It wasn't until a little later, when I started to get good at it and I had a little success that I really fell in love with the sport."
From that point on, though, he approached the sport with dedication and enthusiasm.
And more than a little stoicism.
"It's tough to read what's going on with Chase," McLean said. "He's kind of a stoic kid. You don't see what's going on inside his head easily. He's tough that way."
Tebbets checked a big task off his list earlier in the season, when he accepted a scholarship to wrestle at Simon Fraser University in British Columbia.
"They have a young program, and they are trying to get more wrestlers from the United States to come up and wrestle for them," Tebbets said. "When I was there for my official visit they weren't sure if they were going to redshirt me my first year or not, but I'm excited about getting up there and wrestling for them. And it feels really good to have that decision out of the way. It's let me really enjoy the rest of my senior season."
As a Mead freshman, he surprised his coaches and teammates by earning his way into the 106-pound championship match. He lost the final to Ethan Rotondo of Union, 9-5.
"No one expected me to be in the finals," he said. "I wasn't supposed to win that match because I was in there against a really good wrestler. I felt good about how I wrestled that match."
But a few points here and there and he could now be wrestling for the most elusive of the state's wrestling accomplishments: four straight state titles.
"I don't even think about it," he smiled.
But being a three-time state finalist with designs on a fourth gives him a unique perspective that helps in the team's practice room.
"I had a wrestler that I worked with every day in practice my freshman year, and we pushed each other hard," he said. "That's important. That's what prepares you for those tough matches."
Tebbets is returning that favor this year with freshman Ryan Clark, who heads into the tournament season ranked No. 1 at 120.
"I've been working with him all year," he said. "We have a really good group of freshmen this year, and they're all good."
McLean has reached into his bag of tricks for the homestretch of the season. As the team prepared for Tuesday's workout, he showed them a long training clip from the movie "Vision Quest," the wrestling-themed movie starring Matthew Modine that was filmed in Spokane.
"Hey, those shorts are coming back, guys," he told his wrestlers.
Anything to help motivate his wrestlers for the task at hand, he said.
"I'm trying to break things up," McLean laughed. "Next week, on Wednesday, we're going to have a "Vision Quest" day, and the guys are going to dress up in stuff like they wear in the movie. We're going to make it fun."
While his teammates watched the clip and prepared for the day's workout, Tebbets kept a wry smile on his face.
He knows the movie. And he's living it.
Local journalism is essential.
Give directly to The Spokesman-Review's Northwest Passages community forums series -- which helps to offset the costs of several reporter and editor positions at the newspaper -- by using the easy options below. Gifts processed in this system are not tax deductible, but are predominately used to help meet the local financial requirements needed to receive national matching-grant funds.
Subscribe to the sports newsletter
Get the day's top sports headlines and breaking news delivered to your inbox by subscribing here.
---