News > Spokane
From Omaha to the Elbe, Bill Luke helped pave the way for the liberation of France
Thu., June 6, 2019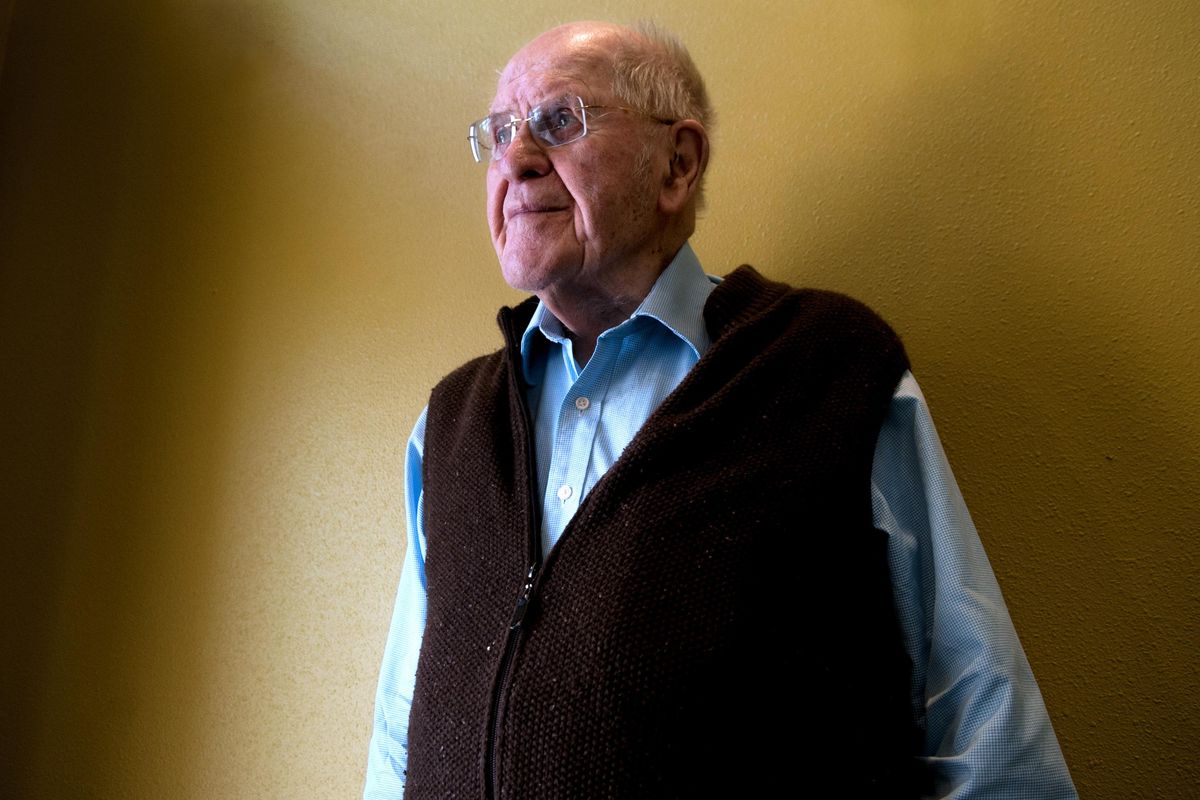 Bill Luke, 94, talks about his experience during D-Day, when he served with the 336th Engineer Combat Battalion, during an interview at Fairwinds Retirement Home in Spokane on Wednesday, May 29, 2019. (Kathy Plonka / The Spokesman-Review)
The bullets were still flying when Bill Luke reached the bloody sands of Omaha Beach on the afternoon of June 6, 1944.
That wasn't part of the plan.
A clerk in an engineer battalion, Luke had expected to be on the beach that morning, helping clear mines and build roads.
"But the activities on the beach weren't going very well," recalled Luke, then a 20-year-old from Minnesota's Iron Range.
And men were dying. Of the five beachheads the Allies carved out on D-Day, Omaha was the most precarious. Before it was secured a few days later, about 2,000 Americans had been killed or wounded.
Luke saw the carnage – "the bodies" – as he waded from a landing craft through chilly water.
In his backpack was a Bible – "waterproofed, like everything else we carried," recalled Luke, now 95 and living in a north Spokane retirement home.
Seventy-five years later, Luke's memory remains sharp. A clerk with the 336th Engineer Combat Battalion, he and his comrades huddled against a rocky bank near the west end of the beachhead.
Soon they were ordered to the eastern end of Omaha, to build roads that would sustain the tanks and trucks that would drive the Germans inland.
It was a trek of 2 miles, with only partial cover from the bank, as hundreds of men moved in a long, irregular column. Behind them lurched a tractor that towed a trailer filled with explosives.
"There was fire from a German pillbox, and I hit the ground several times," Luke said.
As the battalion made its way around bodies and wreckage through smoke and gunfire, men saw the awful panorama of D-Day.
The battalion suffered 29 casualties, two dead and 27 wounded, but got to work immediately. They had to:Vehicles and men were piling up on the beach, still easy targets for German guns.
"Job one was removing mines and getting the road leveled," said Luke, who as a clerk received a different assignment.
"I didn't know how to clear mines, or to shoot much of anything … so I asked the sergeant, 'What do you want me to do?' "
"Dig a foxhole," the sergeant said. "A deep foxhole."
Luke did so, and the dirt hole soon served as company headquarters. Luke also settled down to the grim task of establishing a cemetery for American troops.
Eventually, the company moved into a building and settled in. Mostly they improved the roads, quite literally paving the way for the liberation of France.
Observed Luke: "They did a remarkable job."
They also got a special reward: a lightning tour of Paris.
Told to send a small group of men to take part in liberation ceremonies, the sergeant selected the most responsible soldier he could find: Luke, who didn't drink and wrote notes and letters to his parents in Virginia, Minnesota.
"He wanted me to keep an eye on those guys," said Luke, who was 10 to 20 years younger than the other men who arrived on the Champs Elysees in a weapons carrier.
"But they behaved," said Luke, who took in the Eiffel Tower and the Cathedral of Notre Dame but was more enamored by the people.
"You'd go down the street, and all the people would come and shake your hand and give you a big hug," Luke said.
The end of the war in Europe saw Luke on the Elbe River in central Germany, where American and Russian soldiers joined hands.
After the war, Luke returned home. In 1953, he "married the perfect girl" and established a trade journal focusing on the bus industry.
In 1969, he and Adelene moved to Spokane, where for five years Luke was assistant manager of Empire Lines. He went on to produce trade journals and other publications.
Luke also found time to travel. Back in Normandy years later, he found the site of his old battalion headquarters.
"It was a restaurant, can you believe that?" he said.
Local journalism is essential.
Give directly to The Spokesman-Review's Northwest Passages community forums series -- which helps to offset the costs of several reporter and editor positions at the newspaper -- by using the easy options below. Gifts processed in this system are not tax deductible, but are predominately used to help meet the local financial requirements needed to receive national matching-grant funds.
Subscribe now to get breaking news alerts in your email inbox
Get breaking news delivered to your inbox as it happens.
---