News > Spokane
'Join the Navy and see the world' slogan landed Toppenish sailor aboard USS Nevada on D-Day
Thu., June 6, 2019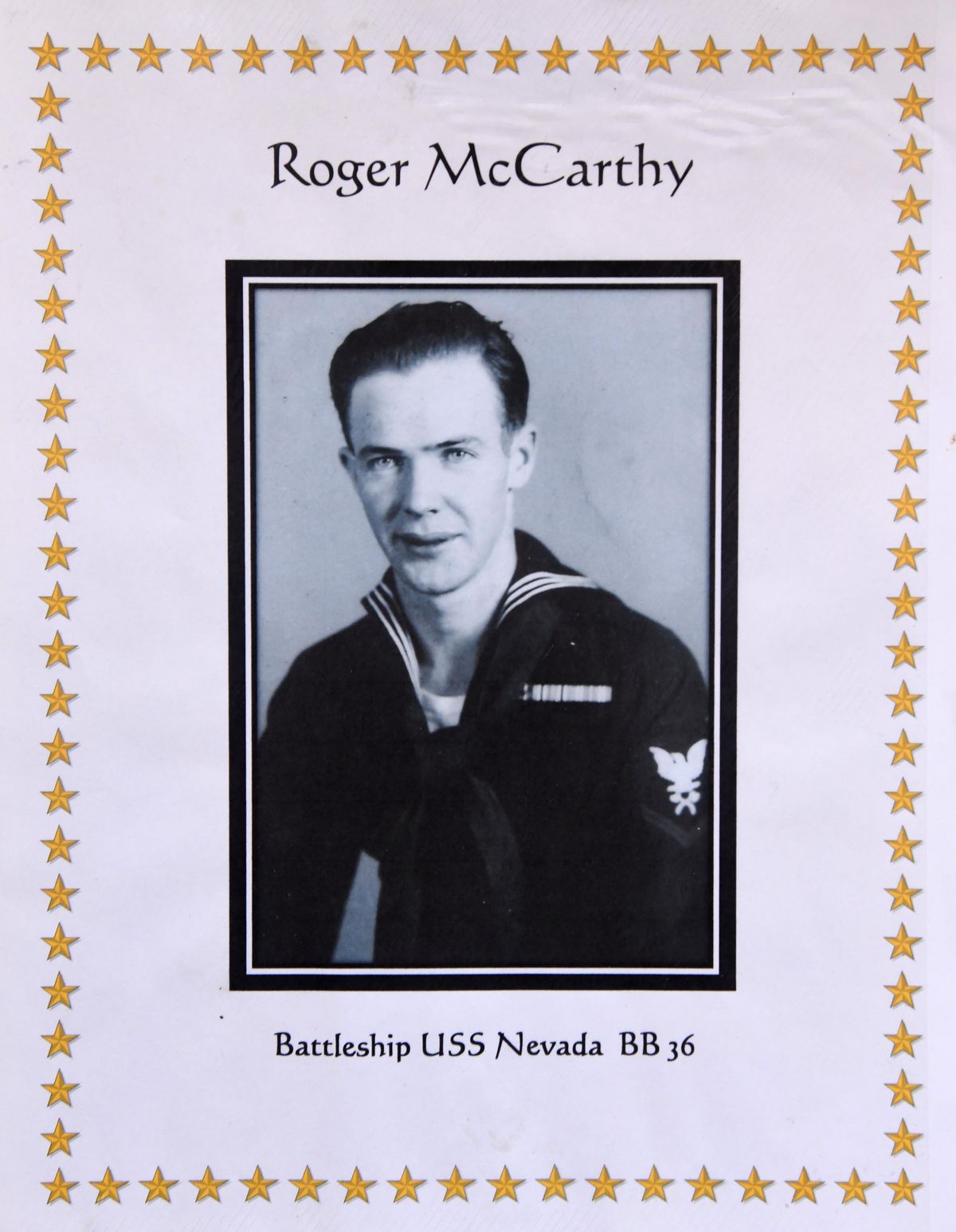 Roger McCarthy served on the USS Nevada and took part in D-Day. He also participated in the invasions of Southern France, Iwo Jima and Okinawa. (Roger McCarthy / Courtesy)
For a young man from the Yakima Valley, Uncle Sam was true to his word.
"Join the Navy and see the world," the recruiting posters beckoned to Roger McCarthy in the summer of 1942.
That sounded better than getting drafted into the Army, reckoned McCarthy, a 23-year-old from Toppenish, who at the time was working as a draftsman for the Civilian Conservation Corps.
Two years later, on the morning of June 6, 1944, Roger McCarthy was in the English Channel aboard the battleship USS Nevada.
Its 14-inch guns had a range of 20 miles, but that wasn't close enough for the ship's commander, who wanted to support the men on Utah Beach with everything he had.
"Take 'er in another thousand yards," bellowed Capt. Powell Rhea.
Now 98 years old, McCarthy's memory is fading, but he remembers Rhea's words with crystal clarity. And he still wears a USS Nevada cap.
"Take her in another thousand," McCarthy repeated during an interview last week.
Rhea's bravery was rewarded. The German shore batteries fired dozens of shells, but the Nevada was unscathed. Utah Beach was secure. American lives were saved.
"I don't think I was scared, I was just busy," McCarthy said during an interview with Tony Lamanna, director of Inland Northwest Honor Flight.
"Frankly, like everyone else in the war, I figured nothing was going to happen to me. Maybe someone else, but not to me."
In the weeks that followed, the Nevada pounded German positions along the length of the beachhead.
McCarthy, who worked as a painter in the Nevada's Repair and Construction Division, knows he was lucky.
Nearby, ships "disintegrated in explosions or gave up the ghost from wounds from shells" fired by the enemy," McCarthy said.
After bad weather forced a one-day postponement in the invasion, the Nevada and its sister ships moved off the Normandy coast under cover of darkness.
When dawn broke on June 6, McCarthy was on anchor detail on the top side – a perfect vantage point.
"As far as you could see in all directions, the sky was full of planes," McCarthy said. "I saw plane after plane for what seemed like an hour or more. The fighters, bombers, gliders being pulled by other planes, you name it; they were all heading to France."
"It was spectacular," McCarthy said.
For three weeks, the Nevada pounded German positions in Normandy, often at close range.
"We were close enough to see the shoreline and could clearly see buildings," McCarthy said. "We were close enough that with binoculars I could see signs which said, 'Minen' on them, which is German for 'mines.'"
By August, the Nevada was in the Mediterranean, supporting the invasion of southern France.
Four months later she was back in Pearl Harbor, with some of its crew aching for some revenge. On Dec. 7, 1941, the Nevada suffered 60 fatalities and 119 wounded in the Japanese attack that pushed America into the war.
The debt was repaid on Feb. 16, 1945, when the Nevada fired the first shot of the battle of Iwo Jima. For 19 days the ship fired on pillboxes, gun emplacements, air strips, troop strong points and ammunition dumps.
"From where we were, I could see just about everything along the shore," McCarthy said. "I remember seeing the American flag on top of Mount Suribachi."
D-Day and Iwo Jima were the emblematic moments of the war, and McCarthy had taken part in both.
After the war, Roger met and married Dorene Zable in June 1947. The following year, they welcomed their daughter, Cheryl, and in 1949, a son, Patrick.
In 1950, they moved back to their hometown of Toppenish, where Roger started a local newspaper, the Toppenish Times. After a fire destroyed the newspaper, Roger worked as a commercial artist for Shields Bag and Printing Co. in Yakima until he retired.
Later, he founded the Toppenish Mural Society and created 78 historically accurate murals. Moving to Spokane in 1999 to be near their daughter, McCarthy lost his wife in 2013 after 66 years of marriage.
McCarthy still takes quiet pride in the accomplishments of the USS Nevada.
"We did our job," he said.
Local journalism is essential.
Give directly to The Spokesman-Review's Northwest Passages community forums series -- which helps to offset the costs of several reporter and editor positions at the newspaper -- by using the easy options below. Gifts processed in this system are not tax deductible, but are predominately used to help meet the local financial requirements needed to receive national matching-grant funds.
Subscribe now to get breaking news alerts in your email inbox
Get breaking news delivered to your inbox as it happens.
---