Sports > Area sports
Stacy Clinesmith hasn't lost competitive spirit as she seeks fifth Hoopfest women's elite title
Sat., June 29, 2019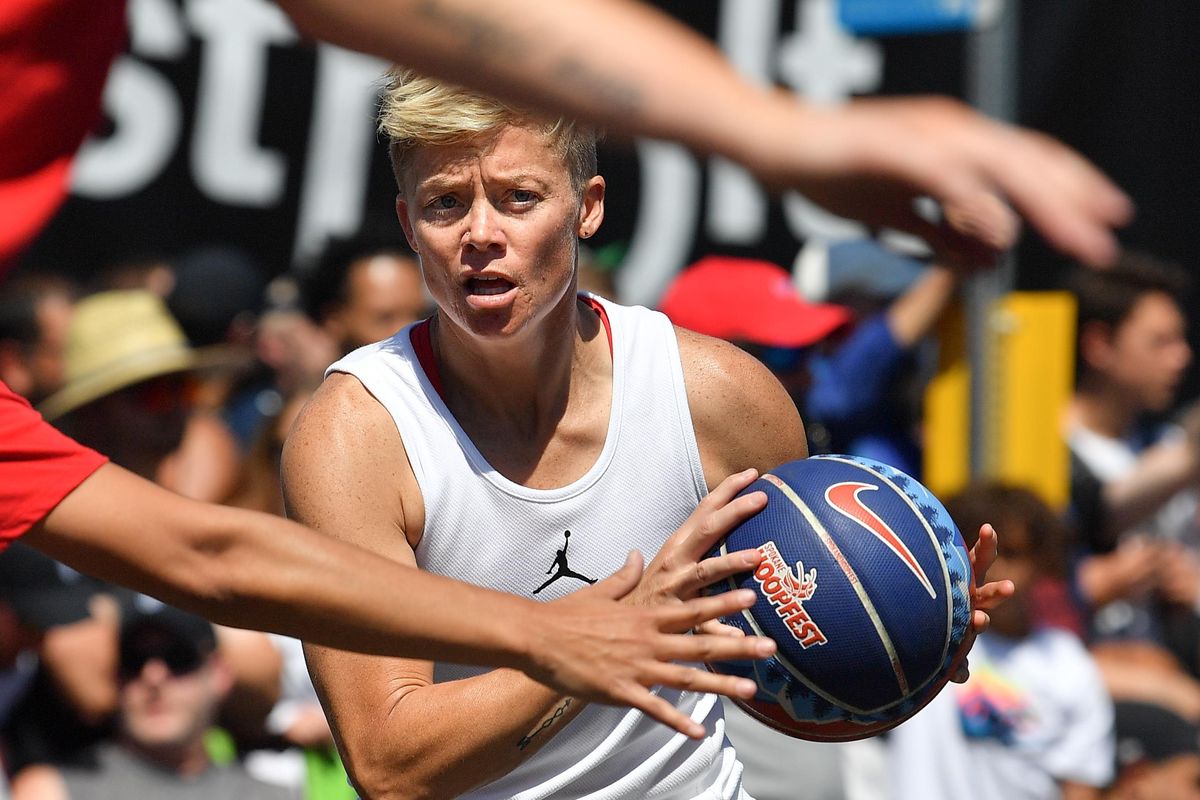 Stacy Clinesmith playing for the team FARMGIRLFIT moves the ball during Hoopfest 2019 on Saturday, June 29, 2019, in Spokane, Wash. (Tyler Tjomsland / The Spokesman-Review)
Stacy Clinesmith fits the bill of Spokane basketball royalty.
She was the Washington State AAA Player of the Year at Mead High School in 1996 before a standout college career at UC Santa Barbara and a stint in the WNBA. Now she's an assistant coach for the Gonzaga women's basketball team, entering her sixth season on the staff.
But the weekend is about Hoopfest and Clinesmith has four titles to her name even though she hasn't played in four years.
She wasn't planning on playing, but former GU star Heather Bowman called.
"When Heather calls, you don't say no, you say, 'All right, let's go do this thing,' " Clinesmith said.
Clinesmith is a Hoopfest veteran. She played in the first Hoopfest and has seen the event grow from a small summer tournament to the behemoth it is today.
"I played in the first Hoopfest, so it is something that means a lot to me, to my hometown. It is basketball," she said. "It is just a really special event, so I am really proud that I am from Spokane and that this is the largest 3-on-3 tournament in the world."
Her attitude and competitive spirit also have not changed since the first time she stepped out onto the streets of Spokane.
"I am pretty competitive on the court, pretty fiery," she said. "I don't think I change much when it comes to what I am on the bench to what I am on the court. It is just more fun on the court because I have more control with what's happening.
"I love coaching, especially these guys, they are so much fun to coach."
The players she was referencing, from Gonzaga, were there on the sidewalks cheering on Clinesmith's FarmgirlFit. The team tips off Sunday at 8 a.m. on Nike Center Court with a berth in the championship game on the line.
"It is pretty awesome. In our second game, GU players were at my game being loud and going crazy," Clinesmith said. "I don't think there are words, really. It is amazing to be a part of such an amazing university, a great basketball program and to be in my hometown with my whole family – my whole family was here today – I don't think it gets more special than this."
After four titles, Clinesmith has plenty of favorite memories.
"A couple women's elite brackets where we were in the loser's bracket and had to beat some teams twice on center court in 120 degrees, those are some really special moments," she said. "It's just a different, fun event. Everyone is down here, loves hoops. There's music playing and it is just a really fun atmosphere."
FarmgirlFit's success has helped her not question her decision on playing this weekend.
"Sometimes I am like, 'Should I be doing this?' and then I get out there and it is fun," she said. "Hopefully, we just go out there and win it."
GU women's player Jill Townsend is confident in FarmgirlFit's chances.
"She's going to win," Townsend said. "That is her mindset. She isn't going to lose. We were over there watching and it was just Stacy playing ball."
"If we need to come defend the title, we might be back next year," Clinesmith said.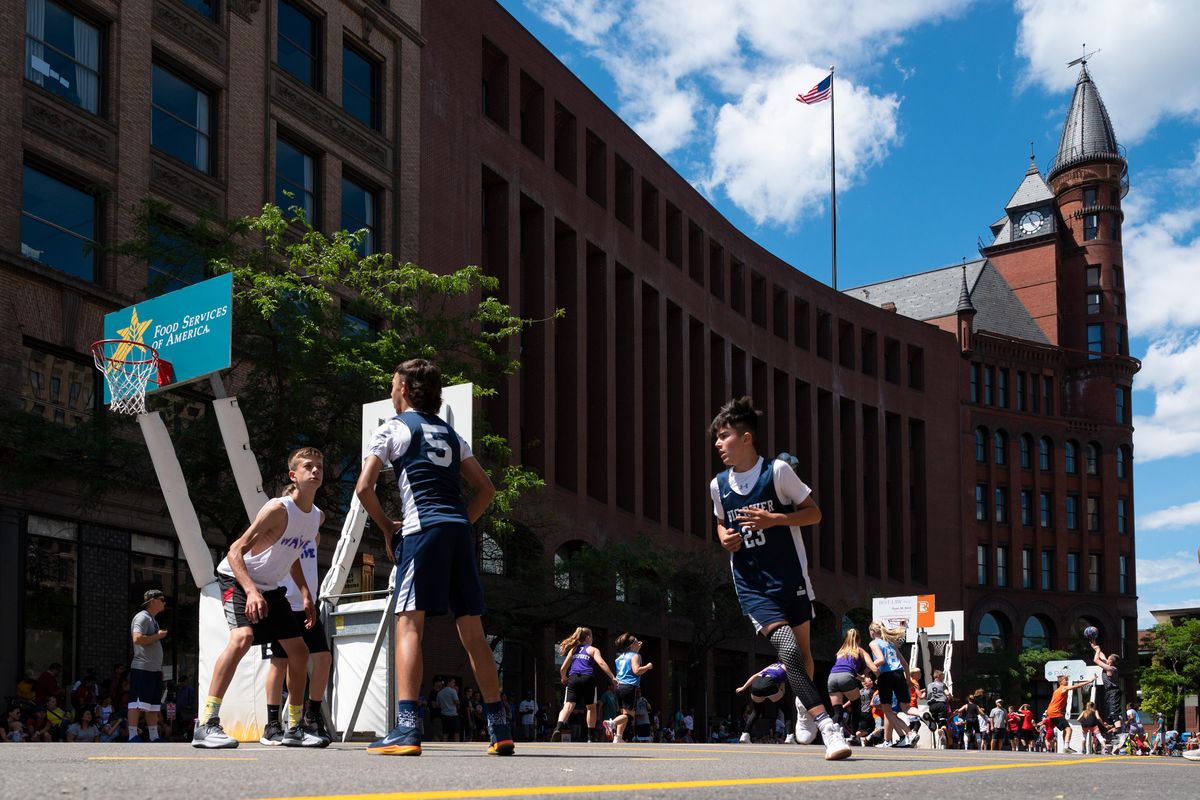 Hoopfest teams compete along Riverside Avenue in downtown Spokane on Saturday, June 29, 2019. (Colin Mulvany / The Spokesman-Review)
Local journalism is essential.
Give directly to The Spokesman-Review's Northwest Passages community forums series -- which helps to offset the costs of several reporter and editor positions at the newspaper -- by using the easy options below. Gifts processed in this system are not tax deductible, but are predominately used to help meet the local financial requirements needed to receive national matching-grant funds.
Subscribe to the sports newsletter
Get the day's top sports headlines and breaking news delivered to your inbox by subscribing here.
---