Sports > Area sports
Former Big Sky Conference players well represented at Hoopfest
Sat., June 29, 2019 A decade removed from his last Hoopfest appearance, former Post Falls High and Montana State standout Marcus Colbert quickly regained his familiarity with the world's 3-on-3 basketball tournament.
Colbert, 25, was teamed up ex-MSU cohorts Mike Dison and Ryan Shannon, who all played together four years ago in Bozeman.
It didn't take Colbert – the son of Idaho small-school power Genesis Prep head basketball coach Marsell Colbert – long to notice the other ex-Big Sky talents in his men's elite division.
Colbert played against ex-EWU sharpshooter Parker Kelly (Gonzaga Prep), a member of two-time defending champion Lee and Hayes squad that also features ex-EWU forward Marc Axton.
He also locked up with ex-Idaho guard Chris Sarbaugh (G-Prep), whose Hoopfest team features ex-Idaho and Coeur d'Alene football player Deon Watson and Colbert's old MSU teammate, Shy Blake.
Bobby Moorehead, a Montana Grizzlies guard Colbert faced three years ago, was also in the bracket.
Eagles. Vandals. Grizzlies. Bobcats. All are well represented at Hoopfest.
And these names are just the tip of iceberg.
"Those Big Sky games with those players were fun," said Colbert, who played professionally overseas before returning to Post Falls last year. "And they'd be fun here."
Kelly and Axton, who is now in his mid-30s, have developed somewhat of a Hoopfest rivalry with Roots Academy, a team comprised from another Big Sky member, Northern Arizona.
Kelly Golob, Ryan McDade and Josh Wilson all played at NAU and won a Hoopfest elite title 2014. Kelly and Axton's squad beat the NAU team in the 2017 championship.
Other former Big Sky rivals have teamed up, such as ex-Montana forward Derek Selvig and former Montana State forward Bobby Howard.
In the 6-foot-and-under elite division, ex-Montana guard JR Camel and his nephew, former Montana guard Zach Camel, lead Hoopfest regular Desert Horse.
The amount of former Big Sky talent in the Hoopfest elite divisions isn't lost on ex-EWU women's standout Ashli Payne, either.
Payne, who played in Europe since graduating in 2016 and is playing in her first Hoopfest, is teamed up with ex-college teammate Tisha Phillips.
"It's been great to come back and see a lot of the talent I saw in the Big Sky," Payne said.
Payne's team – All Rez – dropped its first game to a Money Mamas team featuring former EWU guard Kylie Huerta before winning their next two.
One of two undefeated teams in the elite division was FarmgirlFit, which includes ex-EWU guard Lexie Nelson.
Brianne Ryan, a former EWU star and Big Sky MVP, is a member of Bamm, which looks to repeat in the Co-Ed elite division.
Defending champs on track to repeat in elite divisions
Lee and Hayes (Kelly, Axton, Mike Hart and Robert Lippman) won both of their games Saturday in the men's open elite division, and are knocking on the door of a third straight title.
In the 6-foot-and-under elite division, defending champion Pay Up (Darrell Murphy, Brian Johnson, Michael Johnson and Marcus Tibbs) also went unscathed on Saturday.
Three-time defending co-ed elite champion Bamm (Ryan, Matt Dorr, Mike Dorr and Andrew Ryan) went 2-0 on Saturday.
The 2017 elite women's champion who finished second in 2018, YCC Canada (Janelle Bekkering, Robyn Buna, Stephanie Price and Hilary Annich) won their opening games.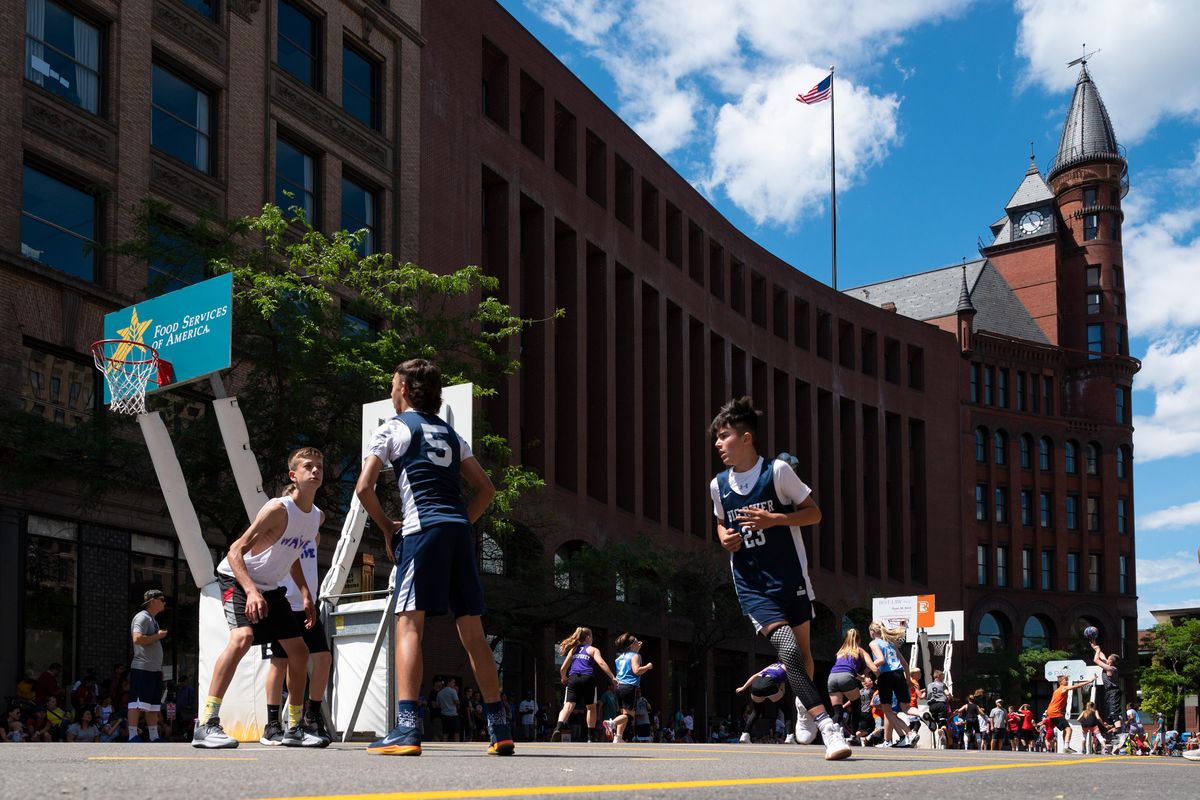 Hoopfest teams compete along Riverside Avenue in downtown Spokane on Saturday, June 29, 2019. (Colin Mulvany / The Spokesman-Review)
Local journalism is essential.
Give directly to The Spokesman-Review's Northwest Passages community forums series -- which helps to offset the costs of several reporter and editor positions at the newspaper -- by using the easy options below. Gifts processed in this system are not tax deductible, but are predominately used to help meet the local financial requirements needed to receive national matching-grant funds.
Subscribe to the sports newsletter
Get the day's top sports headlines and breaking news delivered to your inbox by subscribing here.
---