Human-powered ethos driving rapid growth of uphill skiing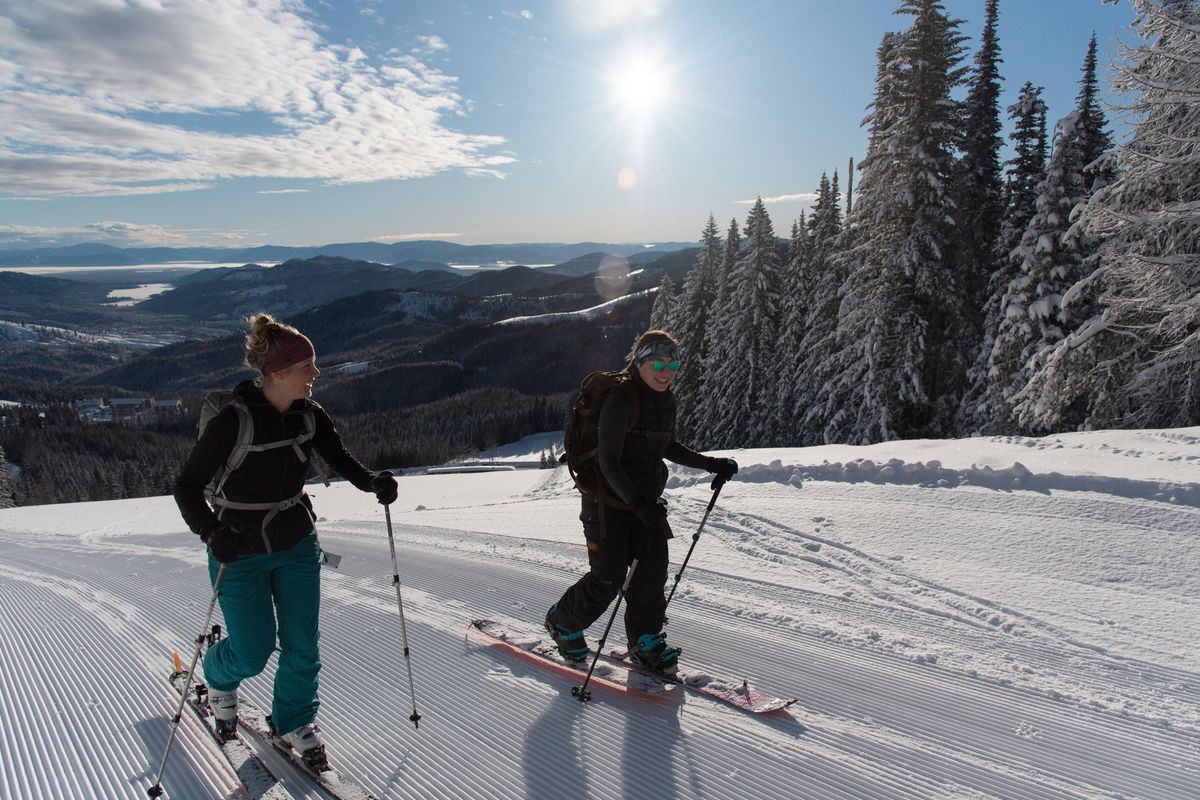 On any given winter morning at Mount Spokane, you're likely to see a handful of headlamps weaving through the predawn darkness.
These lights represent one of the hottest trends in the skiing industry: uphill skiers. Since 2014, the hometown mountain has allowed skiers to travel uphill in a designated area during certain times of the day and week.
'It's been great," said Brad McQuarrie, general manager of Mt. Spokane Ski and Snowboard Park. "I love being able to see people utilize the mountain in a lot of different ways."
Unlike backcountry skiers, uphill skiers aren't going deep into the wilderness. More often than not, they're trying to get some exercise, learn the basics of ski touring or hang out with friends in the safety and comfort of a resort.
According to the National Ski Areas Association, 53 percent of resorts in the United States already allow some type of uphill travel.
At the same time, sales of uphill-style bindings have risen, even as overall ski and snowboard participation has dropped.
"You have a new generation coming into skiing that's not just interested in the adrenaline and thrill seeking of the descent," said Travis Nichols, a backcountry skier and uphill skier who helped develop Mt. Spokane's policy.
"Culturally, we have a generation that values athletics and health. It's not just a thing you do 1 hour a day. It's a thing you embody 24 hours a day."
Mt. Spokane
stands alone
Yet in the Spokane region, Mount Spokane remains the only resort with a dedicated uphill route.
Spokespeople from area resorts said that's not likely to change anytime soon.
"This is a question we get a lot, and unfortunately, Schweitzer does not allow uphill traffic on the resort and I don't expect that to change in the foreseeable future," said Schweitzer spokeswoman Dig Chrismer. "Keep in mind that Schweitzer is in a unique situation, in that we own all of our terrain and do not need a Forest Service permit to operate. We understand the appeal for some skiers, but from a resort standpoint, and for the overall safety of guests and staff, uphill traffic is prohibited."
Similarly, Lookout Pass on the Idaho/Montana border doesn't allow uphill travel. It has no plans to create a designated route, spokesman Matthew Sawyer said.
"We are in the business to sell tickets," he said in an email.
According to 49 Degrees North's policy, uphill travel is prohibited during normal operating hours. It is allowed outside operating hours with "the understanding that all individuals remain at least 100 feet away from any area equipment operating or not. The climber is also responsible for avoiding where possible, any and all fresh grooming."
'Not going away'
While the challenges posed by uphill travel to resorts are legitimate, Nichols thinks that the benefits far outweigh the negatives.
Interest in uphill travel is emblematic of an overall shift in attitude toward outdoor recreation. He believes ski areas can and should capitalize on it.
"If you look at the iconography of the last six years, it's about ski mountaineering," he said. "It's been about human-powered pursuits in the backcountry."
Gone are the solo adventurers dropping massive cliffs, or the rebellious, backflip-hucking punks of the 1990s and early 2000s, Nichols said. Instead, more people are looking for exercise and companionship.
Nichols has been thrilled with Mt. Spokane's adoption of an uphill route, but he hopes that is only the beginning.
"This is not going to go away," he said.
He is advocating for the addition of dedicated uphill ski paths open during the day. A prime example is Whitefish, which has two uphill ski lines that are open 24 hours a day.
Ski resorts are perfectly placed to teach the basics of uphill travel and rent the necessary gear.
"There is no better place to learn how to go uphill skiing than the same place you learn to go downhill skiing," Nichols said.
He's clear that uphill skiing is not necessarily the first step toward backcountry skiing. For many, uphill skiing is just what they do, not necessarily a stepping stone toward anything.
McQuarrie said adding a dedicated full-time run is unlikely as is offering rentals or instruction in uphill travel.
Still, he's open to ideas, especially considering the success of the current policy.
"It's a great program," he said. "We're proud to be an uphill mountain and be able to provide that for the people of Spokane."
---