Wonder Building eateries see smiling faces, busy lines during first full day of business Restaurants in the 110-year-old Wonder Building saw their first full day of operation Monday when the building's ground floor officially opened to the public.
People were greeted by a bakery-themed mural along with vintage Wonder Bread signage at the west entrance of the former Continental Baking Co. factory. The east side, where a farmers market will operate in the spring, featured artwork from several regional artists.
Jeff Hunter, a retired schoolteacher who grabbed coffee at the new Evans Brothers cafe with his wife, Diane Hunter, said the look of the building, with its exposed brick and beams, "is the look that everybody is going for." He added that he's been watching the renovation closely and awaiting the official opening.
"I'm so glad downtown is so vibrant now," Hunter said of all the eateries, hotels and stores being renovated. "The best part of this is they're saving this old building."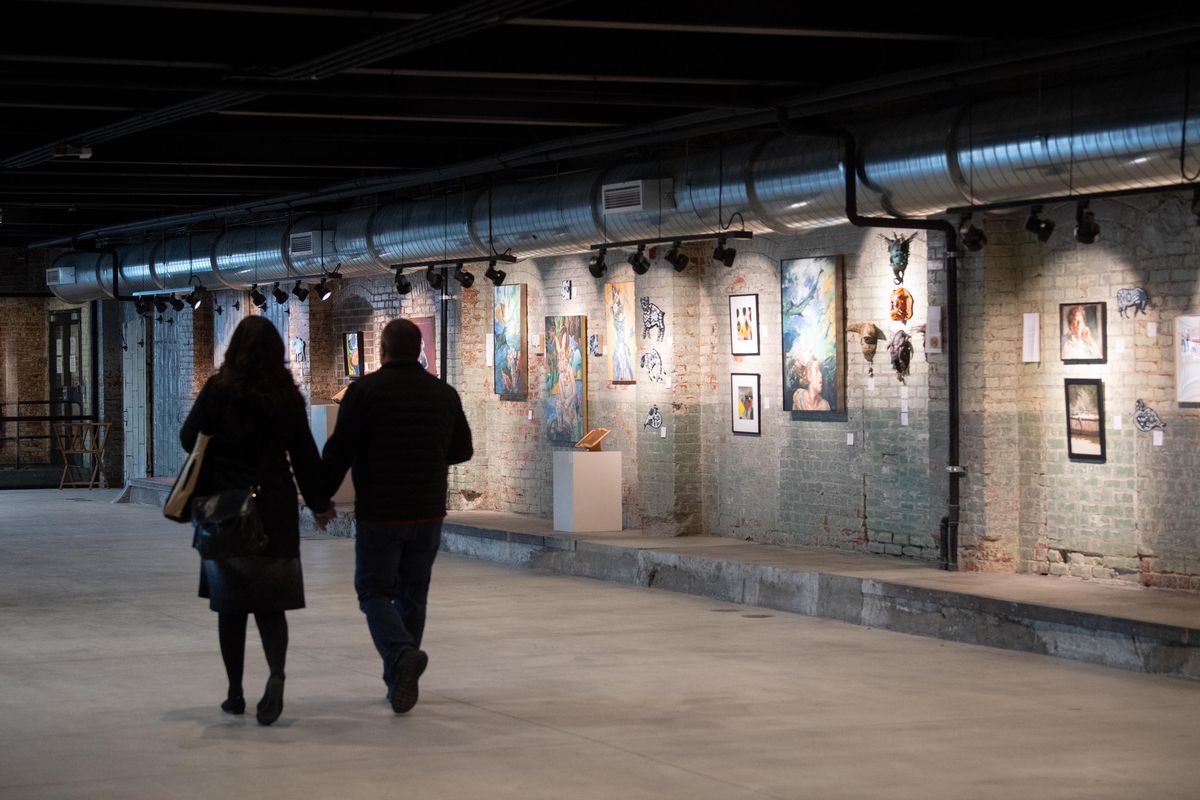 Morgan Burgin, an Evans Brothers barista, said he was glad to see so many people come inside to see the space and keep him and the other baristas busy by grabbing a coffee. The 22-year-old added that he's excited to see more tenants move in, as well.
"I think it has so much opportunity for the community to grow," Burgin said.
The line at High Tide Lobster Bar's second location, serving lobster rolls, short rib sandwiches and clam chowder, was around 20 people deep for most of the lunch hour after the restaurant dished up about 400 sandwiches at its soft opening Friday.
Cindy Ecklund and her family chose to celebrate her 53rd birthday at the new restaurant after last trying High Tide at its other location on the Numerica building skywalk level.
"We were just looking for a place to go to lunch and we like to try new places," said Ecklund, who added that they got to the restaurant early to beat the rush.
Juana Perley, a 70-year-old Maine transplant, said she questioned High Tide chef Chad White about whether his lobster really came from her home state.
"It's just like as if I was in Maine standing on the dock," she said. "If someone wants a new dining experience I highly recommend it.
A third food vendor, Bean & Pie bakery, will be open Wednesdays from 4 p.m. to 7 p.m.
High Tide will have a grand opening with live music at 6 p.m. on Friday, while Bean & Pie takes Thanksgiving orders. The seafood restaurant will be open 11 a.m. to 8 p.m. Monday through Saturday, and from 11 a.m. to 6 p.m. on Sundays.
Evans Brothers will be open daily from 7 a.m. to 5 p.m. on weekdays, 8 a.m. to 4 p.m. Saturdays and 8 a.m. to 2 p.m. on Sundays.
The $15 million renovation of the former bakery building north of the Spokane River at 835 North Post St., which was added to the Spokane Register of Historic Places in 2018, was completed this year.
Tenants on the upper floors include Rover, a Seattle-based dogsitting and walking startup; Parametrix, a Seattle-based engineering company that largely focuses on public infrastructure; and HDR, an engineering, architecture, environmental and construction services company.
---