News > Spokane
100 years ago in Spokane: Yellowstone autos promote parks' tourism; more McNutt murder details emerge
Sat., Oct. 5, 2019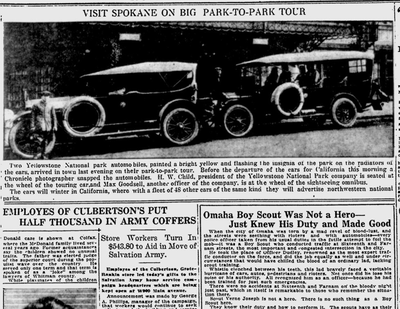 Two bright yellow Yellowstone National Park autos, including an omnibus, arrived in Spokane to promote tourism to Yellowstone and other western national parks, the Spokane Daily Chronicle reported.
Spokane embraced these visitors, because tourism to Yellowstone would naturally mean more tourism in Spokane. Spokane was actively promoting itself as the best route to and from the western parks, including Yellowstone, Glacier and Mt. Rainier.
From the murder beat: Sensational details were emerging every day in the William H. McNutt murder case.
First, the mystery caller who told police where to find McNutt's buried body hadn't made just one anonymous phone call to detectives. He called "every few days" for two weeks to add information to the story, the Chronicle reported. He never identified himself, although he called himself "an intimate friend of the McDonalds" and said they told him their secrets.
Police said the majority of his information had proven to be correct. Marie Jewel McDonald, Fay McDonald and Ted McDonald were being held in Los Angeles on murder charges, and a brother, Will McDonald was still being sought.
The McDonald sisters were often referred to as Marie Wilkinson and Fay Wilkinson while they lived in Spokane, and now the reason had emerged. Both sisters had been married to a Mr. Wilkinson, the Chronicle said. Marie was married to him first, and after they divorced, Fay, who was only 15, married him. It was described at the time as an "unusual love triangle."
It was possible that Fay was still married to Wilkinson. Police were trying to find him to get more information.
The news also emerged that Marie McDonald was, in fact, the same Marie Wilkinson who was arrested and put on trial in Spokane 1916 for allegedly setting fire to her own house for insurance purposes.
The fire marshal found traces of kerosene scattered around her house. Yet her attorneys alleged in court that "her enemies" had set fire to her house. The trial resulted in a hung jury and charges were eventually dropped.
At the time, Marie was described as a former vaudeville singer and actress.
Local journalism is essential.
Give directly to The Spokesman-Review's Northwest Passages community forums series -- which helps to offset the costs of several reporter and editor positions at the newspaper -- by using the easy options below. Gifts processed in this system are not tax deductible, but are predominately used to help meet the local financial requirements needed to receive national matching-grant funds.
Subscribe to the Coronavirus newsletter
Get the day's latest Coronavirus news delivered to your inbox by subscribing to our newsletter.
---