Recap and highlights: Turnovers, special teams doom No. 19 Washington State in loss to UCLA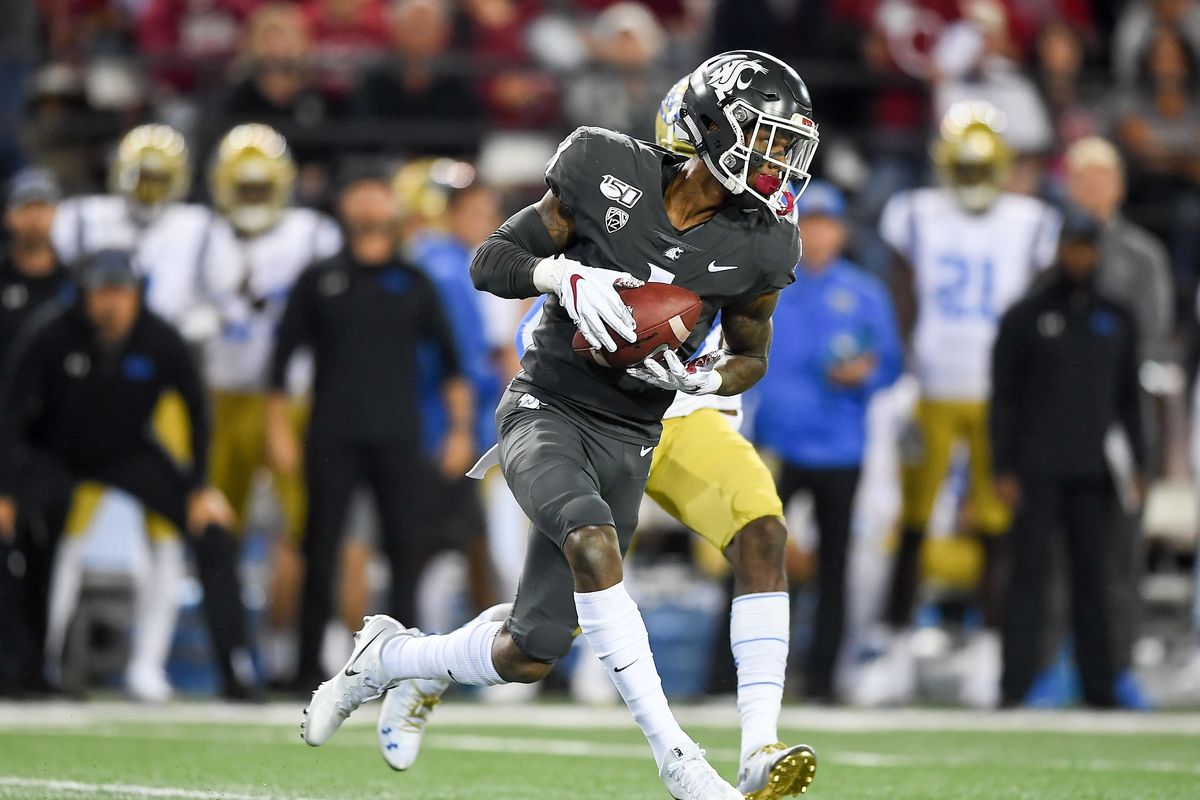 PULLMAN – They'll cringe when the interceptions and fumbles pop up on film next week and grumble when they have to review the botched special teams tackles and unsportsmanlike conduct penalties.
It took winless UCLA fewer than 5 minutes to erase most of a 32-point lead Saturday night at Martin Stadium, and even with Anthony Gordon breaking a school record with nine passing touchdowns, the Cougars couldn't avoid full-on disaster in their Pac-12 opener, falling to the Bruins 67-63.
The 130 points were a Pac-12 record for a conference game.
The Cougars have their toughest challenge of the season on deck. WSU (3-1, 0-1), which came into Saturday's game at No. 19 in the Associated Press Top 25 poll, continues its trek through the Pac-12 South, going on the road next week to play Utah (3-1, 0-1), which was ranked No. 10 in the country before a loss to USC Friday night.
Gardner Minshew made his highly anticipated return to the Palouse, but as much attention as the former WSU quarterback drew, he was upstaged by his successor, Gordon, who threw nine touchdown passes to break the single-game record set by Minshew last season when he had seven against Arizona.
Easop Winston Jr., his former City College of San Francisco receiver, was on the end of four of those, tying Gabe Marks' WSU single-game record, set in 2015.
The Cougars, who once looked like they'd get through their first conference game without much stress or anxiety, needed each of those touchdowns, but it still wasn't enough.
Despite rolling up 720 total yards of offense, the Cougars repeatedly handed the ball back to their opponent, giving away a season-high six turnovers.
The Bruins, who'd been stagnant on offense this season, scoring just 14 points in each of their first three games, seemed to capitalize every time they picked off a pass or scooped up a fumble. They finished with 657 total yards.
WSU strung together four straight touchdowns to notch its biggest lead, a 49-17 advantage with 3 minutes to go in the third quarter. But rather than prepare one of their backup QBs to spell Gordon in garbage time, the Cougars turned to their redshirt senior to lift them in the fourth quarter.
For the first time this season, he came up just short.
UCLA's scoring binge started on a 1-yard touchdown from Dorian Thompson-Robinson and continued when Rodrick Fisher fumbled on the next WSU possession, giving the Bruins the ball back on the 37-yard line. On the next play, Thompson-Robinson heaved a long touchdown pass to Chase Cota, cutting the Cougars' deficit to 49-31.
WSU went three-and-out and the Bruins made the Cougars pay, finding pay dirt in an instant when Demetric Felton scored on a 94-yard catch-and-run. The run of errors continued for the Cougars when Dezmon Patmon fumbled on the next drive, allowing UCLA to drive the length of the field and punch in another TD on Thompson-Robinson's 7-yard toss to tight end Devin Asiasi,
WSU ended the scoring drought on Gordon's fourth touchdown throw to Winston, but the Bruins responded with the next two touchdowns to go ahead 60-56.
The Cougars had a resolution for that, though. Gordon threw to his outlet, sophomore Max Borghi, and the running back completed a 65-yard catch-and-run to give the hosts a 63-60 lead.
But the Bruins laughed last. Winston Jr. fumbled with under 3 minutes to play and after a lengthy review, UCLA retook a 67-63 lead on a 15-yard pass from Thompson-Robinson to Felton.
Gordon and the Cougars had one last chance to win, but the QB was sacked and fumbled on the first play of the last drive, giving the Bruins possession with less than a minute on the clock.
Gordon shrugged off a rough start after throwing an interception on the third play of the game. UCLA linebacker Josh Woods initially motioned as if he was rushing the QB, but dropped back and picked off Gordon on the Cougars' 35-yard line. The Bruins took a 7-0 lead a few plays later on Thompson-Robinson's pass to Kelley. – Theo Lawson, The Spokesman-Review
---
Highlights: UCLA 67, Washington State 63
Pac-12 Networks / YouTube
---
First quarter
13:45 – WSU 0, UCLA 0: Washington State quarterback Anthony Gordon is intercepted on his second pass attempt of the game.
Gordon didn't see linebacker Josh Woods, who stepped in front of a short crossing route for the pick.
UCLA takes over on the WSU 29.
13:11 – UCLA 7, WSU 0: Dorian Thompson-Robinson finds Joshua Kelley wide open for a 14-yard touchdown pass and the Bruins take the early lead in Pullman.
The Bruins capitalized on great field position after forcing an interception on the Cougs' opening drive. UCLA needed just three plays to find the end zone after starting from the WSU 29.
Thompson-Robinson went 2 of 2 for all 29 yards on the drive.
10:14 – WSU 7, UCLA 7: Anthony Gordon atones for his early interception and marches the Cougs down the field to tie the game.
Gordon found Easop Winston Jr. open on the goalline for a 4-yard touchdown pass.
The senior quarterback completed 6-of-8 passes for 60 yards on the drive. Gordon connected with Winston four times.
Second quarter
13:02 – WSU 14, UCLA 10: The Cougs jump back in front as Anthony Gordon lofts a pass over the defense to Easop Winston Jr. for a 28-yard touchdown.
Gordon completed three beautiful passes on the drive; two 22-yard connections with Brancon Arconado and the floater to Winston. The WSU QB is up to 182 yards on 13-of-19 passing.
Winston Jr. has 5 receptions for 58 yards.
9:14 – WSU 14, UCLA 10: Anthony Gordon throws his second interception of the game and a good WSU drive comes to a halt.
Gordon hit Dezmon Patmon in the hands on a 10-yard comeback route near the sideline, but Patmon couldn't hang on and Darnay Holmes showed incredible athleticism to dive and catch the drop at the UCLA 21.
Max Borghi had a career-long run of 56 yards to get the Cougs deep in UCLA territory.
8:55 – WSU 14, UCLA 10: UCLA gives the ball right back to the Cougars as Dorian Thompson-Robinson is intercepted by Skyler Thomas.
Thompson-Robinson was flushed from the pocket and tried to throw the ball back over the middle of the field. He didn't have the arm strength to get it to his intended target and Thomas stepped in front of the pass and returned it 11 yards to the UCLA 14.
8:14 – WSU 21, UCLA 10: The Cougars strike quickly from the great field position after Skyler Thomas' interception as Travell Harris takes a screen pass from Anthony Gordon 10 yards for a touchdown.
Gordon threw for all 14 yards of the drive.
7:58 – WSU 21, UCLA 17: Demetric Felton takes advantage of some poor WSU tackling to take a kick return 100 yards for a touchdown.
Felton took the return to his left and slipped down the sideline to pull the Bruins back within one score.
3:51 – WSU 28, UCLA 17: Easop Winston Jr.'s big night continues as he hauls in his third touchdown reception of the night.
On 3rd-and-goal from the 3, the senior receiver was given single coverage on the outside and he shook it with a slick cut on a slant route and Anthony Gordon hit him in stride.
Winston has six receptions for 61 yards.
The Cougs went 60 yards in eight plays, highlighted by Gordon's 17-yard run to get the ball into UCLA territory.
0:27 – WSU 35, UCLA 17: Tay Martin uses some back-shoulder acrobatics to get his foot down inbounds and snag Antony Gordon's fifth touchdown pass of the half.
WSU went 90 yards in 2:20 to push the lead to 18.
Gordon is up to 306 yards passing on 23 of 35.
Halftime
Third quarter
8:09 – WSU 42, UCLA 17: Anthony Gordon tosses his sixth touchdown of the game, this one on a 35-yard pass to Renard Bell over the top of the UCLA defense.
The Cougars started their first drive of the second half by pounding running back Max Borghi at the Bruins. Borghi carried on the first four plays (2 yards, 7, 3, 9) before Gordon took to the air for the final four plays.
Gordon is now up to 365 yards on 27-of-39 passing.
6:52 – WSU 49, UCLA 17: Anthony Gordon continues to roll, tossing his seventh touchdown of the game on a simple out-route to Dezmon Patmon for a 6-yard score.
Gordon connected with Patmon on the first play of the drive after Easop Winston Jr. returned UCLA's punt 45 yards.
Gordon's updated line: 28 of 40 for 371 yards, seven TDs and two interceptions. The seven TDs ties Gardner Minshew's single-game school record.
3:48 – WSU 49, UCLA 24: Dorian Thompson-Robinson helps UCLA cut into the Cougs' lead with a 1-yard touchdown run.
UCLA went 75 yards on nine plays.
3:33 – WSU 49, UCLA 31: UCLA strikes on the first play after Washington State's third turnover trim the WSU lead to 18.
Dorian Thompson-Robinson found Chase Cota behind the defense on a post route for a 37-yard TD pass.
The play before, WSU's Rodrick Fisher was ruled to have had the ball ripped out of his possession before his elbow hit the turf.
1:21 – WSU 49, UCLA 38: The Bruins hit for their second-straight one play scoring drive as Dorian Thompson-Robinson finds Demetric Felton out of the backfield for a 94-yard, catch-and-run touchdown.
Fourth quarter
14:28 – WSU 49, UCLA 46: The Bruins continue their comeback as Dorian Thompson-Robinson connects with Devin Asiasi for a 7-yard touchdown pass.
The Bruins started their drive at midfield after WSU's Dezmon Patmon fumbled.
Thompson-Robinson is now 17-of-26 passing for 396 yards, four touchdowns and one interception.
9:08 – WSU 56, UCLA 46: Anthony Gordon sets the WSU record for touchdown passes in a game at 8 as he connects with Easop Winston Jr. for a 33-yard TD.
Gordon earned the record-breaker after engineering a much-needed long drive for the Cougs as UCLA had scored the last 29 points.
WSU went 75 yards on nine plays, with Gordon picking up 66 yards through the air. The WSU QB is now up to 486 yards on 38-of-53 passing.
8:10 – WSU 56, UCLA 53: Dorian Thompson-Robinson continues his strong second half with a 3-yard touchdown run.
Thompson-Robinson has 440 yards passing and 37 yards rushing with six total touchdowns.
7:31 – UCLA 60, WSU 56: The Bruins take the lead as they get their second return touchdown of the half.
After WSU went three-and-out, Kyle Phillips return the punt 69 yards for the score.
6:11 – WSU 63, UCLA 60: Max Borghi to the rescue for Washington State.
With Anthony Gordon struggling, Borghi hauled in a swing pass, split two defenders and went 65 yards for the score.
Gordon was just 1 of his last 6 before he found Borghi.
1:07 – UCLA 67, WSU 63: The Bruins jump ahead with just over a minute remaining after Dorian Thompson-Robinson hits Demetric Felton on a quick screen pass.
On 3rd-and-goal from the 15, Felton took the pass, made a Coug miss and followed two big blockers into the end zone for the go-ahead score.
0:59 – UCLA 67, WSU 63: Anthony Gordon is stripped as he drops back to pass and UCLA recovers.
The Bruins, who scored 50 points in the second half, will be able to kneel this one out.
'Minshew Madness' overtakes WSU's pregame festivities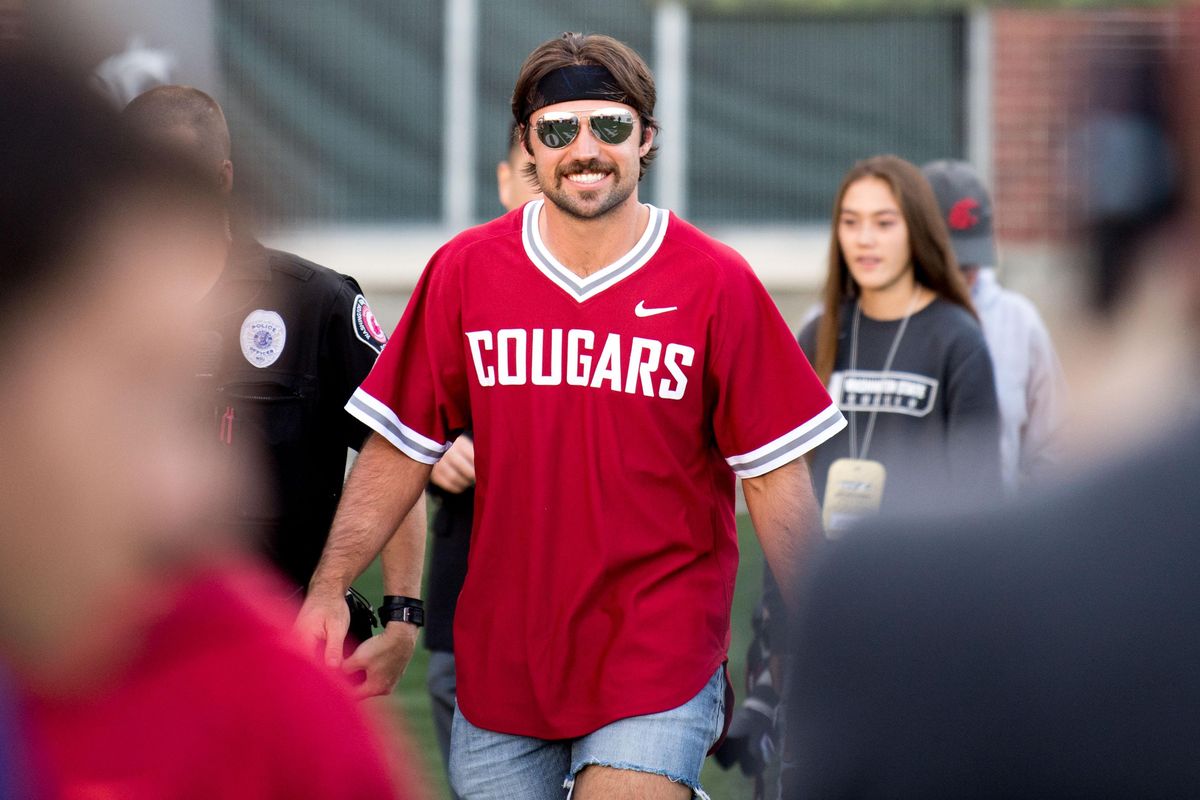 Full video of Gardner Minshew's brief media availability:
Theo Lawson
Pregame
---