Washington leaders oppose visa changes affecting international college students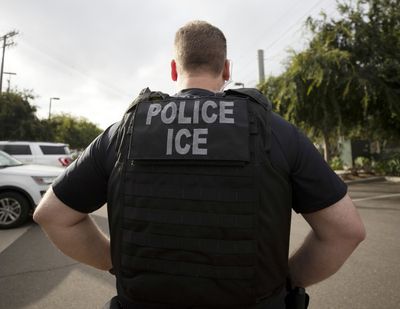 Washington university administrators, Gov. Jay Inslee and bipartisan members of the state's congressional delegation on Tuesday denounced new visa restrictions imposed by President Donald Trump's administration.
Citing domestic labor challenges brought about by the coronavirus pandemic, Trump last month signed a sweeping order that temporarily blocks new work visas for a variety of jobs, including H-1B visas for highly skilled workers such as doctors, engineers and computer programmers.
The decision was met with backlash by business leaders as well as Washington State University administrators, who say at least two of the school's foreign scholars are now stuck outside the country.
Then on Monday, U.S. Immigration and Customs Enforcement announced temporary rule changes that will force international students to leave the country if their universities offer only online courses this fall.
"This is a typically xenophobic and reckless act by the administration," Inslee said during a news conference Tuesday. "It creates perverse incentives to force universities to do in-person classes, even though they consider that might be unwise and unhealthy and not in the public interest."
U.S. Rep. Cathy McMorris Rodgers, a Republican representing Eastern Washington, and both of the state's Democratic senators also denounced the new ICE restrictions in statements to The Spokesman-Review on Tuesday.
"Right now, as we navigate this global health crisis, many in our communities are experiencing fear, anxiety and uncertainty. This is not a time to add to that uncertainty, especially for students who are legally here to get a quality education," McMorris Rodgers said.
"International students from every corner of the world strengthen the fabric of our colleges and universities in Eastern Washington," she added. "Congress needs to work to establish common-sense policies on immigration, and I would encourage the administration to rethink these recent regulations."
U.S. Sen. Maria Cantwell said more than 27,000 international students study at Washington state colleges and universities.
"Our universities and community colleges need more flexibility during this COVID-19 pandemic, not less," Cantwell said. "This policy will drive down innovation and harm the U.S. economy."
And U.S. Sen. Patty Murray called the restrictions the "latest example of bigotry from the president and his administration."
"This policy is unworkable, unrelated to public health, and can't be interpreted as anything other than a hateful attack on students we should be honored to have learning in our country," Murray said.
Among many other changes to the U.S. immigration system, the Trump administration attempted to end the Obama-era program known as DACA, which eliminates the threat of deportation for undocumented people who were taken into the country as children, opening the door to school and work opportunities. The U.S. Supreme Court overturned that decision, allowing DACA to remain in place, in a 5-4 decision last month.
The new ICE restrictions apply to students attending U.S. colleges and universities with F-1 and M-1 visas.
"Nonimmigrant F-1 and M-1 students attending schools operating entirely online may not take a full online course load and remain in the United States," the agency said in a news release Monday. "The U.S. Department of State will not issue visas to students enrolled in schools and/or programs that are fully online for the fall semester, nor will U.S. Customs and Border Protection permit these students to enter the United States."
The rules have an exception for international students attending schools that adopt hybrid instructional models – a mix of online and in-person classes. ICE suggested students transfer to schools offering hybrid or in-person instruction if their current schools go online-only.
WSU, the University of Washington and other schools plan to offer hybrid models this fall, while Gonzaga and Whitworth – both private universities – intend to resume in-person classes.
Gonzaga President Thayne McCulloh and Whitworth President Beck Taylor each voiced objection to the ICE rules on Twitter on Tuesday, saying they intend to discuss the matter with members of Congress and other policymakers.
"The plan to end the emergency waiver that allows international students to maintain their visa status while taking online courses is completely inappropriate and inhumane in light of the ongoing pandemic," McCulloh wrote.
Eastern Washington University President Mary Cullinan followed suit on Wednesday, tweeting, "EWU is deeply disappointed by the heartless decision barring international students from staying in the U.S. if their classes are online. International Eagles are an important part of our campus community. We'll work with them to ensure they continue their academic progress!"
In an interview Tuesday, Kate Hellmann, director of WSU's international student and scholar services, said the university enrolled 2,153 international students from 113 countries during the spring 2020 semester.
"We will be working with our international students on a case-by-case basis, with academic advisers, departments and colleges, to ensure that they have the appropriate enrollment for that combination of live and remote instruction that is required under this current guidance," Hellmann said.
Just as the ICE restrictions were announced, WSU issued a statement pushing back against Trump's decision to block new H-1B visas – an order slated to remain in effect through the end of the year. WSU said 78 of its faculty and researchers have H-1Bs, and another 55 scholars with H-1Bs are due to start or continue appointments at the university this fall.
"At least two are stuck outside the country, unable to start on campus on their planned date," the university said. "This latest action compounds the stress on WSU's international community as many scholars and students also face challenges because of the COVID-19 pandemic."
WSU administrators said they are lobbying policymakers with help from companies that rely on highly skilled foreign workers, including Microsoft, Amazon and Pullman-based Schweitzer Engineering Laboratories.
"At SEL, our colleagues who came here from other countries contribute to the ideas, teamwork, project execution and sweat that enable us to be a growing U.S. manufacturing employer and exporter to other nations," Edmund Schweitzer, the company's founder and president, said in a letter to the Trump administration last month.
"We often prefer to bring excellent folks to the United States, where they will contribute to our society in many ways, rather than employing them outside our country," Schweitzer wrote, adding that he has "never seen our immigration processes favor foreign applicants over domestic ones."
International students account for about 5.5% of college enrollment in the United States, but they and their families contributed about $41 billion to the nation's economy during the last fiscal year, according to a June 2 letter signed by McMorris Rodgers and 20 other members of Congress.
The lawmakers sent the letter to Secretary of State Mike Pompeo and Homeland Security Secretary Chad Wolf, urging the administration not to roll back yet another visa option – the Optional Practical Training program, which allows students with F-1 visas to work from one to three years in their field of study before or after graduating.
Hellmann, at WSU, said the university has continued hearing rumors that the Trump administration might eliminate or curtail the OPT program.
---