Dad Daze: Be with your children so every day is Father's Day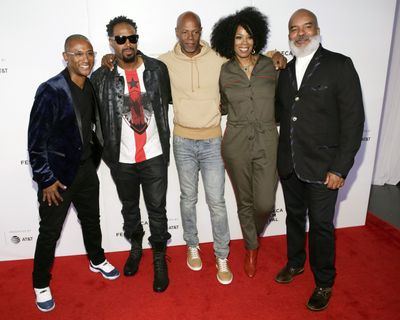 Some memories are indelible.
After clearing the bases with a walk-off double during a little league baseball playoff game a generation or so ago, I was mobbed by teammates. I have a vague memory of caps tossed into the air and jubilant hugs. I was fixated on my father smiling while standing behind the third-base dugout. That's what is stored in my memory bank.
Pops was the only dad present. My old man was the anomaly since most of my teammates' fathers dropped their kids off or just let them walk to the park.
It meant so much that my dad, who could care less about sports, was willing to sacrifice two hours watching his only son play the game I love.
Even though I was years away from paternity, I was taking notes filed in the back of my mind throughout childhood. My late father, who I look back on every Father's Day and, well, much of the rest of the year, wasn't perfect. No dads are without fault with the exception of sitcom patriarchs. That's part of the reason the character Cliff Huxtable of "The Cosby Show" always rubbed me the wrong way.
The doctor Bill Cosby portrayed didn't seem real. My father, who resembled the late actor Tyrone Power, had leading man looks but toiled in blue collar anonymity in construction.
Every night, my dad, the strong and silent type, would return home in his tattered flannel shirt and stained work boots exhausted, and he would pick me up and ask about my day and attend each of my events even if he was the lone male.
Much has changed. Dad's engage in more heavy lifting than ever. Check out who is attending children's concerts, dance recitals and sporting events. Regarding the latter, dads are seen behind the wheel en route to travel sporting events.
For a solid decade, I juggled two boys playing ice hockey for different teams. It wasn't unusual to drive 160 miles round trip for a league game. It was a similar story for baseball games.
It's exhilarating witnessing your kids make a difference during a game after they worked hard preparing for the contests. Hey there's even a website, ilovetowatchyouplay.com, for parents who are crazy about watching youth sports. And someone has to be there on those endless drives home when it doesn't go their way on the ice or field.
It's a bonus my boys enjoy playing sports, but I wouldn't care if my guys studied dance. In fact, my older son, Eddie, danced at a ballet school as a pre-pubescent. I've witnessed virtually all of my children's plays, swim meets and academic competitions. It's been a blessing sharing the experience as your children come of age. Put in the time since the joy and magic of childhood is fleeting.
I learned from my dad that it was all about being there. That belief has been reinforced during interviews I've conducted over recent years. When I chatted with comics Chris Rock and Tony Rock in 2016, I asked the quick-witted brothers how they thrived despite growing up in the one-time infamous Bed-Stuy neighborhood in Brooklyn that was riddled with drugs and drive-by shootings during the '80s.
The difference for us is that we had a dad in our house," Tony Rock said. "If it weren't for my father and my mother, we would be in a different place today."
"There's no doubt about the impact both parents had on us," Chris Rock said. "My dad held us accountable."
The Rocks were the exception on a hardscrabble block. "I had eight friends on my street, and none of them had a father," Tony Rock recalled. "I saw my father every day of my childhood. Mike Tyson once said every Black kid should have a man in their life who they're afraid of. He didn't mean afraid of as in whether they would get beaten. He meant afraid as in afraid that you were going to let him down.
The Wayans brothers, Shawn, Keenan Ivory, Damon and Marlon, have a similar story. The Wayans crew came of age in the Chelsea section of Manhattan, which was a dodgy part of town during the '60s and '70s.
"Some people might find it hard to believe, but our neighborhood, which is now prestigious, was like growing up in Beirut," Shawn Wayans said during a 2017 interview.
The secret to the Wayans brothers success goes back to their father, Howell, who set the alarm at 5 a.m. daily for his sons.
"He made us get out of bed then and get him coffee," Shawn Wayans recalled. "We did that before we went to school and even on weekends. On Sundays, we would get him the paper. That made us who we are since we started our days early and worked hard all of our life."
Wayans' demanding father set the tone. "Men are made," Wayans said. "Women are naturally on it, but boys have to be molded, and our father molded each of us."
Fathers play an instrumental role. A reader from Boise, who responded in April to my "Lost Boys" column, which was about how many young men are aimless today, expressed despair as a high school guidance counselor. "Male failure is an epidemic," he wrote while referencing negligent dads.
There is great responsibility with fatherhood. It's nice to receive attention each Father's Day, but the greatest gift a dad can receive is to know that their children are on the path to success in whatever endeavor their progeny dream about each night. Rising early and working hard as the Wayans kids were acquainted with early in their lives made a difference.
There was accountability in the Rock house while the rest of the woebegone neighborhood spun out of control.
It's the parents' obligation to set a certain standard. Children don't know what they're capable of achieving. Let them aim high, and perhaps you and even your child will be surprised.
There are times when my boys have hated me as we worked on baseball drills. I'm not their friend, I'm their father is what I remind them of when I repeat my mantra. My motto is that it's not enough to just show up. That's so in the classroom, the field or on the bandstand.
Make sure your children are challenged, and through the good times and bad, simply be there. Actor Steve Buscemi echoes that sentiment in the June issue of GQ when he speaks about his son, Lucian.
"When Lucian was a teenager, I thought, at the time, 'Well, he's in high school. He doesn't care.' I really feel like, Oh, I wish I was around more. With parenting, it sometimes doesn't matter if you're relating to your kid or talking. Just the fact that you're there goes a long way, even if they're ignoring the hell out of you."
There have been a number of three-hour rides back from games when few words were spoken. However, I would reach over and just run my finger's through my son's hair as the sun was setting.
It reminds me of my childhood when my dad often said little, but his presence meant a lot.
Sunday was the first Father's Day in a decade in which I wasn't watching one of my boys play baseball. I don't miss professional baseball that's on hold, like so much, thanks to the coronavirus. I had my fill of it after covering a major league beat for years. There's been a void not watching my kids on the diamond. There's nothing like it when something goes their way on the field, and you receive a knowing glance.
You can't help but think of all the hard work they put in, and you were there for all of the glorious times of their young lives. You gleefully file those memories into your mind and can reach back and replay those joyous moments every Father's Day.
---