News > Features
Should I stay or should I go? Holiday travel will be different this season amid the coronavirus pandemic
Mon., Nov. 16, 2020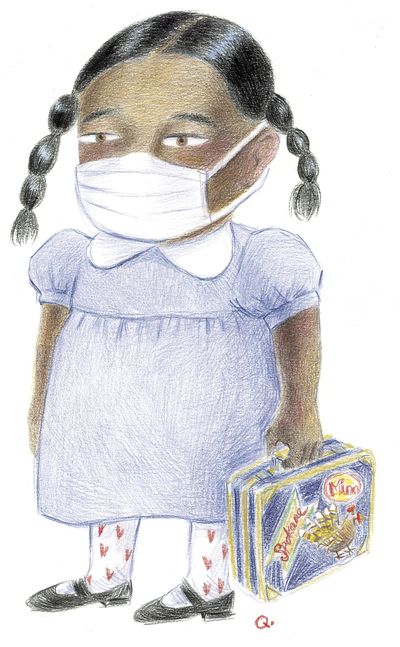 To visit family for the holidays, Karina Hernandez of Spokane considered trips to Mexico or Texas before booking a flight to Chicago.
Now, any trips at Christmas are scrapped because of pandemic-related issues, she said, including her own autoimmune conditions. She's more comfortable this year staying home for the season with her husband, three children and perhaps a couple of friends.
"Because of COVID-19, and all this where you have to quarantine yourself for two weeks, there's no point in going when we can't go out and enjoy time with family," Hernandez said.
When she looked at flights going south, Texas required a 14-day quarantine for out-of-state visitors, currently suspended. At the time she considered Mexico, where she saw family in 2019, the country had a much higher number of COVID-19 cases than the U.S., along with restrictions.
For the flight to Chicago, where she was raised, Hernandez more recently decided to wait and to use the travel insurance she bought. "My travels have been postponed until next year, hopefully, if everything calms down from COVID-19. By July, we have plans to reschedule.
"I think the risk has to do with the decision, because I have autoimmune disease, so I have to be careful."
On Friday morning, Gov. Jay Inslee asked Washington residents to voluntarily restrict travel for the upcoming holidays, and he's likely to announce new restrictions to limit the spread of COVID-19 this week.
For people traveling to Washington, and residents who take trips out of state, Inslee's asking them to voluntarily self-quarantine for 14 days. (This doesn't apply to people who regularly cross the border for work, such as people who live in Spokane and work in North Idaho.)
However, some Spokane residents still plan holiday travel, including on flights, while describing extra precautions now in place.
Maria Hatcher, a nurse who lives in Liberty Lake, plans to fly around Christmastime with her husband to see his son. In March, Hatcher went by airplane to Pennsylvania, and she described that experience as much scarier than the situation today.
"That to me was more frightening because it was impossible to find any kind of hand sanitizer, and people really just didn't know," Hatcher said. "Of course, the mask mandates were not in place yet.
"We didn't know how long it had been here in Spokane. I actually came back and had a bit of a cold and thought, 'Well, shoot, do I have it?' So to me, that was a lot scarier than traveling right now."
She even had a self-mixed bottle of sanitizer stolen from her on the plane. "There was so much uncertainty. It felt much more threatening then."
Overall, a significant drop in U.S. holiday travel is expected this year amid COVID-19 and economic factors, according to surveys by AAA.
The travel organization's Nov. 12 statement details more of a decline in the number of Americans who plan travel for Thanksgiving compared with a survey earlier this fall. "AAA would have expected up to 50 million Americans to travel for Thanksgiving – a drop from 55 million in 2019," the company said.
With health and government officials stressing that staying home is the best way to protect yourself and others from getting sick, AAA anticipates at least a 10% drop in travel – the largest one-year decrease since the Great Recession.
During holiday travel, Hatcher said she and her husband will follow guidelines for frequent hand-washing, wearing a mask, using sanitizer and avoiding touching the face. Her only concern is if someone on the plane refuses to wear a mask, but she also knows that airlines have increased precautions.
"I think the two safest places to be are in a hospital or on an airplane right now because they're so vigilant at this point," she said. Still, Hatcher said travel is a personal choice, and she urged individual vigilance, as well.
"Your accountability for your health is really yours. You need to do what you feel is right for your safety and your family's safety."
Meanwhile, some Spokane "snowbirds" have altered plans. Barbara Taylor, a Spokane Valley resident, said usual travel to Palm Desert, California, was delayed largely because her father died on Oct. 20.
But Taylor said she and her boyfriend also don't plan to gather with family for the holidays as is normal. If any quick visits do occur, they're likely to be outdoors with social distancing and masks. They're in their 70s. If her adult children do a quick trip, they might arrive and go back on the same day.
"They're worried about hotels," she said. "We're going to minimize risk."
However, she said many of her retired friends with wanderlust have given her good reports. "People who have traveled have told me the airplanes have been super clean, and the restaurants have been, too."
More of this year's holiday travel will be by car, said Jennifer Cook, a AAA spokeswoman in Seattle. She said based on an earlier fall survey on travel through the end of the year, about 80% of people plan road trips.
If you are taking upcoming flights, AAA suggests to watch for any last-minute airline changes and check on a destination's travel restrictions, trackable on a map that AAA offers for free online. There is some pent-up demand for travel, Cook added. The organization also has seen an uptick in use of its free TripTik, a trip routing website.
Here are other AAA holiday travel tips:
Flights. A lot of the cancellation policies have changed, even since early in the pandemic, and they vary by airlines. Read and understand what the cancellation policy is before booking, especially if online, Cook said. Some airlines still allow you to apply a cancellation to a future flight. She recommends working with a travel agent if there's any chance you might have to cancel or guidelines change.
Make sure to pack extra face masks, disinfecting wipes, hand sanitizer and a thermometer. Apply extra sanitizing in spaces you occupy, she said. Scheduling a short trip might be another consideration.
"What we're finding is that people are booking only about a week in advance," Cook said. "It may change for the holidays because the demand will be higher, but most people right now are just doing last-minute, quick trips."
Hotel and car. Again, research ahead if a hotel has special cleaning procedures for COVID-19, Cook added. The site also could have new check-in rules and require texting to get items such as fresh towels.
If you want to avoid public transportation, consider a rental car or car share service, she said. And weigh how much you want to go out. "You might consider a hotel room that has a kitchenette in it so you don't have to eat out as much."
Local journalism is essential.
Give directly to The Spokesman-Review's Northwest Passages community forums series -- which helps to offset the costs of several reporter and editor positions at the newspaper -- by using the easy options below. Gifts processed in this system are not tax deductible, but are predominately used to help meet the local financial requirements needed to receive national matching-grant funds.
Subscribe to the Coronavirus newsletter
Get the day's latest Coronavirus news delivered to your inbox by subscribing to our newsletter.
---