News > Spokane
Then and Now: Safeway stores
Mon., Oct. 26, 2020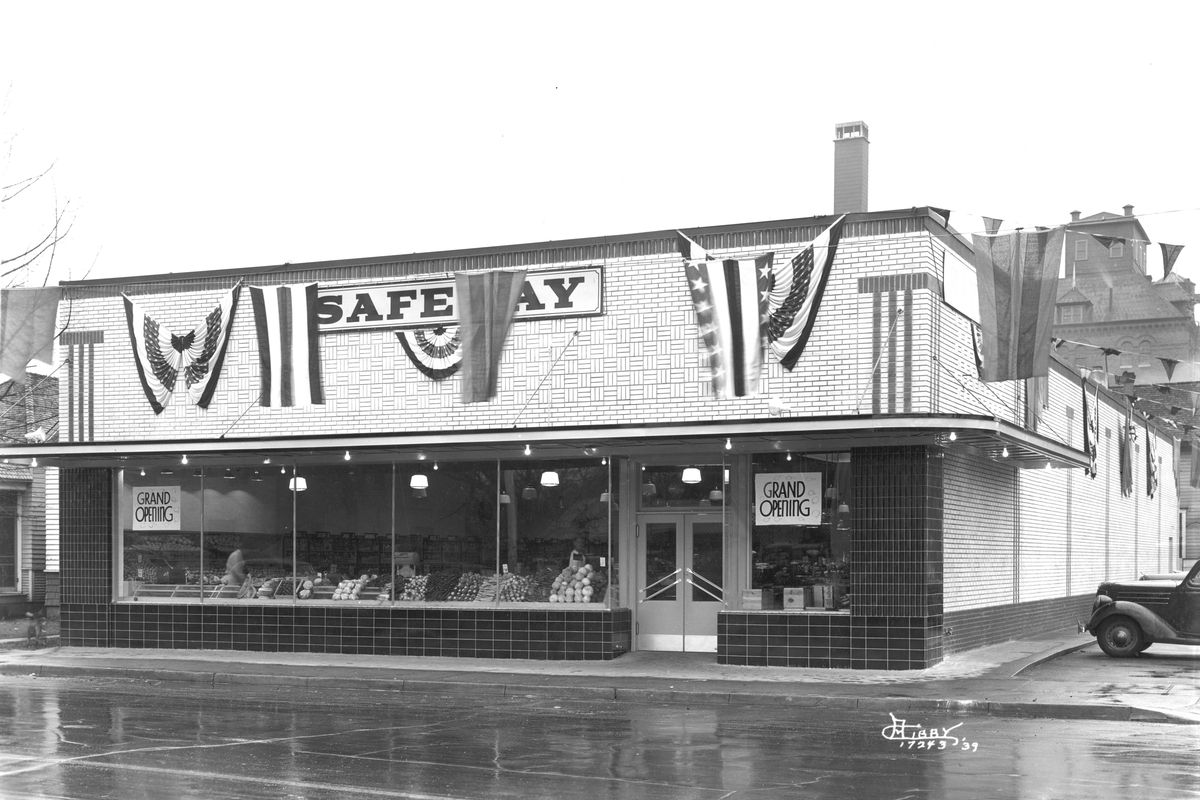 1939: A modest new Safeway store opens at Third Avenue and Cedar Street in downtown Spokane. The one-story building was a typical store of the era, though the Safeway built in 1930 near Division Street and Garland Avenue was much larger. This Safeway was closed in the mid-1950s as grocery stores trended toward larger stores with mid-century modern architecture. The building became a state liquor store until 1976, when it became a Chinese restaurant called Ding How, Chan's Dragon Inn and the Red Dragon. (The Spokesman-Review photo archive)
The Rev. Samuel M. Skaggs, born in Tennessee in 1861, was adamant that stores should not offer credit to their customers, a traditional courtesy because of the seasonal income of farmers. But Skaggs said credit made customers dependent and hampered businesses who had to wait to get paid.
To help feed their 15 children, the family opened Skaggs Cash Store in American Falls, Idaho, in 1915. They eschewed credit and bought wholesale in large quantities from passing railroad cars on the nearby Union Pacific line.
Son M.B. Skaggs, a 29-year-old well driller, bought the store in 1916 for $1,088. With his brothers' help, he built stores in nearby Blackfoot, Rupert and Burley. Another brother, O.P. Skaggs, built Skaggs stores in Idaho Falls, Elko, Nevada, and California.
In 1919, the Idaho chain became Skaggs United Stores while the California stores kept the "cash store" name. Another brother L.J. Skaggs and wife, Mary Dee, started another grocery chain called Pay-n Takit. By 1926, the Skaggs family had 428 stores in 10 states.
Charles E. Merrill of Merrill Lynch was watching the explosion in grocery and dry good retailing. Merrill backed the Skaggs chain and merged it with the Southern California 300-store chain owned by Sam Seelig. Seelig had held a contest to name his stores. "Safeway" was the winning entry, which the store chain took in 1925. M.B. Skaggs was the president of the new company, initially called Skaggs Safeway. Other Skaggs siblings also worked for the massive chain, as did Joe Albertson, who would partner with L.S. Skaggs to start his own grocery store in 1939.
Safeway also bought out L.J.'s stores, and used the combined name Safeway Pay-n Takit for many years. The first store with that name in Spokane was the Art Deco building at Market Street and Olympic Avenue in Hillyard, built around 1931.
The Safeway chain peaked at 3,527 stores in 1931. Since then, parts of the chain have been sold off.
The Skaggs family would be responsible for stores including Thrifty, Payless, Osco, Sav-on and Long's drugstores.
The Rev. Skaggs died in 1936. M.B. died in 1976 and L.J. in 1970.
In 2015, Albertson's and Safeway merged, resulting in 2,252 stores, the second-largest grocery chain in the nation, behind Kroger.
Local journalism is essential.
Give directly to The Spokesman-Review's Northwest Passages community forums series -- which helps to offset the costs of several reporter and editor positions at the newspaper -- by using the easy options below. Gifts processed in this system are not tax deductible, but are predominately used to help meet the local financial requirements needed to receive national matching-grant funds.
Subscribe now to get breaking news alerts in your email inbox
Get breaking news delivered to your inbox as it happens.
---