Marketing > Sponsored
State financial aid offers lifeline to Washington students during crisis
Mon., Feb. 15, 2021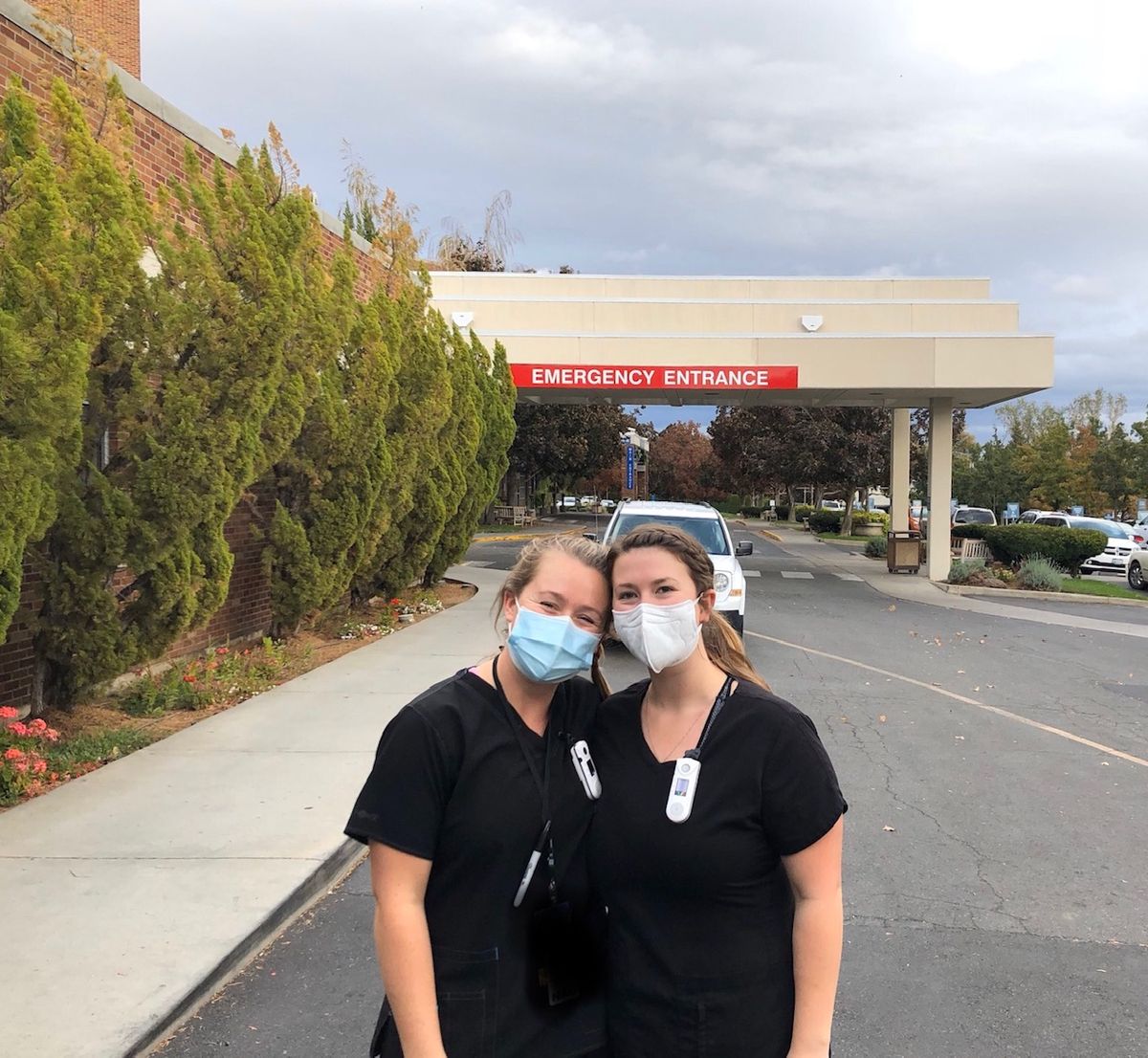 Quincey Christenson and a fellow Heritage University nursing student. (Courtesy College Promise Coalition)
Amber Webber lost her job when COVID-19 hit Washington early last year.
That could have meant the end of her college education, but with the support of Washington's financial aid programs, Amber has been able to continue earning her degree in computer science from Gonzaga University while homeschooling her daughter with special needs. She expects to graduate this spring.
Quincey Christenson is another student who says financial aid has made her college education possible. She is enrolled in Heritage University's nursing program and says the pandemic has only strengthened her commitment to the medical field.
"If I didn't have financial aid to be able to get my degree, our community would miss out on so many incredible nurses," she says.
Washington has one of the most comprehensive financial aid programs in the country. In 2019, state lawmakers fully funded financial aid programs for the first time, passing the Workforce Education Investment Act and allowing more families than ever to qualify for free or reduced-cost college.
But the economic crisis brought on by the COVID-19 pandemic could send financial aid programs like the Washington College Grant to the chopping block as lawmakers begin to make choices about the state budget.
During the Great Recession, states made drastic cuts to higher education funding, forcing millions of young people across the country to either take out large loans or forgo higher education altogether. The latter makes finding a job even more difficult in an economy heavily reliant on workers with post-high school credentials: studies have shown that a credential after high school is one of the strongest predictors of lifetime earnings and other positive outcomes.
Credentials also protect careers from changes in the economy. In the early months of the pandemic, unemployment for high school graduates was 9%, compared with a rate of 4.8% for those with a bachelor's or advanced degree.
Advocates for education access point out that communities of color that are low-income have been hit hardest by the COVID-19 pandemic, and cutting existing financial aid programs will exacerbate inequality.
Currently, families making $97,000 per year or less qualify for free or reduced-cost college in Washington through the Washington College Grant. Because it is a grant, it does not need to be repaid, removing considerable barriers to education access for students and families across the state.
"I just don't think people realize how important financial aid is, and the big ripple effect it has on so many lives," says Amber Webber, who hopes to use her computer science degree to design better software for teaching young children with special needs.
"I know so many people in my own nursing program who couldn't go to school without financial aid," Quincey Christenson says. "I know that we need good nurses right now. We need people with love and compassion and because of financial aid, we're going to be able to put those kinds of nurses out there."
For more information about the Washington College Grant and protecting financial aid in Washington, visit https://collegepromisewa.org/priorities/.
Local journalism is essential.
Give directly to The Spokesman-Review's Northwest Passages community forums series -- which helps to offset the costs of several reporter and editor positions at the newspaper -- by using the easy options below. Gifts processed in this system are not tax deductible, but are predominately used to help meet the local financial requirements needed to receive national matching-grant funds.
Subscribe now to get breaking news alerts in your email inbox
Get breaking news delivered to your inbox as it happens.
---