News > Crime/Public Safety
'Everything was engulfed in flames and smoke': Williams Lake a 'very active fire' as residents remain evacuated
Aug. 4, 2022 Updated Thu., Aug. 4, 2022 at 9:15 p.m.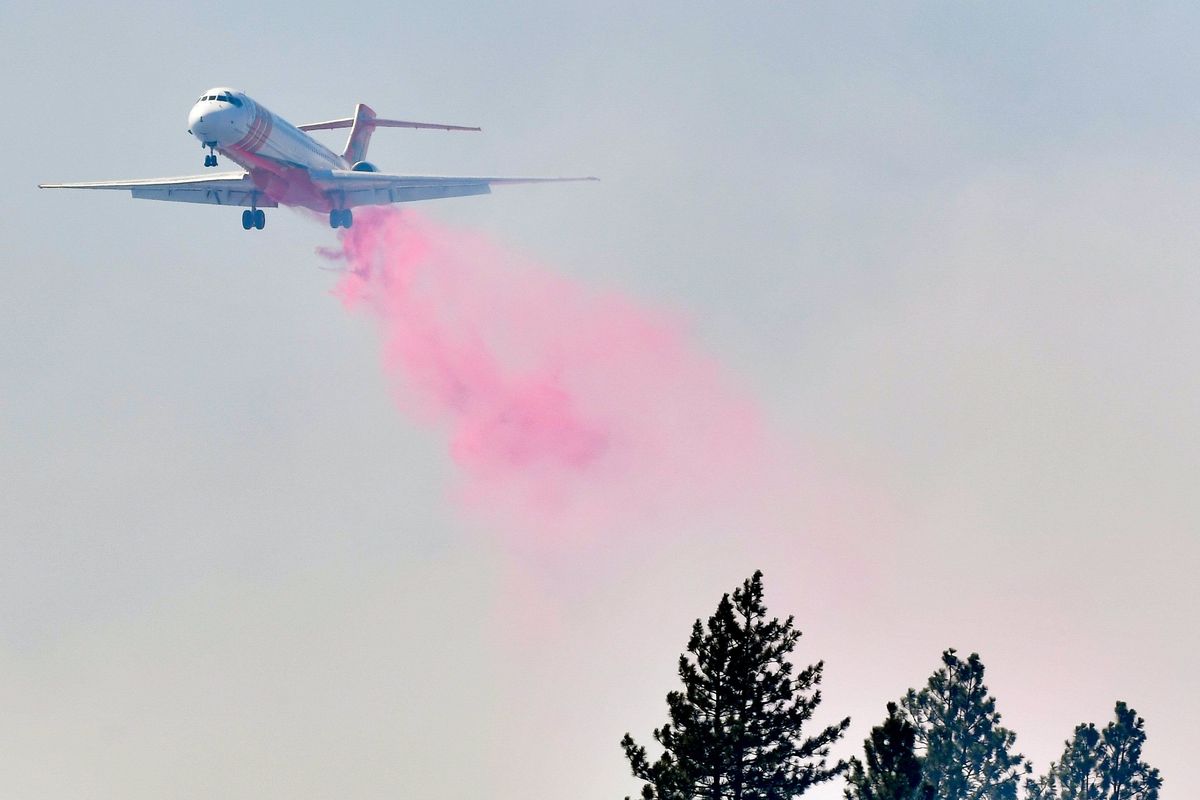 A firefighting jet dumps fire retardant on the Williams Lake fire on Thursday near Cheney. (Tyler Tjomsland/The Spokesman-Review)
Chain saws buzzed, ponderosa pines crashed to the ground and aircraft repeatedly dumped water below as fire crews worked to contain the Williams Lake fire near the intersection of West Cheney Plaza Road and South Rock Lake Road Thursday afternoon. The horizon disappeared into a cloud of smoke in almost every direction.
The fire is estimated to have burned 1,200-1,500 acres as of midday Thursday, but it could be as large as 3,000 acres. Department of Natural Resources spokesman Eric Keller said it is hard to get an accurate estimate due to smoke and rocky terrain.
Evacuation orders remained in place on Thursday.
Level 3, or leave immediately, evacuations were called for from the north end of Chapman Lake to the south end of Johnson Lake, west to Badger Lake Road and east from Cheney Plaza Road to Grogan Road. Level 2 evacuations were ordered north to Cheney Spangle Road and south to Squaw Creek, stretching west to Cheney Plaza Road and East to Wells Road. No primary structures have been lost, but two outbuildings were burned Wednesday. Those structures may have been barns or woodshops, Keller said.
Tyler Warman was at work in the Nine Mile area Wednesday afternoon when he got the phone call that many landowners in the West dread. His neighbor Kristina Tripp called him and informed him a fire was burning behind the property he owns with his wife, Jill Warman, on West Williams Lake Road.
"(Tripp) was panicking on the phone with me, and I typically try to keep a cool head, but her panicking kind of made me panic, to be honest," Warman said. "I was so far from home and I started driving as fast as I could, but it just felt helpless because there's nothing I can do."
Initial reports of the brush fire now known as the Williams Lake Fire estimated it started on the 15000 block of Williams Lake Road. The Warmans own 32 acres just off Williams Lake Road, and his neighborhood was one of the first to evacuate, he said.
Warman owns and operates a mobile recreational vehicle repair shop, which is what brought him to the Nine Mile area Wednesday. He called his wife as soon as he got the call, and the two rushed home to find thick smoke and fire blanketing their property.
"As I pulled up, there were about 10 fire trucks in my driveway, up and down my property, and I couldn't even see my land," Warman said. "It was so smoky I could hardly breathe, and I couldn't even see 30 feet off the road to see if my house was on fire. Everything was engulfed in flames and smoke."
Warman grabbed the essentials he could from the RV while fire crews worked to protect the house and extinguish the fires on the property. He said they then drove to a friend's house nearby before he, his wife and their dog found a hotel in Medical Lake.
Warman and his wife have lived on the property for three years and spent the last two years constructing a house on the land while living in an RV there. He said the in-progress house and RV remained standing when he went back to check on the property late Wednesday night, but his storage sheds on the property were completely torched, with family heirlooms and over $20,000 worth of tools inside.
Warman's chicken coop and accompanying flock are still on the property. Tripp went over to check on them Thursday morning and relayed they were OK, as were the house and the RV, he said. Tripp has remained in her home and did not evacuate, he said.
More than 200 firefighters from local and agencies statewide are fighting the blaze with support from four aircraft.
Keller said more firefighters and resources are trickling in from agencies as far as Seattle, Cowlitz and Stevens counties.
Jared Helms, a fire spokesman at the scene from Spokane County Fire District 4, said local agencies from fire districts around Spokane County worked through the night to suppress the fire before statewide resources arrived Thursday morning. Local firefighters spent more than 18 hours Wednesday combating the blaze and evacuating nearby residences.
"I just want to thank Fire District 3 and the local fire departments who did an amazing job last night," Warman said. "It went above and beyond what they had to do. They saved not only our house and our animals, but even moved our four-wheeler, which was in the line of fire. It doesn't seem like a big deal, but I mean they didn't have to do little stuff like that."
The areas burned and threatened are primarily grazing lands for livestock and wetland conservation areas like the Turnbull National Wildlife Refuge, Helms said. The fire is burning ponderosa pine and grasses that grew up to 4 feet tall this year due to the abnormally wet spring.
Spokane County Fire District 3 Chief Cody Rohrbach said in a news conference Wednesday night the tall grasses, windy conditions and rocky terrain have made it challenging to combat the blaze.
"In 28 years of fighting fire, I've never seen them like this, and so it's really proved to be challenging for firefighters on the ground," Rohrbach said of the grass.
The American Red Cross and the County Department of Emergency Management have established Cheney High School as an evacuation shelter, and Helms said four evacuees spent the night there before departing Thursday morning.
The Cheney Rodeo grounds are open for large animal evacuations, and 11 horses were housed there Thursday.
Rick Edwards, a member of the Cheney Events Association, said they arrived late Wednesday from a property on Cheney Spangle Road, near the fire's perimeter.
"We usually get a call from folks looking for somewhere to house their animals when fires break out," Edwards said. "We've had all sorts come through in the past: sheep, a couple goats and even some rabbits one time."
The Williams Lake fire is larger than others in years past, but is threatening fewer primary structures, Helms said. In 2020, the Badger Lake fire burned 244 acres and required a response from fire crews across the state. In 2021, the Andrus Road fire burned between 250-300 acres and put more than 200 structures at risk.
Local journalism is essential.
Give directly to The Spokesman-Review's Northwest Passages community forums series -- which helps to offset the costs of several reporter and editor positions at the newspaper -- by using the easy options below. Gifts processed in this system are not tax deductible, but are predominately used to help meet the local financial requirements needed to receive national matching-grant funds.
Subscribe now to get breaking news alerts in your email inbox
Get breaking news delivered to your inbox as it happens.
---