Sports > WSU football
Recap and Highlights: No. 6 USC shuts out Washington State in second half as penalties wipe out Cougars
Oct. 8, 2022 Updated Sat., Oct. 8, 2022 at 10:16 p.m.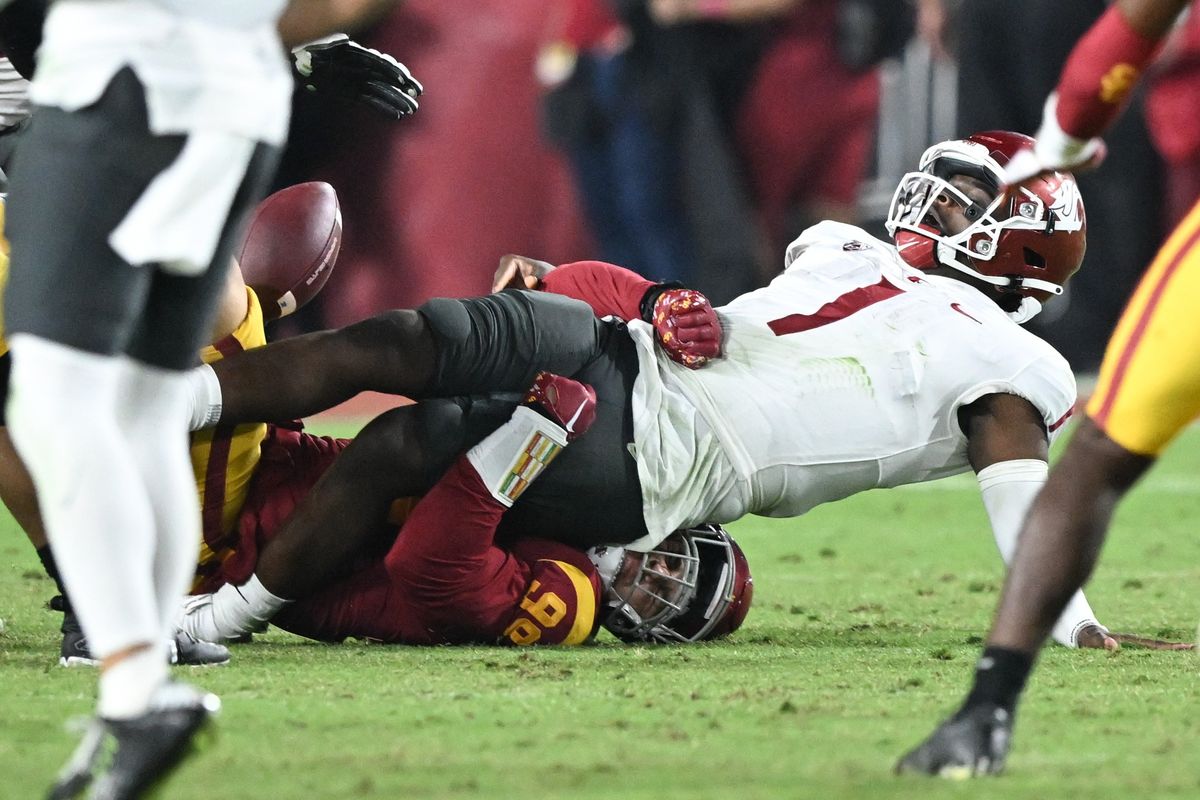 Washington State Cougars quarterback Cameron Ward (1) is sacked by USC Trojans defensive lineman Nick Figueroa (99) late during the second half of a college football game on Saturday, Oct. 8, 2022, at Los Angeles Memorial Coliseum in Los Angeles, Calif. USC won the game 30-14. (Tyler Tjomsland/The Spokesman-Review)
LOS ANGELES – Southern California cruised to a decisive win behind its defense and unrelenting rushing attack.
Washington State didn't do itself any favors, accumulating a slew of penalties during a 30-14 loss.
The No. 6 Trojans (6-0, 4-0 Pac-12) shut out the Cougars (4-2, 1-2) in the second half to remain unbeaten under first-year coach Licoln Riley on Saturday night in front of an announced attendance of 63,204 at the L.A. Memorial Coliseum.
USC running back Travis Dye ran for 151 yards and a touchdown, while quarterback Caleb Williams completed 15 of 29 attempts for 188 yards and two touchdowns. And when they weren't moving the ball on their own, the Cougars gave them a boost.
WSU committed 11 penalties for 106 yards in the game. The defense extended both of USC's touchdown drives in the first half – an offsides penalty on 3rd-and-4 and a pass interference in the endzone against Armani Marsh.
Williams also drew the Cougars offside in the third quarter allowing him a free shot into the endzone, which he completed to Mario Williams for a 24-yard score.
Cameron Ward and the Cougars offense was also 4 of 13 on third down conversions. Ward completed 19 of 32 attempts for 172 yards and two touchdowns. He was sacked five times.
WSU's offense was sparked by freshman running back Jaylen Jenkins, who ran 13 times for 130 yards and hauled in a 48-yard pass that set up the Cougars first touchdown.
Despite the woes it was a decent showing for the Cougars against one of the top teams in the country. A team that figures to compete for not only the Pac-12, but a spot in the College Football Playoffs.
And now with a 10-62-4 all-time record against USC, WSU may feel relief it could be the last time they face the Trojans, who make the move to the Big Ten in 2024. 
ESPN College Football / Youtube
First quarter
15:00 – USC 0, WSU 0: The Cougars win the toss and elect to receive the opening kickoff.
12:03 – USC 0, WSU 0: Cameron Ward misses a pass to Jaylen Jenkins on 3rd-and-14 and the Cougars punt away after picking up a pair of first downs. USC starts on its own 18.
8:31 – USC 7, WSU 0: Caleb Williams escapes the pocket and completes a 38-yard touchdown to Mario Williams on 3rd-and-16.
An offsides called on WSU near midfield extended the Trojans' drive.
6:22 – USC 7, WSU 0: Cameron Ward is sacked twice in three plays by Tuli Tuipulotu and the Cougars punt on a 3-and-out.
USC starts again on their own 40. Not an ideal start for WSU fans.
3:32 – USC 10, WSU 0: Caleb Williams is sacked by Armani Marsh on third down and the Trojans settle for a 31-yard field goal by Denis Lynch.
Second quarter
14:56 – USC 10, WSU 7: Cameron Ward completes a 12-yard touchdown to Robert Ferrel to get the Cougars on the board.
WSU drove 92 yards in eight plays for the score. 
11:48 – WSU 14, USC 10: Cameron Ward completes a 1-yard touchdown to Nakia Watson to give the Cougars the lead.
Ward heaved a prayer earlier in the drive, which was answered with a 45-yard catch by Jaylen Jenkins to set up the touchdown.
11:12 – WSU 14, USC 10: The Trojans punt 48-yards to the WSU 24 and give the ball right back to the Cougars.
That's back-to-back 3-and-outs forced by the WSU defense.
8:29 – WSU 14, USC 10: Cameron Ward's shovel pass attempt on 3rd-and-7 hit the ground after a diving attempt by Robert Ferrel and is overturned after video review.
The Cougars punt to the USC 35, where the Trojans take over.
2:10 – USC 17, WSU 14: A pair of WSU penalties keeps the Trojans redzone possession alive and Travis Dye makes them pay with a 4-yard touchdown run.
The Cougars have seven penalties for 63 yards in the half. The Trojans have three for 35.
0:20 – USC 17, WSU 14: The Cougars defense comes up with a key stop and the Trojans pin them deep right before halftime.
USC will receive to start the second half.
Halftime
Washington State is playing USC close at the half, but penalties have been killer.
Both of the Trojans touchdown drives were extended by penalties against the Cougars defense. WSU has seven penalties for 63 yards. USC has three for 35.
Penalties aside, both teams have played similarly. WSU is 2 for 6 on third down, while USC is 2 for 7. The Cougars have 181 yards to the Trojans' 190.
WSU quarterback Cameron Ward has completed 12 of 16 yards for 123 yards and two touchdowns, but running back Jaylen Jenkins has been the difference. He miraculously came down with a 45-yard heave from Ward to set up a short touchdown and has five carries for 54 yards.
USC quarterback Caleb Williams is 10 of 18 for 125 yards and a touchdown. Travis Dye has 11 carries for 54 yards and a score.
The Trojans will receive the kickoff to start the third quarter.
Third quarter
13:59 – USC 17, WSU 14: Brenden Rice drops a pass from Caleb Williams that would've moved the chains, but instead the Cougars force a 3-and-out to start the half.
The Cougars start on their own 35.
11:14 – USC 17, WSU 14: The Trojans blow up a third down run in the backfield and the Cougars punt near midfield to the USC 11.
9:53 – USC 17, WSU 14: Daiyan Henley hits Caleb Williams as he throws to force another USC punt. WSU takes over on its 45.
7:47 – USC 17, WSU 14: The Cougars opt to go for it on 4th-and-9 from the USC 38 and Cameron Ward throws incomplete.
5:17 – USC 24, WSU 14: Caleb Williams completes a 24-yard touchdown to Mario Williams on a play he got WSU to jump offsides.
More penalties cost the Cougars. This time a defensive holding/unsportsmanlike conduct combination negates an interception and sets up the Trojans in plus territory.
1:36 – USC 24, WSU 14: Cameron Ward is sacked on third-and-forever after an illegal blindside block backed them up, along with a targeting call on offensive lineman Grant Stephens, who was ejected.
WSU now has 11 penalties for 106 yards.
Fourth quarter
9:09 – USC 27, WSU 14: The Cougars defense finally stop the Trojans drive inside the redzone and force a 27-yard field goal to keep it a two-possession game.
The Trojans drained 7:27 off the clock on the 13-play, 70-yard drive.
7:29 – USC 27, WSU 14: De'Zhaun Stribling drops a first down pass and the Cougars opt to punt on 4th-and-11. Would take a stunning comeback for WSU to make up the 13-point difference now.
2:08 – USC 30, WSU 14: Another field goal from USC will nearly seal it, this time from 31 yards. Cougars need a quick score, 2pt conversion, onside kick recovery, another quick score and another 2pt conversion to tie.
Pregame
Wins have been few and far between for Washington State over USC. One Saturday would shake up not only the Pac-12 standings, but the national rankings.
The No. 6 Trojans (5-0, 3-0 Pac-12) host the Cougars (4-1, 1-1) at 4:30 p.m. on FOX in one of conference's most-anticipated game of the week. USC has been solid to start the season under first-year coach Lincoln Riley and quarterback Caleb Williams, who followed Riley from Oklahoma during the offseason.
The Trojans have convincing wins over Rice, Stanford, Fresno State and Arizona State by a combined score of 194-84.
USC's only test came in a come-from-behind 17-14 victory over Oregon State in Corvallis, Oregon. It was the only time Williams has struggled this season, completing 16 of 36 attempts for 180 yards and a touchdown – a go-ahead score with just over a minute remaining in the fourth quarter.
The Cougars are coming off a 28-9 win over California, where their offense was lethargic through three quarters and snapped into action after the Golden Bears pulled within five points early in the fourth.
The Trojans are 12-point favorites according to VegasInsider consensus.
Players to watch
Quarterbacks Cameron Ward and Caleb Williams have been two of the most explosive in the Pac-12 this season, with over 1,400 yards and 12 touchdowns apiece. The main difference between the two sophomores: mistakes.
Ward has been careless with the football, forcing throws into double coverage and racking-up seven interceptions – tied for third most in the country. Williams only has one interception on the season.
Series history
The Cougars have defeated the Trojans seven times since the second world war, with a 10-61-4 all-time record and 13.3 win percentage – their worst against Pac-12 teams.
Five of the 10 wins have come in Los Angeles. The Cougars' last victory in the Coliseum was a 10-7 upset of the No. 25 Trojans on Sept. 7, 2013.
WSU's last win over USC was a 30-27 upset in Pullman on Sept. 29, 2017. The No. 15 Cougars beat the No. 5 Trojans with a go-ahead field goal late in the fourth quarter. USC returned the favor with a fourth-quarter comeback in a 39-36 win the following year and have battered the Cougars the past two seasons, 38-13 and 45-14, respectively.
Team stats
Individual leaders
Game preview
More on the Cougs
Local journalism is essential.
Give directly to The Spokesman-Review's Northwest Passages community forums series -- which helps to offset the costs of several reporter and editor positions at the newspaper -- by using the easy options below. Gifts processed in this system are not tax deductible, but are predominately used to help meet the local financial requirements needed to receive national matching-grant funds.
Subscribe to the Cougs newsletter
Get the latest Cougs headlines delivered to your inbox as they happen.
---