Athol fire mostly contained, evacuations downgraded to 'get ready'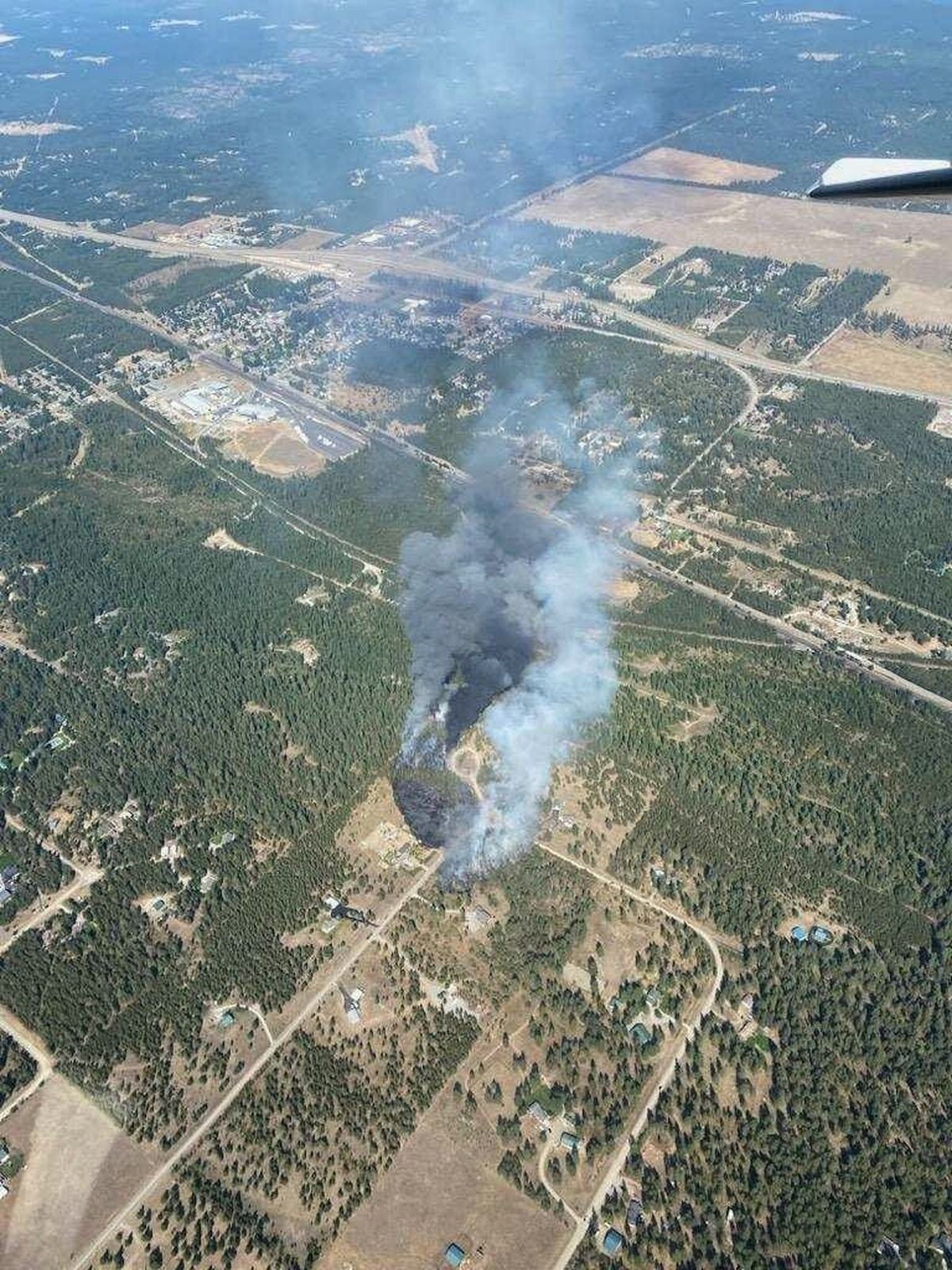 ATHOL – The entire city of Athol was evacuated after a fire broke out Tuesday, but residents were allowed to return home that night as crews got a handle on the roughly 60-acre blaze.
Kootenai County Fire and Rescue Chief Chris Way said around 6:30 p.m. that firefighters contained 70% to 80% of the blaze.
While the whole city was evacuated at first, the order was called off later in the day. Residents bound by state Highway 54 to the north, U.S. Highway 95 to the east, north of Parks Road to the south and Greystone Lane to the west were under a "get ready" to evacuate status at 7:15 p.m. Tuesday, according to Kootenai County Emergency Management's Facebook page.
The Sarah Loop Fire, which was reported shortly before 3 p.m. between Silverwood Theme Park and Athol, was burning about 1 1/2 miles west of U.S. Highway 95 near the intersection of Targhee Street and Sarah Loop, according to the Idaho Department of Lands Facebook page.
Way said the fire never threatened Silverwood, which continued to operate as normal.
Way said he was unsure exactly how close the fire was to Athol, "but it did get close to the city of Athol."
The Idaho Department of Lands said on Facebook that two outbuildings burned. Way said no other structures were damaged.
A shelter was set up at Real Life Ministries, 30447 N. Roughstock Road, while another was planned for Timberlake High School.
Jim Blazin, lead pastor of the church, said the church offered a taco bar that could serve up to 400 people, and water and cots were on hand in case people needed to stay the night. The church, which has air conditioning, also provided a room where Athol residents could leave their dogs and cats in carriers.
Blazin estimated about 35 to 40 residents were inside around 6 p.m. Blazin described Athol as a "tight community."
"We're just prepared to serve the community in any way we can," Blazin said.
John Adams and his grandfather, Chuck Adams, sat in camping chairs in the parking lot of the church with their black and white dog, Oreo. They live together in Athol and came to Real Life Ministries since it was close.
John Adams said they did not expect to be there overnight.
"With how many planes are flying by, I wouldn't expect it to be all night," he said.
Other residents could be seen leaving the church and seemingly going home for the night.
The cause of the fire was unknown.
Besides numerous firefighters from multiple agencies on the ground, Way said 10 to 12 aircraft fought the fire. All airplanes had left the fire by early evening, leaving a couple helicopters, Way said.
Ground crews remained on scene overnight. Kootenai County Sheriff's Office deputies and Idaho State Patrol troopers blocked many roads in the Athol area because of the fire.
"Prayers to the men that are fighting it," John Adams said.
Reporter Emma Epperly contributed to this article.
---