A&E > Food
Taste-testing boxed cake mixes: Which ones are worth it
Wed., May 24, 2023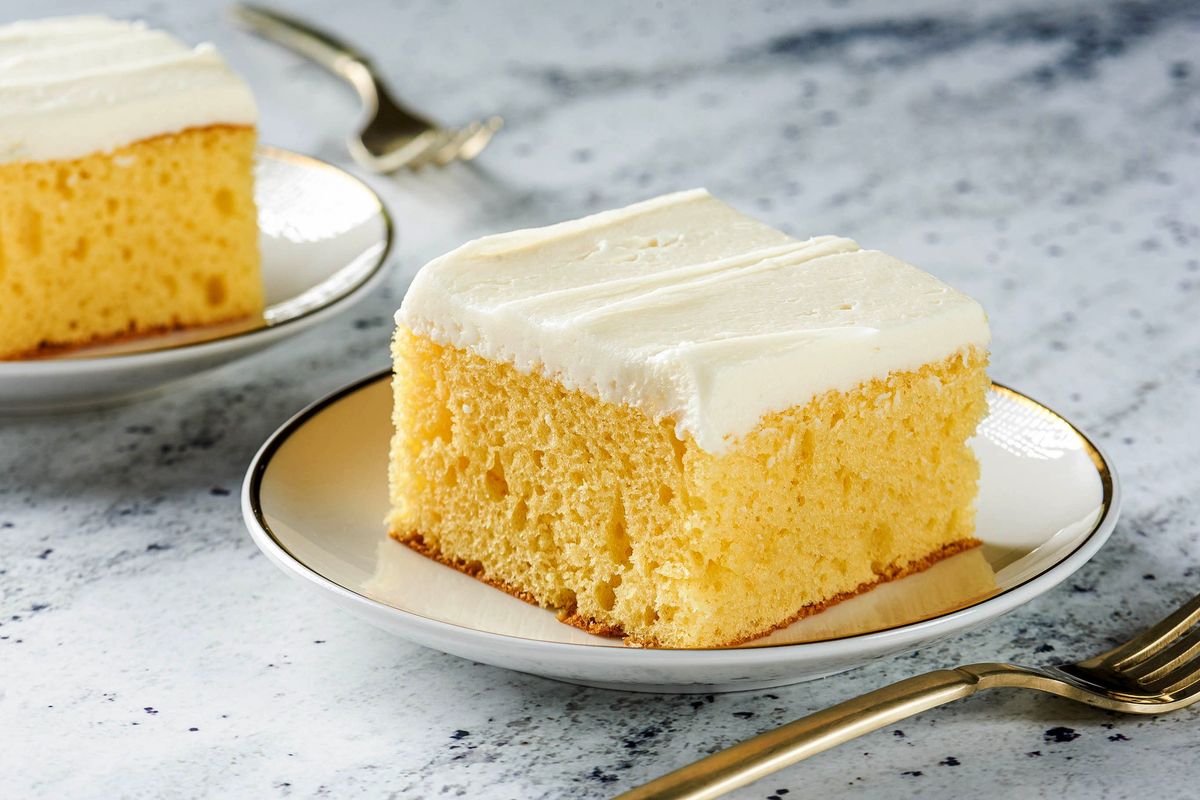 Great Value's mix took the cake for our panel of tasters. (Rey Lopez/Washington Post)
Nothing says "celebration" quite like a frosted cake. Slathered with icing, piped-on lettering, or sugar roses (or all of those, because why not? – it's a party!), a cake is the most festive way to say "happy birthday!" or maybe "happy Tuesday!"
Americans eat a lot of cake from boxes – 214 million were sold last year, according to the research firm NielsenIQ. And yellow cake is far and away the most popular flavor, with chocolate at second. Many of us grab the first box we spy at the grocery store, since it's impossible from the packaging to know which is going to give us the best results. So to determine the mix we should seek out and those to leave behind, we set out to test the field.
To figure out which brands readers are most likely to encounter, we culled a list of the top-selling brands of prepared cake, cupcake and pie mixes from the Chicago-based market research firm IRI (its numbers came from grocery, drug, mass-market, convenience, military, and select club and dollar retailers, and covered the year that ended in January.). We bought yellow cake mix from the brands that offered it to get a total of 10 boxed mixes (private-label brands were No. 5 on the list, so we picked up a few popular grocery-store brands).
For each, we baked the 9-by-13 version, strictly adhering to the directions on each box (for the few that didn't offer such instructions, we made 9-inch rounds, as directed). Things got off to a not-so-sweet start when the first few cakes came out surprisingly dark brown and leathery. We swapped the nonstick pans we'd been using for standard aluminum ones, and started over – but let this be a lesson about the difference bakeware can make! Only one of these major brands specifies a lower baking temperature for nonstick.
Our eight brave volunteers tasted all 10 samples in a side-by-side, blind test (that is, they didn't know which brands were which), awarding each up to a maximum score of 10, taking into account appearance, flavor and texture. We gave each panelist a bowl of vanilla buttercream frosting to spread on top, to get the most accurate read on how each cake would perform in the wild.
And something really interesting (and unprecedented for us!) happened: There was a tie for the No. 1 slot. Now, we've had ties in previous taste tests, but only for runner-up positions, never for the winner. We really wanted to give our readers a clear overall recommendation, so we took the rare step of conducting a runoff contest. For this round, we pitted the top two cakes against one another and assembled a fresh panel of five tasters. This process almost resulted in another tie – and if it had, we probably would have thrown in our floury dish towel and declared the two brands to be co-champions. But the winning cake mix beat the runner-up by a single point. So we have a winner, and also a very solid contender. (That bonus round explains the disparity in scoring; the top two on the list had a potential additional 50 points to pick up in the final battle.)
That's enough about the methodology. Here's how those boxes stacked up:
10. Krusteaz Gluten Free Yellow Cake Mix
Score: 17
The bottom two scorers in this taste test happen to be the two gluten-free mixes of the bunch. The Krusteaz sample in particular got dinged for an unappealingly pale hue, which several people likened to banana bread. Its worse-than-dense texture was labeled "firm," "mealy," with "no give." "It's a brick," one taster concluded. "Dry, mealy and tough at the same time," said another. (Price: $4.58 / 18 ounces at Walmart)
9. Birch Benders Cupcake & Cake Mix Keto Classic Yellow
Score: 22
Another gluten-free brand, another wanly colored cake. This one reminded four tasters of cornbread, and that wasn't a good thing. Unlike the Krusteaz, the Birch Benders didn't suffer from being too dry, but that didn't mean tasters liked it, either. "Is it underbaked?" one wondered. "Wet?" asked another. One deemed it "almost flavorless," while several pegged it as some kind of healthier formula. "Is this an everything-free recipe?" one asked. (Price: $8.99/ 10.9 ounces at Giant)
8. Jiffy Golden Yellow Cake Mix
Score: 34
Several tasters appreciated the uniform, finely crumbed, "spongy sponge" texture. But you can't get by on looks alone, and the flavor fell far short. "This tastes like pressed wood chips," said one unimpressed taster. "Not much taste," said another.
And not that this is something the tasters knew (remember, it was a blind test), but this one had the most streamlined preparation of the bunch: The box called for egg and water, as opposed to most of the rest that also required the addition of oil or butter or milk. But its old-school packaging and sizing meant that one package resulted in either an 8- or 9- inch round or an 8-inch square, as opposed to most of the rest, which produce a convenient sheet-pan size. (Price: $1.19/ 9 ounces at Publix)
7. King Arthur Golden Yellow Cake & Cupcake Mix
Score: 36
From the company that makes products beloved by many a home baker, this mix was the most labor-intensive of the bunch (it called for adding butter, oil, eggs and milk, unlike the other mixes, which typically called for only two of those). Several tasters deemed it to be the thickest of the samples, with a tight crumb and a dense interior. Some found that unappealing ("I had to put effort in getting my fork through it!" "Too dense, too dry"), but a couple noted that those qualities might be stabilizing assets in a stacked layer cake. And the brand's boast that it contains no artificial colors or flavors translated to our tasters as a bland, "modest" hint of vanilla. (Price: $7.49/ 40 ounces at BJ's Wholesale Club)
6. 365 (Whole Foods) Classic Yellow Cake Mix
Score: 37
Our panel found that the Whole Foods' house-brand mix produced a decidedly middle-of-the-road confection. Reviews were the equivalent of yawns. "Inoffensive," remarked one. Many liked its "glossy" brown top but otherwise found little to single out about this humdrum slice. (Price: $3.29/ 16 ounces at Whole Foods)
5. Trader Joe's Yellow Cake & Baking Mix
Score: 41
Products from the quirky grocery chain often end up attaining cult status, but alas, TJ's cake mix does not seem destined to rise to that pantheon. Several testers noted that it fell flat – literally. "Sadly short," said one. "I can't imagine how unimpressive a finished cake would be." (Price: $2.99/ 16 ounces at Trader Joe's)
4. Betty Crocker Super Moist Yellow Cake Mix
Score: 44
America's uncontested top-selling brand didn't wind up being our favorite. But it had some things going for it: Our testers noted it was one of the loftiest entrants ("You could make a tall layer cake with this," one surmised). And it clearly struck some nostalgic notes. "Would definitely eat and feel like a kid again," another said. But one detected a "slight metallic" note, and another said it was more redolent of generically sweet "birthday cake" than natural vanilla. (Price: $2.39/ 15.2 ounces at Giant)
3. Pillsbury Moist Supreme Yellow
Score: 58
You wouldn't go wrong with this popular mix, which pleased our panel for its familiar vibe and "moist" consistency. But it didn't wow most of our panel. "Basic yellow cake," said one. "Standard 'yellow' flavor," said another. But it had its fans: One taster declared it her runaway favorite ("I feel the sugar high coming on, just give me a piñata to hit!"), and even took the remainder of her sample with her for a snack later. (Price: $2.89 / 15.25 ounces at Safeway)
2. Duncan Hines Classic Yellow
Score: 100 (61 in first round, 39 in runoff)
Several tasters praised the pleasantly "fluffy" consistency and eye-catching butter-yellow hue of this one. "Nice and plush," said another. And it contained the right amount of sugar, our panel agreed: "Good cake flavor but not so sweet it hurts," in the words of one fan. "Tastes like childhood birthday parties," said one. Another suggested it might be the one cake in the taste test that she could credibly pass off as homemade (we won't tell!).
The Duncan Hines cake tied for first in our initial tasting. In the final round, some detected the slightest aftertaste ("A little eggy?" one wondered) and found it a touch more subtly flavored than the ultimate winner. For many people, though, this may be the best option, since – unlike our winner – it's available at most grocery stores. (Price: $1.69/ 15.25 ounces at Food Lion)
1. Great Value (Walmart) Deluxe Moist Yellow Cake Mix
Score: 101 (61 in first round, 40 in runoff)
Need to whip up a birthday cake in a hurry? According to our panel, Walmart's house brand is your best bet for a dessert that will please a crowd with a sunshiny color, pronounced vanilla flavor and a not-too-dense, not-too-airy consistency that the even pickiest Goldilocks would want to invite to her party. (And not for nothing – it's the cheapest option we tested.)
"Would absolutely serve this," said one discerning entertainer. Another noted that it had a smooth surface, optimal for icing. "Delish!" cried one taster. "What more could a girl want?" (Price: 89 cents/ 15.25 ounces at Walmart)
Local journalism is essential.
Give directly to The Spokesman-Review's Northwest Passages community forums series -- which helps to offset the costs of several reporter and editor positions at the newspaper -- by using the easy options below. Gifts processed in this system are not tax deductible, but are predominately used to help meet the local financial requirements needed to receive national matching-grant funds.
Subscribe to the Spokane7 email newsletter
Get the day's top entertainment headlines delivered to your inbox every morning.
---