Spokane Indians drop doubleheader to Vancouver, fall out of first heading to the road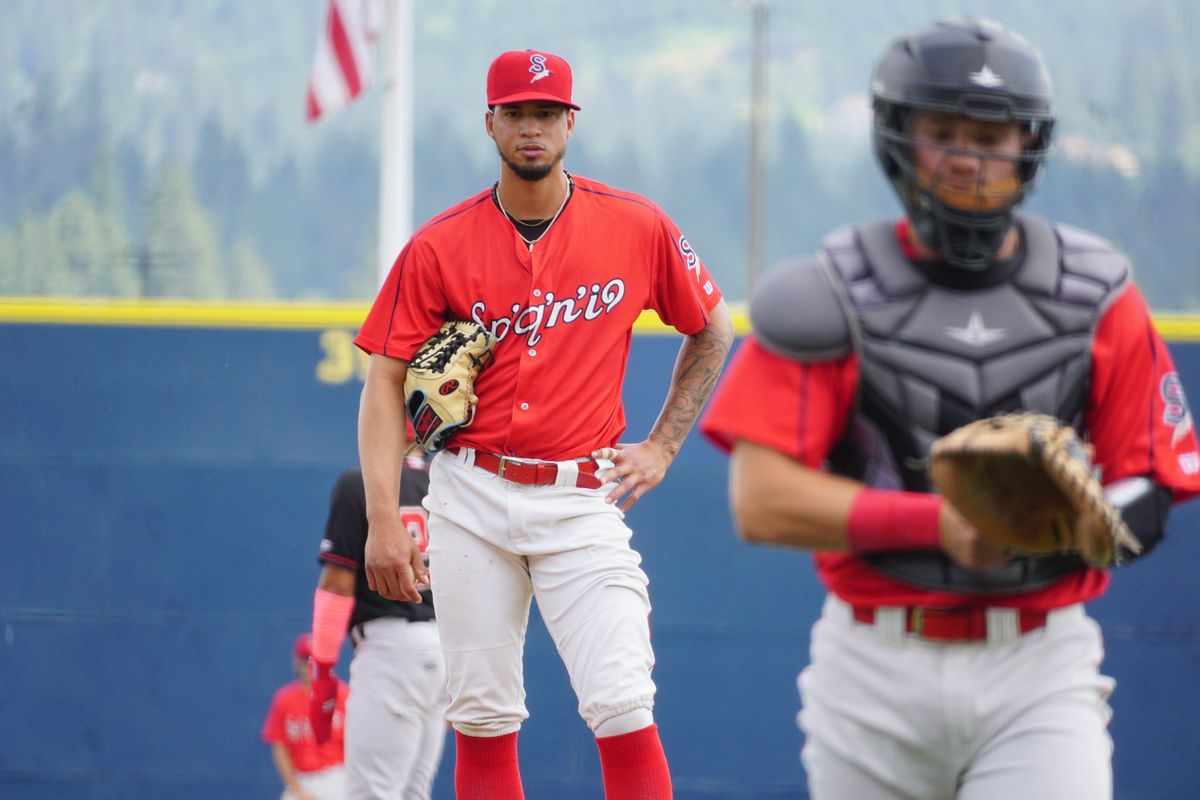 Think you had a bad day? The Spokane Indians can commiserate.
On Sunday, the offense managed just eight hits over two seven-inning games and the pitching staff was hit early and often, leading to a High-A Northwest League doubleheader sweep by the Vancouver Canadians at Avista Stadium.
In the second game, Dasan Brown knocked in two runs, Cade Doughty had three hits and the Canadians won 4-2. Spokane lost the first game 19-2 as Doughty punctuated a 13-run third inning with a grand slam. 
The Canadians (24-20) took five of eight games in the extended series and jumped over the Indians (23-21) into first place in the league. 
The only highlight for the Indians offense was Benny Montgomery's two-run homer in the first game, immediately following the C's double-digit effort.
The Indians set off on a two-week road trip to Tri-City and Hillsboro. 
"It's been a long week," Montgomery said. "But we're happy with the way we fought towards the end of the (second) game. We still have a lot a long ways to go. We want to win here so it's all gonna come around."
Since coming off the injured list on Tuesday, Montgomery went 8 of 24 (.333) with a homer and five RBIs.
"I'm feeling really good," he said. "Happy with some of the adjustments that I've been making. A long way to go, a lot more to learn. But coming off the IL, I feel good. Healthy. It's good to feel fully healthy and getting better every day."
In the second game, the "home" Canadians scored twice in the second inning off Evan Shawver, making his second start in his 10th appearance of the season. With two down, Alex De Jesus doubled over Montgomery's head in center and consecutive walks loaded the bases. Brown then followed with a two-run single.
The Indians got one back in the bottom half. Ben Sems walked, moved to second on a groundout, took third on a passed ball and scored on a broken-bat single by Bryant Quijada. 
Shawver didn't come back out for the third. He allowed two runs on four hits and three walks with two strikeouts.
Tyler Ras took over and loaded the bases with one out on a pair of singles and a walk, but he struck out De Jesus and coaxed a pop up to end the threat.
The Indians loaded the bases with two down in the fourth, but Sems swung through a breaking ball to end the budding rally.
Vancouver built on the lead in the fifth. Doughty doubled and scored after Sems threw wide to first on a routine grounder. Gabby Martinez, who reached on the error, went to second and third on wild pitches and scored on a fly out to medium center.
Spokane got within two in the sixth. Yanquiel Fernandez walked, went to second on a wild pitch, moved over on a groundout and scored on a double to the right-center gap by Juan Guerrero.
Bryant Quijada walked with one down in the seventh to bring the tying run came to the plate, but Adael Amador bounced into a game-ending double play. 
The first game was an unmitigated disaster.
Indians starter Brayan Castillo ran into trouble in the third. He walked Brown then gave up four consecutive hits, including an RBI double to Alen Roden. The second walk of the inning, to designated hitter Michael Turconi, loaded the bases then consecutive singles by DeJesus and Josh Kasevich plated two more to make it 5-0.
Castillo hit Brown to force in a run then walked Roden to bring in another and manager Robinson Cancel came out to make a change. Castillo threw 40 pitches in the inning and 66 for the outing with 39 strikes.
It actually got worse as Mason Green, who started the second game of Tuesday's doubleheader, walked the first two batters he faced on eight straight balls to make it 9-0. Green finally threw a strike – and wished he hadn't – as Doughty launched a grand slam and Vancouver led 13-0 when the inning mercifully ended.
All told, Castillo allowed 10 earned runs on seven hits and four walks with a hit batter and three strikeouts. 
Amador led off the bottom half with a double inside the first base bag and Montgomery crushed one off the scoreboard in right center to get the Indians on the board. 
"It was a fastball – he elevated it a little bit and I was ready for it," Montgomery said. "My approach was good, saw the ball and got to it. It was refreshing to finally get one out here again."
Green gave up four runs on four hits and two walks over 3 1/3 innings and Luis Amoroso gave up five runs on five hits in the seventh.
---