Then and Now: Spokane before Expo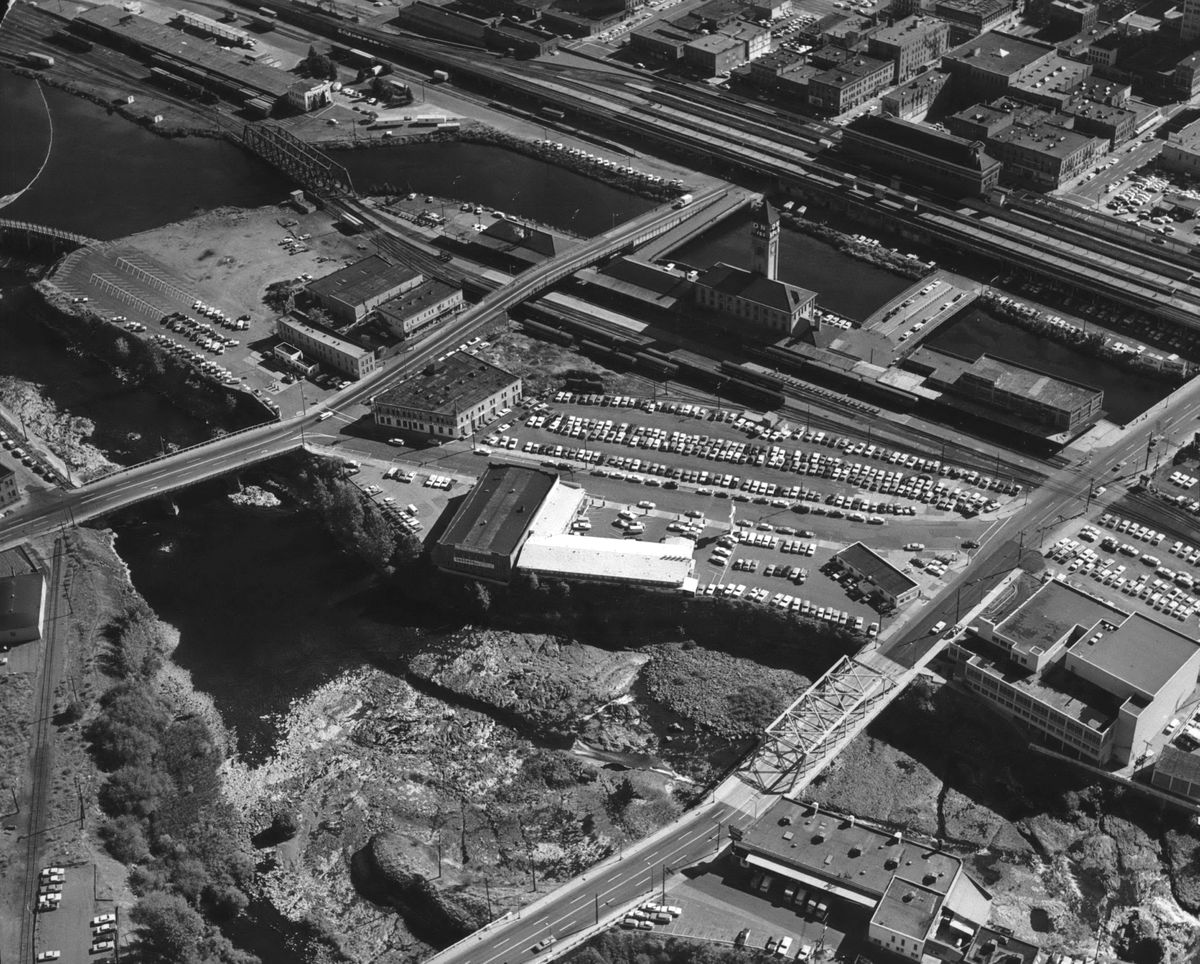 This week's photo, an aerial above the Spokane River in 1969, shows Spokane's two major train stations still in place before the world's fair in 1974. The train stations were mostly empty after decades of declining rail passengers. The proposal of a world's fair would turn the city's upcoming centennial celebration into something memorable.
The earliest passenger train dates back to 1825 in England, but in America, the 1840s kicked off the first boom in rail building. By the 1860s, there were 30,000 miles of track laid. By 1900, there were 193,000 miles carrying trains on long transcontinental journeys.
The end of the Civil War kicked off a 50-year period where trains would become the preferred method of transportation for everyone from the wealthy in luxurious private cars to the most modest ticket holder sitting on a hard wooden bench.
The arrival of trains in Spokane, in the early 1880s, would cement the city as a critical hub of passenger and freight movement across the Western states and Canada. Trains would carry consumer goods, farm products, mining ore and lumber through the city, which quickly grew as an industrial hub and consumer marketplace.
Spokane's railroads, a combination of regional and transcontinental lines, through the northern tier of states, arrived much later than the country's earliest routes. The Northern Pacific was the first connection made in the 1880s. The Great Northern rail system was assembled in the 1890s and the three-story depot with a clock tower facing the downtown area completed in 1902. The Great Northern tower bore the letters "GN" and "SP&S," standing for Spokane, Portland and Seattle line, which also used the station.
Not as tall, but still imposing was Union Station, just across the river's south channel, which was completed in 1914. People may still remember the shouts of "all aboard!" echoing off the thick concrete walls. By the 1970s, some described the two old stations as "grimy."
Even by the middle of the 20th century, passenger traffic on the railroads was falling precipitously, replaced along by faster, cheaper forms of transportation: cars, buses and airplanes.
There was a brief "Save Our Stations" campaign in the early 1970s, but there was no consensus to save the buildings. Only the GN clock tower remains.
Jesse Tinsley can be reached at (509)459-5378 or at jesset@spokesman.com
---