KXLY's Natalie Grant has some royal and thick blood, and it's Viking purple and gold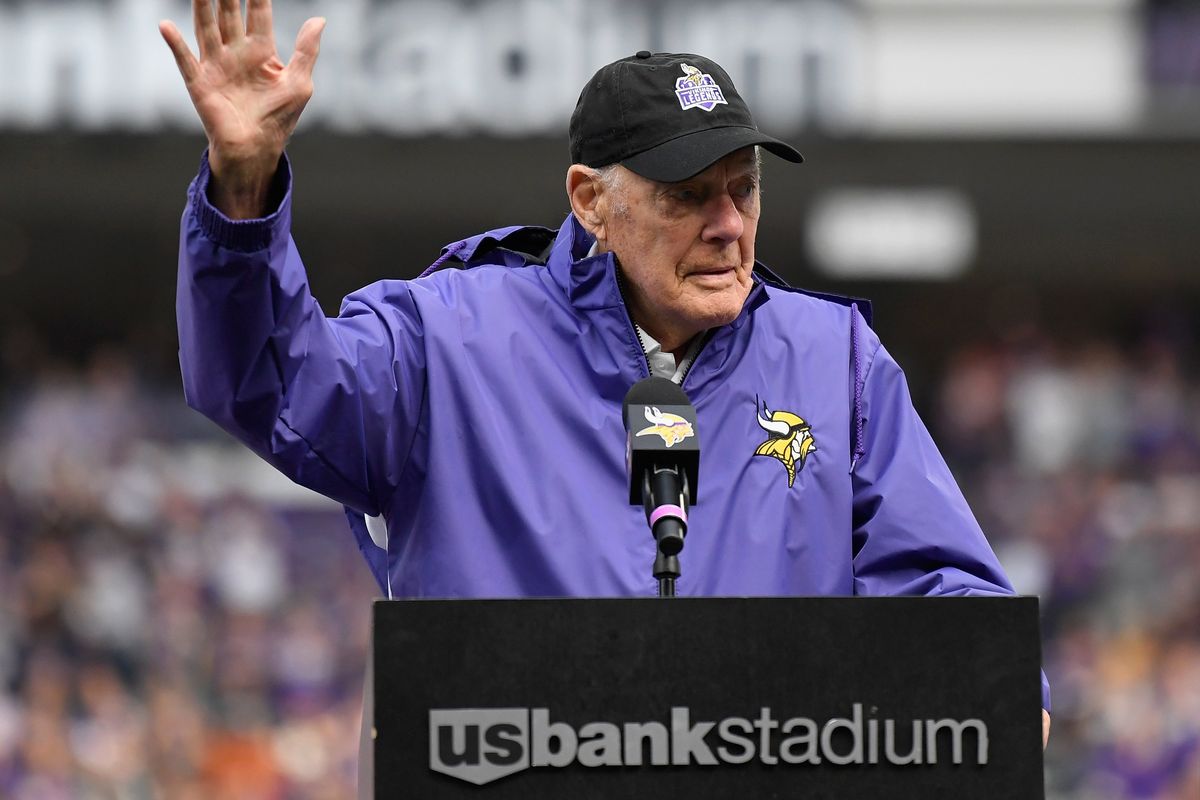 The harsh Spokane winters won't be a problem for Natalie Grant. When the laid-back reporter accepted the gig as KXLY's multimedia journalist in April the long, chilling darkest days of the year were mentioned.
But considering Grant's bloodlines, the odds are that she'll revel in the cold.
Grant's grandfather is legendary Minnesota Vikings coach Bud Grant. One of the many iconic moments of Grant's unparalleled life occurred just before the playoff game between the Seattle Seahawks and the Vikings in January 2016.
The then 88-year-old Bud Grant sported a Vikings polo shirt while strolling to the middle of the Minneapolis field for the coin toss when it was minus 6 degrees with a negative 25-degree wind chill.
"Out of all the things my grandfather accomplished I probably hear more about that moment than anything else he did," Grant said. "He told my uncle on the way to the game that he was thinking about walking out onto the field with just a short sleeve shirt on. He asked my uncle what he thought and he said, 'I think the fans will love it.' "
The Vikings faithful erupted when arguably the most beloved figure in franchise history strolled across the frozen tundra as if he were walking onto the beach midsummer.
It was typical Grant, who didn't allow heaters on the Vikings sideline when he coached the franchise from 1967 to 1983 and again in 1985. That game was also typical Vikings, who lost when kicker Blair Walsh missed a chip-shot field goal as time expired on another disappointing season for the purple-clad team.
"I forgot that the game was against the Seahawks," Natalie Grant said. "That was some day for my grandfather."
It was also some day last Sunday for the Grant family, who congregated at U.S. Bank Stadium in Minneapolis for a tribute to Bud Grant, who died in March at age 95.
"It was really cool what they did at the game," Grant said. "The players had the patches on (with her grandfather's autograph). It was so cool seeing (Minnesota Vikings player) Justin Jefferson wearing a Bud Grant T-shirt. There were old logos. Old-school drawings. Cheerleaders wearing vintage outfits and videos of my grandfather playing. And then there were a number of players he coached who were on the field. It's something I'll never forget."
Grant, 27, detailed how proud her grandfather was of her.
"He was just happy that I have a job I enjoy and that I'm making a living," Grant said. "He grew up poor. He just wanted to see everyone in the family do well."
Bud Grant used to watch his granddaughter report and anchor newscasts at Duluth, Minnesota's NBC affiliate.
"He would be at his cabin and tune in," Grant said. "He was very supportive."
Less than a month after his death, Grant packed up for Spokane.
"I always wanted to go West and I love it here," Grant said. "I was instantly comfortable. That's probably due to how much it reminds me of home. There's so many trees and the people are so kind here in Spokane just like in Minnesota."
The South Hill resident has covered many stories and also filled in as anchor.
"It's a tremendous opportunity here at KXLY," Grant said. "I'll do my best to make the most of it."
Grant is a lifelong Vikings fan, but she's willing to also support the Seahawks.
"I'll still rep the Vikings," Grant said. "But I always admired the Seahawks. I'd love to go to a Seahawks game and see what Lumen Field is all about."
Perhaps Grant will head to Seattle late in the season to escape a wintry blast in Spokane. But Grant isn't afraid of a blizzard.
"Considering where I grew up and what I experienced last winter in Duluth, I'll be ready for snow," Grant said. "We had 115 inches of snow in Duluth last winter, which was a record."
---