Sat., June 12, 2010, 11:50 p.m.
Rusche Won't Ask Hart To Quit Tax Panel
RE: Rep. Hart faces nearly $300K in new IRS liens/Betsy Russell, Eye On Boise

House Minority Leader John Rusche, D-Lewiston, told IdahoReporter.com that he won't call on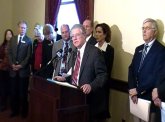 Rep. Phil Hart, R-Hayden Lake, to resign from the House Revenue and Taxation Committee following a revelation by a writer from the Spokesman Review that the IRS had filled more than $300,000 in liens on Hart's property for failure to pay taxes. Rusche, attending his party's state convention in Worley, said that though he wouldn't call for Hart to resign from the committee, on which Rusche also sits, he isn't entirely comfortable with it.  "I see significant problems in someone with those kind of problems helping to craft tax policy for the state," Rusche said.  He said the he feels that constituents in Hart's district deserve proper representation and he is unsure if Hart can provide that/Dustin Hurst, Idaho Reporter. More here. (Idaho Reporter Photo: John Rusche during 2010 legislative session)

Question: Should someone with Hart's long-standing problem w/paying federal taxes be allowed to continue to serve on the House Revenue & Taxation Committee?
---
---