A&E > Food
It sounds as easy as pie
Wed., May 12, 2004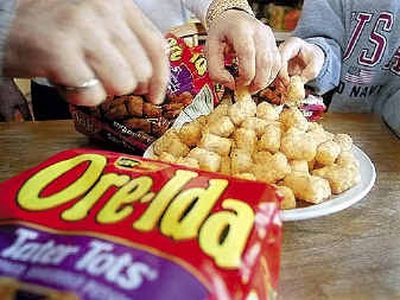 When you don't have time to whip up one of your strawberry-rhubarb pies for the next picnic, here's one alternative: Let Cyrus O'Leary's do the baking.
For more than 20 years, Cyrus O'Leary's Pies has been baking and shipping pies throughout the Inland Northwest daily. There are more than 40 different flavors to choose from and now five are among America's favorites.
Cyrus O'Leary's received five blue ribbons in the commercial baking division of the National Pie Championships in Florida last month. They won first place for each of these pies: Kahlua Cream, Custard Cream, No Sugar Added Marionberry, No Sugar Added Peach, and Apple Cranberry Walnut Crunch.
They competed against more than 300 pies from commercial bakeries around the country. Cyrus O'Leary's has previously won first-place awards for its Sour Cream Lemon and Lemon Meringue pies.
Tater Tot anniversary
An American icon is turning 50 this year.
Ore-Ida's Tater Tot was born in 1954 when the Griggs brothers were experimenting with the slivers of potatoes left over from their French-fry making operation. More than 82 percent of Americans have tried Tater Tots at some point in their lives, according to a company survey. Most people serve them as a side dish, but others say they toss them next to eggs for breakfast or serve up the famous Tater Tot casserole.
The original golden nuggets haven't changed much, but there are some new varieties including Onion, Mini and Extra Crispy Tater Tots.
For the sake of nostalgia here's the recipe for that famed casserole:
Original Tater Tots Topped Casserole
From Ore-Ida
4 cups Ore-Ida Tater Tots
½ cup frozen Ore-Ida chopped onions
1 pound ground beef
1 can (10 1/2 ounces) condensed cream of celery soup,  undiluted
Salt and pepper to taste
Preheat oven to 400 degrees. Grease a shallow 2-quart baking dish. In a 10-inch skillet over medium-high heat, cook onions and ground beef until meat loses its red color. Spoon off any excess fat. Season with salt and pepper. Spread meat mixture in baking dish; cover with soup and top with single layer of frozen Tater Tots. Bake for 45 minutes or until hot and bubbly in the center.
Yield: 4 to 5 servings
Good neighbor
Know a restaurant that is always up to one good deed or another? Send in a nomination for the 2004 Restaurant Neighbor Award.
The Washington Restaurant Association would like to hear about the charitable community work local restaurants have been doing. Winners will receive a $500 award and go on to compete against other national winners for a $5,000 prize.
You can find applications at www.wrahome.com or call (800) 225-7166 for more information. Nominations are due by July 9.
Local journalism is essential.
Give directly to The Spokesman-Review's Northwest Passages community forums series -- which helps to offset the costs of several reporter and editor positions at the newspaper -- by using the easy options below. Gifts processed in this system are not tax deductible, but are predominately used to help meet the local financial requirements needed to receive national matching-grant funds.
Subscribe to the Spokane7 email newsletter
Get the day's top entertainment headlines delivered to your inbox every morning.
---