A&E > Food
Rhubarb shows its versatility
Wed., May 12, 2004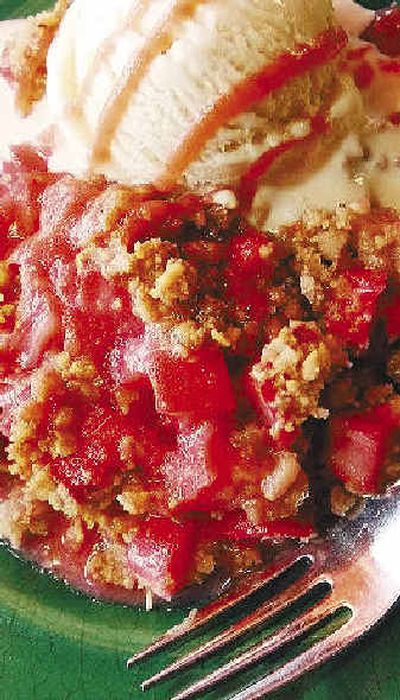 No question, rhubarb, with its initial stalky sharpness and its elusive but seductive personality, is often an acquired taste.
Rhubarb wasn't familiar to Stephanie Pearl Kimmel, executive chef-owner of Marche restaurant, Eugene, Ore., when she was growing up in Texas. But when she moved to Oregon she got to know it and to savor its distinctive taste.
"I like its sweet and sour quality," she said in a telephone interview. Now she grows it in her garden, where a spring growth is sprouting, and she's getting fresh supplies from local farmers to serve at her restaurant.
The tart, angular "fruit" with its red, pink or green stems and green leafy tops is technically a vegetable. Although it's not one of Americans' top-listed produce favorites, it has its passionate fans.
Field rhubarb is just entering peak season in the cool-weather areas, including the Northwest, where it grows best, although hothouse rhubarb is available in other regions through much of the year.
So now is a good time to pick up some rhubarb at a local market and try new ways of cooking it. Kimmel isn't short of ideas and recipes to get cooks started.
Rhubarb has what she called a strong flavor profile, with both sweet and savory uses. "It's an especially good complement with strawberries, of course," she said, but desserts are only one example of many delectable rhubarb combinations.
At her restaurant, Kimmel's cuisine is defined by seasonal menus and the use of regional produce, including local wines. Before she opened Marche, Kimmel worked as culinary director at King Estate Winery. She wrote a couple of cookbooks for the winery, and later was culinary director of a cooking series for public television which earned her a nomination for a James Beard award in 1997.
"Working with the winery, I experimented a bit and realized rhubarb paired perfectly with pinot noir — it has the same earthy fruitiness — and therefore I gravitated more toward its use in main courses.
"So that led me to try the duck and pork dishes. And because of its sweet-sour quality, rhubarb also seemed like a natural for chutney."
The rhubarb season stands out in the year's parade of local produce harvests which are reflected in her restaurant's menus, Kimmel says.
"We're always so excited to see the first rhubarb when it's brought into the market, because it's the first fruit, the first thing after a long cold winter, in early April.
"Then when the strawberries come in in late May, we're really on a roll! They're really a fine combination, for color as well as flavor."
Rhubarb is already finding its place in the restaurant kitchen, she said. "We have the pork chop dish on our menu now, and among the desserts we have a rhubarb sorbet, which we serve with strawberry coulis and candied ginger cookies."
The pork chop dish is a simple and tasty example of the savory-sweet flavor combination.
Grilled Pork Chops with Rhubarb-Ginger Chutney
From Stephanie Pearl Kimmel, Marche restaurant, Eugene, Ore.
2 tablespoons Dijon mustard
2 teaspoons olive oil
1 clove garlic, finely minced
Freshly ground pepper
Several sprigs of fresh thyme (or substitute 1/2 teaspoon dried)
4 center-cut pork loin chops, about 3/4 -inch thick
Kosher salt
Mix the mustard, olive oil, garlic and ground pepper together. Strip the herbs from the thyme's stems and add to the mustard mixture. Spread the pork chops with the mixture and marinate, covered, in the refrigerator overnight.
Prepare a medium-hot fire in the grill. Remove the chops from the refrigerator just before you are ready to begin grilling and season them well with salt. Cook the chops for about 7 or 8 minutes on each side. The meat should be moist with the slightest tint of pink. If you prefer your pork a little more done, cook for another couple of minutes. Garnish each chop with a generous dollop of Rhubarb-Ginger Chutney (recipe follows).
Yield: 4 servings
Approximate nutrition per serving (without Rhubarb Chutney): 189 calories, 8.6 grams fat (2.3 grams saturated, 42 percent fat calories), 25.5 grams protein, 1 gram carbohydrate, 71 milligrams cholesterol, less than one gram dietary fiber, 410 milligrams sodium.
The balance of bright and earthy flavors in this chutney is also delightful with other grilled or roasted meats, and as a condiment when serving a cheese course, Kimmel says. It will keep refrigerated for several months or can be processed and sealed in canning jars, and it makes a great gift.
Rhubarb-Ginger Chutney
From Stephanie Pearl Kimmel, Marche restaurant, Eugene, Ore.
1 cup apple-cider vinegar
2 cups brown sugar, packed
4 pounds rhubarb, trimmed and sliced crosswise into 1/2 -inch pieces, about 8 to 10 cups
1/2 cup peeled fresh ginger, sliced and cut into a fine julienne
4 cloves garlic, peeled and minced
12 black peppercorns
1 cup currants or raisins
1 teaspoons salt
Bring the vinegar and sugar to a boil in a large nonreactive pot (see note). Add the rhubarb and all the other ingredients and bring to a simmer. Cook, stirring occasionally, until mixture thickens.
Note: Rhubarb should be cooked only in nonreactive, non-aluminum pots, preferably stainless or tin, because it reacts with aluminum.
Yield: About 1 quart
Approximate nutrition per serving (about 2 tablespoons): 62 calories, no fat, .4 grams protein, 15.7 grams carbohydrate, no cholesterol, no dietary fiber, 81 milligrams sodium.
Kimmel suggests serving this duck breast dish with sautéed spinach and roasted root vegetables.
Seared Duck Breast with Rhubarb-Black Pepper Sauce
From Stephanie Pearl Kimmel, Marche restaurant, Eugene, Ore.
2/3 cup sugar
5 stalks rhubarb, diced into 1/2 -inch pieces, about 2 cups
1 large shallot, thinly sliced
Zest of 1 small lemon
1 tablespoon white wine vinegar
1/2 tablespoon black peppercorns, coarsely ground
2 cups stock (veal or chicken), reduced until syrupy to about 1/2 cup
Salt to taste
1 tablespoon butter
2 Moulard duck breasts
Salt
Freshly ground pepper
Leaves stripped from several sprigs of fresh thyme (or substitute a pinch of dried thyme)
Place sugar in a nonreactive saucepan and let it melt over medium heat until it caramelizes. Watch carefully, as the change from dissolved sugar to caramel can happen very quickly. Just as the sugar begins to turn golden-brown add the rhubarb, shallot and lemon zest. Stir to coat all ingredients with the caramelized sugar. Reduce heat to medium low and add the vinegar and black pepper. Add the reduced stock and stir for a minute or two to combine. As soon as the rhubarb is soft, remove the mixture from the heat and season to taste with salt. Stir in the butter to finish the sauce and keep warm until you are ready to serve the duck.
Score the fat side of the duck breast in a crosshatch pattern. Rub the duck breasts with salt, pepper and thyme. In a heavy skillet over medium-high heat, place the duck breasts skin-side down. Cook for about 4 minutes, then turn and cook on the other side for about 4 more minutes (or until the temperature on a meat thermometer reads 125 F), for medium rare. Move the duck breasts to a cutting board and allow to rest for several minutes before slicing. Arrange the slices attractively on 4 serving plates and spoon the rhubarb-black pepper sauce over the top.
Yield: 4 servings
Approximate nutrition per serving: 279 calories, 6 grams fat, (2.9 grams saturated, 21 percent fat calories), 17 grams protein, 37.7 grams carbohydrate, 73 milligrams cholesterol, 1.2 grams dietary fiber, 227 milligrams sodium.
Rhubarb Upside-Down Cake
From Stephanie Pearl Kimmel, Marche restaurant, Eugene, Ore.
3/4 cup unsalted butter, divided
3/4 cup brown sugar
3 cups diced rhubarb, 1/4 -inch dice
1 cup plus 2 tablespoons granulated sugar
2 eggs, separated
1 teaspoon vanilla extract
1 1/2 cups all-purpose flour
1/2 teaspoon salt
2 teaspoons baking powder
1/2 cup milk
1/4 teaspoon cream of tartar
Preheat oven to 325 degrees. Generously butter a 9-inch round cake pan.
Melt 4 tablespoons unsalted butter over low heat. Stir in the brown sugar. Pour into cake pan and distribute evenly across the bottom of the pan. Place rhubarb in cake pan and sprinkle with 2 tablespoons granulated sugar. Set aside.
In the bowl of an electric mixer, cream 1/2 cup softened butter and 1 cup granulated sugar on medium speed until pale and light. Add egg yolks, one at a time, scraping down the sides of the bowl after each addition. Beat in vanilla extract.
In a separate bowl, mix the flour, salt and baking powder. Add 1/3 of the flour mixture to the batter in the mixer bowl on slow speed, scraping down the sides and mixing until dry ingredients are incorporated. Add 1/2 of the milk. Continue alternating additions of dry ingredients and milk, ending with the flour mix.
In a separate bowl, whip egg whites with cream of tartar until stiff peaks form. Fold egg whites into batter in three additions until well-incorporated. Turn batter into pan.
Bake in preheated oven at 325 degrees for 25 to 30 minutes, or until the surface springs back to the touch. Let cool for 5 to 10 minutes. Run a table knife around the edges and invert onto a cooling rack. Serve either warm or at room temperature with whipped cream spiked with vanilla or kirsch, as desired.
Cook's note: Strawberry and rose petal-scented ice creams, syrups and sauces are a great flavor match with this cake.
Yield: One 9-inch cake, 10 servings
Approximate nutrition per serving: 370 calories, 15 grams fat (9 grams saturated, 37 percent fat calories), 4 grams protein, 55.5 grams carbohydrate, 80.7 milligrams cholesterol, 1 gram dietary fiber, 242 milligrams sodium.
Kimmel suggests that her rhubarb crisp would also be great served with strawberry ice cream or sweetened whipped cream alongside, perhaps with a drizzle of berry coulis. But the crème fraiche ice cream, with its rich texture and slight tang, is an ideal finish for the sweet-tart rhubarb crisp.
Crème fraiche is available in well-stocked grocery stores, though it is also easy to make at home: Kimmel stirs together 2 cups of whipping cream and 2 teaspoons buttermilk, then sets the bowl in a warm place overnight, covered with a dish cloth, to ferment and thicken.
Rhubarb Crisp with Crème Fraiche Ice Cream
From Stephanie Pearl Kimmel, Marche restaurant, Eugene, Ore.
For Crème Fraiche Ice Cream:
1/2 vanilla bean
2 cups crème fraiche
1 cup half-and-half
2/3 cup sugar
6 egg yolks
For the Rhubarb Crisp:
1/2 cup walnuts
1 cup plus 3 tablespoons all-purpose flour
1/2 cup rolled oats
1/3 cup packed light brown sugar
1/2 teaspoon cinnamon
Pinch salt
1/3 cup unsalted butter, at room temperature
2 pounds rhubarb, washed, trimmed and cut into 1/2 -inch slices, about 6 cups
3/4 cup sugar
To make the Crème Fraiche Ice Cream: Split the vanilla bean in half lengthwise and scrape the fine black seeds into a medium saucepan. Add the vanilla bean pod, crème fraiche, half-and-half and sugar, and warm the mixture over medium heat, stirring occasionally, until the sugar has dissolved, 3 to 5 minutes.
In a medium bowl, whisk the egg yolks just until blended, then whisk in about one-quarter of the warm half-and-half mixture. Return the yolk mixture to the saucepan and cook over medium heat, stirring constantly, until the custard coats the spoon, about 10 minutes. Strain the custard into a medium bowl to remove any lumps and let cool to room temperature, then refrigerate until fully chilled. When cold, pour the mixture into an ice-cream maker and freeze according to the manufacturer's instructions. Transfer the ice cream to an airtight container and freeze until set, at least 2 hours.
To make the Rhubarb Crisp: Preheat the oven to 375 degrees.
Scatter the walnuts in a baking pan and toast in the oven until lightly browned and aromatic, about 5 minutes, gently shaking the pan once or twice to help the nuts toast evenly. Let cool, then coarsely chop the walnuts. Leave the oven set at 375 degrees.
For the topping, combine 1 cup of the flour, oats, brown sugar, cinnamon and salt and stir to mix. Working quickly with your hands, mix in the butter until the mixture has a crumbly texture, then stir in the chopped walnuts.
Put the rhubarb in a large bowl and sprinkle the sugar and the remaining 3 tablespoons of flour over. Toss to mix evenly and let stand until the rhubarb starts to release its juices, about 5 minutes. Put the rhubarb in a 12-inch oval baking dish and spread out evenly in the dish. Sprinkle the topping over the fruit and bake until the rhubarb is tender and bubbling and the topping is golden brown, about 45 minutes. Serve warm, with scoops of Crème Fraiche Ice Cream alongside.
Yield: 6 to 8 servings
Approximate nutrition per serving: Unable to calculate.
Local journalism is essential.
Give directly to The Spokesman-Review's Northwest Passages community forums series -- which helps to offset the costs of several reporter and editor positions at the newspaper -- by using the easy options below. Gifts processed in this system are not tax deductible, but are predominately used to help meet the local financial requirements needed to receive national matching-grant funds.
Subscribe to the Spokane7 email newsletter
Get the day's top entertainment headlines delivered to your inbox every morning.
---