A&E > Food
Summer necessities: grill, salmon
Wed., May 26, 2004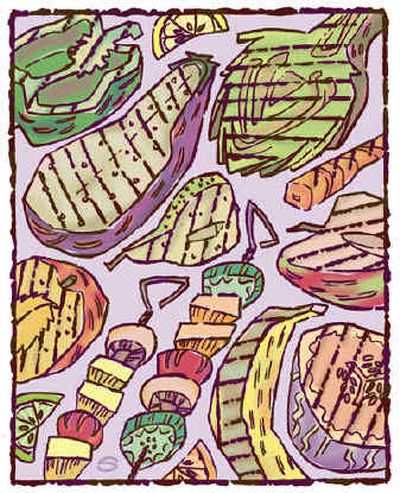 Grab your grills; summer is coming.
If this lovely spring weather hasn't already inspired you to scrape the grill clean of last year's crust, you better get busy. Memorial Day is this weekend and barbecues are an all-but-required activity. It's also the perfect time of year to enjoy some of the season's bounty.
Copper River salmon has arrived at local grocery stores. It can be pricey, but needs no embellishment. Try it on the grill sometime during the holiday weekend. You won't regret it. Or, think about throwing some Washington asparagus over the coals for an appetizer or a side dish. Look inside today's section for two easy recipes.
According to the grilling experts at Weber, many people are intimidated about cooking delicate fish fillets on the outdoor grill. Worries about sticking and overcooking often send them to the store for a hamburger patty. Here are two tips from Weber that will make grilling fish simple:
• Is it done yet? Fish is cooked when it is just opaque throughout. You'll need a knife to test it. Carefully slide a sharp knife between layers of the fish meat, and then turn the knife slightly to get a look inside. If the meat still looks translucent in the middle, give it another minute or two.
• Always use oil. To prevent sticking and leaving any fish on the grates, oil the fish before you grill it. We're not talking about a bath here — just a good coating of spray oil or a stroke of the basting brush will do the trick. If you've marinated the fish, you may not need to add extra oil. Play it safe with thinner fillets by giving them a little extra spray.
Pinching your milk money
Powdered milk was not a staple in my family — it was an emergency measure. When we ran out of milk and sometimes when we had to stretch the family budget, a pitcher of the cloudy drink would show up on our dinner table. Yuck. It was never quite cold or smooth enough to pass for the real thing.
We're already suffering at the gas pump and, by the end of summer, milk prices are expected to push $4 a gallon in some places. That has me wondering whether families still break out the powered milk to help cut costs. Maybe switching to soy milk would be more likely these days. If you do resort to pinching pennies with the powdered stuff, is there any way to make it taste better? If you have suggestions, send them my way and I'll share your tips with readers. Drop a note in the mail: The Fresh Sheet, Features Department, The Spokesman-Review, P.O. Box 2160, Spokane, WA 99210. Or send an e-mail to lorieh@spokesman.com.
Brew up a meal
The dog days of summer will be here before you know it. It's the perfect time to be quaffing a beer on the back deck. And if you're not drinking it, you could be cooking with it.
The National Beer Wholesalers Association has a new 18-page color brochure for making the most of cooking with beer. It features Oven Fried Chicken with Beer and Buttermilk, Spicy Asian Glazed Lager Beer Shrimp, Porter Beer Truffles and more.
"Brewing Up A Great Meal: Innovative Recipes Featuring Beer" is available free of charge if you send a self-addressed, stamped business-sized envelope to NBWA, Attn: Recipe Booklet Offer, 1101 King St., 6th Floor, Alexandria, VA 22314.
Local journalism is essential.
Give directly to The Spokesman-Review's Northwest Passages community forums series -- which helps to offset the costs of several reporter and editor positions at the newspaper -- by using the easy options below. Gifts processed in this system are not tax deductible, but are predominately used to help meet the local financial requirements needed to receive national matching-grant funds.
Subscribe to the Spokane7 email newsletter
Get the day's top entertainment headlines delivered to your inbox every morning.
---