A&E > Food
Super soufflés
Wed., April 12, 2006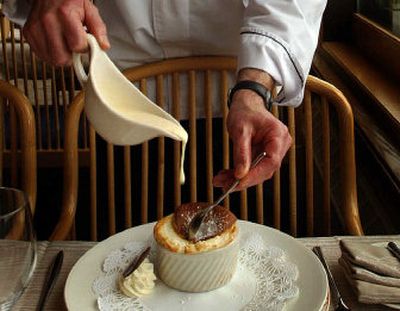 Sure, soufflé has a reputation.
The diva of egg dishes, it has become the French delicacy most recognized for being fussy and difficult – the last thing one wants when juggling all the details of an Easter meal for 10.
The notoriety is not entirely unearned – soufflés tend to demand an eye for detail – but adventurous cooks will find them easier to make than one might expect given the media attention to its occasional tantrums. Besides they taste wonderful whether they reach their full height potential or not.
With a few rules and a gentle approach, savory or sweet soufflés can make a dramatic addition to brunch.
Soufflé has been on the dessert menu at Beverly's at the Coeur d'Alene resort since the restaurant opened. Executive Chef Jim Barrett says the huckleberry, chocolate and Grand Marnier puffs are the second-best selling dessert. Barrett also offers soufflés infused with seasonal fruits, and he's still perfecting a Dungeness crab soufflé served with a lobster bisque sauce.
"It's pretty rare to see them (on a restaurant menu) because they are pretty time-consuming and they have to be prepared to order. They just start falling as soon as they come out of the oven, so it is very tricky to time them," Barrett says.
They have a system for cooking and delivering the hot desserts, served with crème anglaise, but they still have disaster every once in a while.
"Occasionally, they fall on us from just setting them down too hard, or overbaking them, or underbaking them," Barrett says.
The key to making sure they're perfectly baked is to watch the soufflé as it rises up over the rim of the soufflé dish or ramekin. When they're underbaked, the soufflé still has the glossiness of raw whipped egg whites. As soon as the soufflé dries out and loses the glossy appearance is when they're baked just enough, Barrett says. Some cookbooks recommend inserting a skewer horizontally into the side of the soufflé. If it comes out clean, the soufflé is done.
At the restaurant, servers know when a soufflé comes out of the oven it must be taken to the table immediately. The same holds true if you make them at home. They should go straight from the oven to a waiting guest.
Barrett also recommends using a heavy ceramic dish. Thin ramekins or soufflé dishes can transfer heat too quickly to the soufflé. At Beverly's they spray the ramekins with vegetable oil and sprinkle them with sugar to provide traction for the rising soufflé. For savory soufflés, the dishes can be sprayed with oil and then coated with a bread crumbs or cheese.
All soufflés start with an intensely flavored base – a béchamel, custard or fruit puree. Then the base is lightened with whipped egg whites.
Whipping the eggs and then folding them into the base is one of the tricky parts of soufflé baking. Here are some tips for perfectly whipped eggs from cookbook author Marie Simmons. Her James Beard award-winning book, "The Good Egg," was recently released in paperback.
" Use room temperature eggs. Eggs taken from the refrigerator can be warmed in a bowl of hot tap water for 10 minutes before separating.
Separate carefully. Be careful that no yolk gets into your whites. The fat inhibits whipping.
" Clean bowls and beaters. Be sure there is no fat, oil or grease on your bowl or utensils. Don't use plastic bowls to whip egg whites because they retain grease.
Add a pinch of cream of tartar to help stabilize the egg whites so they won't lose their volume.
" Use an electric mixer. Start with low to medium speed until they are foamy and then increase the speed to high. If the eggs are not beaten properly, the soufflé will not rise. Perfectly beaten egg whites form stiff peaks with a "smooth, satiny sheen." Underbeaten eggs have a dull, airy look. Overbeaten eggs look curdled and clumpy.
The final step is to carefully fold the beaten egg whites into the soufflé base. Most recipes call for folding a portion of the egg whites into the base first to lighten it and then folding in the remaining whites. Use a freshly washed and dried plastic spatula. To fold: Gently cut the spatula down the center of the bowl and up the side, turning the bowl with your other hand as you cut down the center again with the spatula. Take care not to deflate the egg whites.
Soufflés need to be served quickly, but they need not be prepared entirely at the last minute. In most cases the base of the soufflé can be prepared ahead of time and held in the refrigerator in an airtight container for a couple of days.
In the recipe below from Cooking Light's April issue, the Double Chocolate Soufflés with Warm Fudge Sauce can be prepared ahead and frozen until ready to cook. They go straight from the freezer to the oven. The sauce can be prepared ahead as well.
Spinach and Parmesan Cheese Soufflé
This classic spinach soufflé from "The Good Egg," by Marie Simmons, is often made with grated Swiss cheese, but freshly grated Parmigiano-Reggiano is even better, Simmons says. It produces a lighter and more intensely flavored soufflé and complements the spinach. Cheddar, Gruyere or another semihard cheese can be substituted for the cheese.
Freshly grated Parmigiano-Reggiano or fine dry bread crumbs for the soufflé dish(es)
1 (10-ounce) bag fresh spinach stemmed and rinsed, or one 10-ounce package frozen chopped spinach
3 tablespoons unsalted butter
3 tablespoons all-purpose flour
1 1/4 cups milk
1/2 teaspoon kosher salt
Fresh ground black pepper
Freshly grated nutmeg
3 large eggs, separated, plus 1 large egg white at room temperature
1/2 cup freshly grated Parmigiano-Reggiano cheese
1/4 teaspoon cream of tartar
Position a rack in the center of the oven and preheat the oven to 400 degrees. Generously butter a 6- to 7-cup soufflé dish or ramekins. Sprinkle lightly with cheese or bread crumbs, shaking the dish to coat evenly.
If using fresh spinach, steam in a steamer basket set in a saucepan over 1 inch of boiling water until wilted, about 3 minutes. Drain and let cool, then drain in a strainer, squeeze out the liquid and finely chop the spinach. You should have about 1 cup. If using frozen spinach, cook it according to package directions, let cool and squeeze dry. Press the spinach between layers of paper towels to remove more moisture. If it is coarsely chopped, chop it fine and set aside.
Melt the butter in a small saucepan over low heat. Add the flour and cook, stirring constantly, for 3 minutes. Gradually whisk in the milk and bring to a boil, stirring constantly. Cook for 3 minutes more. Add the salt, a grinding of pepper and nutmeg to taste. Remove from the heat.
In a large bowl, whisk the egg yolks until blended. Whisk in a little of the white sauce to temper the eggs; then add the remaining sauce, whisking until blended. Stir in the spinach and cheese.
Place the 4 egg whites in a large bowl, add the cream of tartar and beat slowly with an electric mixer until soft peaks form. Increase the speed to high and beat until the peaks are stiff and smooth.
Using a rubber spatula, transfer about one-third of the egg whites to the spinach mixture and gently fold in until blended. Add the remaining whites to the spinach mixture and gently fold in until blended. Pour into prepared dish(es).
Put the soufflé(s) in the oven and reduce the temperature to 375 degrees. Bake until the soufflé is puffed and golden, 30 to 35 minutes for a soufflé dish and about 20 to 25 minutes for ramekins. If you like your soufflé firm in the center bake it for 5 minutes more.
Serve at once.
Variation: To make a Spinach, Dill and Feta Soufflé, omit the nutmeg and substitute 1/2 cup crumbled feta cheese for the Parmigiano-Reggiano and use bread crumbs to coat the soufflé dish(es). Add 2 tablespoons chopped fresh dill to the soufflé base along with the spinach.
Yield: 4 main-dish servings or 8 ramekins
Approximate nutrition per serving: 268 calories, 17.9 grams fat (9 grams saturated, 59 percent fat calories), 16 grams protein, 12 grams carbohydrate, 198 milligrams cholesterol, 1.9 grams dietary fiber, 250 milligrams sodium.
Goat Cheese and Herb Soufflés
From www.epicurious.com. This recipe originally appeared in the May 2001 issue of Bon Appetit magazine.
7 tablespoons grated Parmesan cheese
3/4 cup whole milk
3 large egg yolks
2 tablespoons (1/4 stick) butter
1/2 cup chopped red onion
1 teaspoon chopped fresh thyme
1/2 teaspoon chopped fresh rosemary
2 tablespoons all-purpose flour
1 cup crumbled soft fresh goat cheese (such as Montrachet)
3/4 teaspoon salt
1/4 teaspoon ground black pepper
Large pinch of cayenne pepper
4 large egg whites
Preheat oven to 350 degrees. Butter six 3/4-cup soufflé dishes. Place 1 tablespoon Parmesan in each dish; rotate dishes to coat with cheese, leaving excess in dishes. Place dishes on baking sheet. Whisk milk and yolks in bowl to blend.
Melt butter in saucepan over medium-high heat. Add onion, thyme, and rosemary; sauté 3 minutes. Add flour; whisk 1 minute. Whisk in milk mixture. Whisk soufflé base until thick and bubbling, about 2 minutes. Remove pan from heat. Add 1/2 cup goat cheese, salt, black pepper, and cayenne pepper; whisk until cheese melts. Beat whites in bowl until stiff but not dry. Fold 1/4 of whites into base in pan. Sprinkle remaining 1/2 cup goat cheese and 1 tablespoon Parmesan over. Fold in remaining whites in 2 additions. Divide mixture among dishes.
Bake soufflés until puffed and beginning to brown on top, about 20 minutes. Serve immediately.
Yield: 6 servings
Approximate nutrition per serving: 250 calories, 18 grams fat (11 grams saturated, 66 percent fat calories), 15.8 grams protein, 5.7 grams carbohydrate, 145 milligrams cholesterol, less than 1 gram dietary fiber, 675 milligrams sodium.
Double Chocolate Soufflés with Warm Fudge Sauce
You can prepare the ingredients ahead, spoon the batter into soufflé dishes, cover, and freeze until you're ready to cook them. They can go straight from the freezer to the oven. Make the sauce ahead, too, and simply warm it before serving. This recipe received the Cooking Light Test Kitchens' highest rating. It appears in the April 2006 edition of the magazine.
Soufflé:
Cooking spray
1/2 cup plus 2 tablespoons sugar, divided
3 tablespoons all-purpose flour
3 tablespoons unsweetened cocoa
1/8 teaspoon salt
1 1/4 cups fat-free milk
3 ounces bittersweet chocolate, chopped
1 teaspoon vanilla extract
1 large egg yolk
6 large egg whites
Sauce:
1 tablespoon butter
1/3 cup sugar
2 tablespoons unsweetened cocoa
1 tablespoon all-purpose flour
1/2 cup fat-free milk
1/2 ounce bittersweet chocolate, chopped
Position oven rack to the lowest setting, and remove middle rack. Preheat oven to 425 degrees.
To prepare the soufflés, lightly coat 6 (8-ounce) soufflé dishes with cooking spray. Sprinkle evenly with 2 tablespoons sugar. Set aside.
Combine remaining 1/2 cup sugar, 3 tablespoons flour, 3 tablespoons cocoa, and salt in a medium saucepan over medium-high heat, stirring with a whisk. Gradually add 1 1/4 cups milk, stirring constantly with a whisk; bring to a boil. Cook 2 minutes or until slightly thick, stirring constantly with a whisk; remove from heat. Add 3 ounces chocolate; stir until smooth. Transfer mixture to a large bowl; cool to room temperature. Stir in vanilla and egg yolk.
Place egg whites in a large mixing bowl; beat at high speed with a mixer until stiff peaks form (do not overbeat). Gently fold one-fourth of egg whites into chocolate mixture; gently fold in remaining egg white mixture. Gently spoon mixture into prepared dishes. Sharply tap dishes 2 or 3 times on counter to level. Place dishes on a baking sheet; place baking sheet on the bottom rack of 425-degree oven. Immediately reduce oven temperature to 350 degrees (do not remove soufflés from oven). Bake 40 minutes or until a wooden pick inserted in the side of soufflé comes out clean.
To prepare sauce, melt butter in a small saucepan over medium-high heat. Add 1/3 cup sugar, 2 tablespoons cocoa, and 1 tablespoon flour; stir well with a whisk. Gradually add 1/2 cup milk, stirring well with a whisk; bring to a boil. Cook 1 minute or until slightly thick, stirring constantly with a whisk. Remove from heat; add 1/2 ounce chocolate, stirring until smooth. Serve warm with soufflés.
Yield: 6 servings
Approximate nutrition per serving (1 soufflé and about 2 tablespoons sauce): 315 calories, 9 grams fat (5.1 grams saturated, 26 percent fat calories), 9 grams protein, 51 grams carbohydrate, 41 milligrams cholesterol, 2.9 grams dietary fiber, 153 milligrams sodium.
Apricot Soufflés with Vanilla Rum Crème Anglaise
This recipe from "The Gourmet Cookbook" was based on the apricot soufflés served by Sally Darr at her former New York City restaurant, La Tulipe.
This recipe calls for five large egg whites. When separating your eggs, save the yolks for the accompanying crème anglaise.
6 ounces dried California apricots (about 1 1/2 cups) (see note)
1 1/2 cups water
3/4 cup sugar plus additional for coating ramekins
1 tablespoon fresh lemon juice
1 tablespoon dark rum, if desired
1/2 teaspoon vanilla
5 large egg whites
1/4 teaspoon cream of tartar
Accompaniment: Vanilla rum crème anglaise
2 cups half-and-half
1/2 vanilla bean, split lengthwise
5 large egg yolks
1/4 cup sugar
1 tablespoon dark rum, or to taste
To make the apricot soufflé: In a heavy saucepan simmer apricots, water, and 1/2 cup sugar, covered, 20 minutes. Transfer hot mixture to a food processor and purée until very smooth. Force purée through a fine sieve into a bowl and stir in lemon juice, rum, vanilla, a pinch salt. Cool purée completely. Purée may be made 2 days ahead and chilled, covered. Bring to room temperature before proceeding. Transfer purée to a large bowl.
Preheat oven to 350 degrees. Generously butter six 7-ounce (3 1/2- by 1 3/4-inch) ramekins and coat with additional sugar, knocking out excess.
In another large bowl with an electric mixer beat whites with pinch of salt until foamy. Beat in cream of tartar and beat whites until they hold soft peaks. Beat in remaining 1/4 cup sugar, a little at a time, and beat meringue until it just holds stiff peaks. Whisk about one-fourth of the meringue into purée to lighten and fold in remaining meringue gently but thoroughly. Ladle batter into ramekins and bake soufflés on a baking sheet in middle of oven 20 to 25 minutes, or until puffed, golden brown, and just set in center.
Remove ramekins from oven. With 2 forks pull open center of each soufflé and pour some crème anglaise into each opening. Serve soufflés immediately.
To make the vanilla rum crème anglaise: In a small heavy saucepan bring half-and-half just to a boil with vanilla bean and remove pan from heat. Scrape seeds from bean with a knife into half-and-half, reserving pod for another use if desired.
In a bowl whisk together yolks, sugar, and a pinch of salt and whisk in hot half-and-half in a stream. Return custard to pan and cook over moderately low heat, stirring constantly with a wooden spoon, until thickened (170 degrees on a candy thermometer), but do not let boil. Pour sauce through a fine sieve into a bowl and cool, stirring occasionally. Stir in rum. Chill sauce, covered, until very cold, at least 2 hours and up to 2 days.
Note: Gourmet editors recommend dried California apricots rather than the more common Turkish or Mediterranean apricots. They can be found at some specialty stores and online at www.apricot-farm.com.
Yield: 6 servings
Approximate nutrition per serving: 409 calories, 12 grams fat (6.7 grams saturated, 27 percent fat calories), 9 grams protein, 61 grams carbohydrate, 217 milligrams cholesterol, 3.6 grams dietary fiber, 96 milligrams sodium.
Local journalism is essential.
Give directly to The Spokesman-Review's Northwest Passages community forums series -- which helps to offset the costs of several reporter and editor positions at the newspaper -- by using the easy options below. Gifts processed in this system are not tax deductible, but are predominately used to help meet the local financial requirements needed to receive national matching-grant funds.
Subscribe to the Spokane7 email newsletter
Get the day's top entertainment headlines delivered to your inbox every morning.
---