A&E > Food
Holly jolly tamale
For many Mexican-American families, tamales are a staple during the holiday season
Wed., Dec. 17, 2008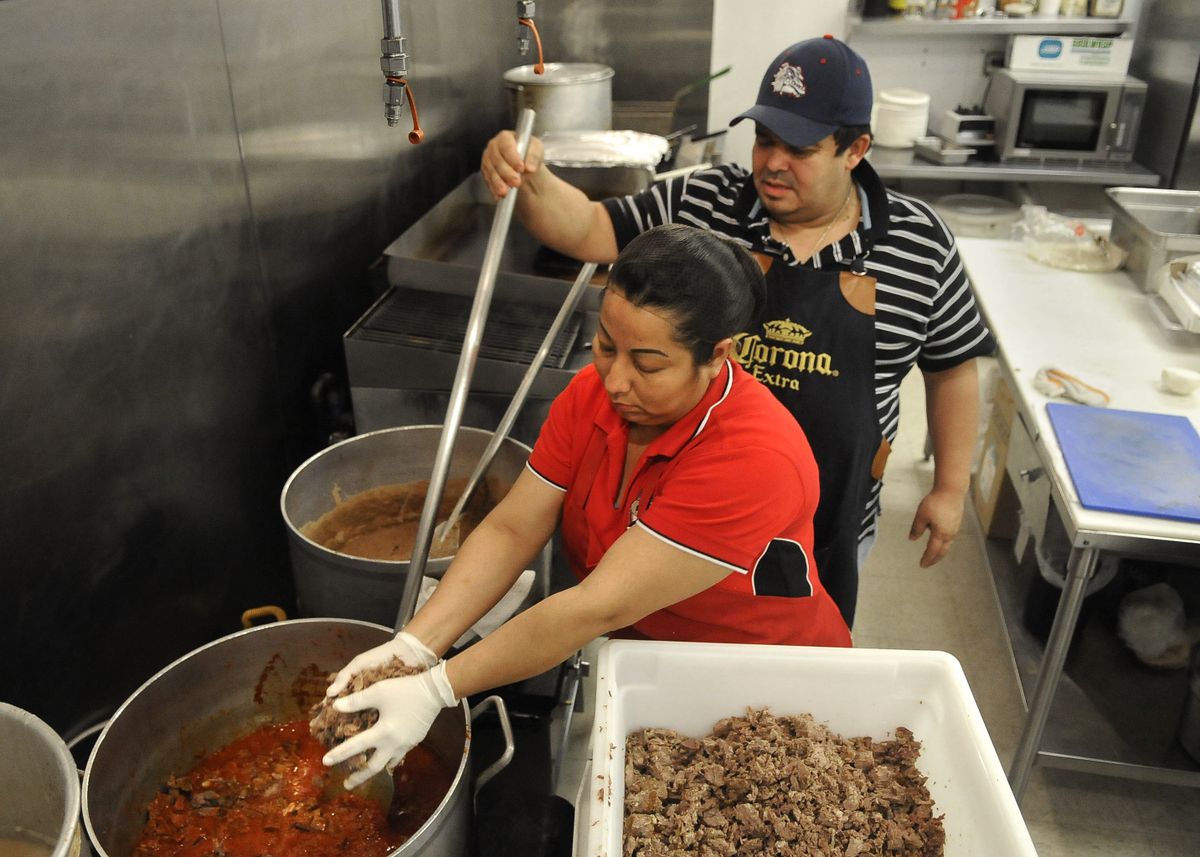 Maria Mendez adds beef to a pot of lard and pureed guajillo peppers while Mario De Leon keeps the pot stirred at De Leon Foods in north Spokane. (Photos by Dan Pelle / The Spokesman-Review)
Standing near a giant stainless steel bowl of the mixer in the De Leon Foods kitchen, one might mistake tamale making as a current culinary fad.
Mario De Leon empties a 50-pound bag of corn flour into the bowl, adds a scoop of salt and another of baking powder. With the whir of mixing blades drowning out voices in the kitchen, it's easy to forget that he is following a tradition that can be traced back to the ancient Aztecs.
It's easy to forget – until De Leon tests the masa to see if it is ready. He pinches a ball of dough from the bowl and pats it against his curled hand. If it stays together and leaves a shiny patina on his first knuckle, he says, he knows it is ready. If it sticks to his hand, De Leon adds more lard and water to the bowl.
At its heart, the recipe in the industrial-sized mixer in the De Leon Foods kitchen is a family tradition. "It's what I learned from my grandmother and from my mom," De Leon says. "I've been doing this for so long, I just go by feeling."
The De Leons and other Mexican-American families traditionally make tamales to celebrate during the Christmas season. Families often gather to make the packets of corn dough (masa) filled with savory meats and wrapped in a corn husks or plantain leaves for Christmas day and to freeze for later. The ingredients and fillings vary depending on the region in which they're made.
The De Leons have been sharing tamales made with their family recipe since 1989, when Mario's father, Anselmo De Leon, opened their first store in Gresham, Ore. The family emigrated from Tamaulipas, Mexico.
At De Leon Foods store and deli in North Spokane, 102 E. Francis Ave., they make tamales two days a week most of the year. During the run-up to the holidays, they make tamales every day to fill special orders, says Mayra De Leon, who owns the store with her husband, Sergio. (Mario and Sergio are brothers).
They make pork, chicken and beef tamales. They also offer vegetarian tamales made with Mazola oil. And they'll also make special orders for tamales with other fillings, such as green pork or chicken, with a couple of days notice.
The tamales are also sold at the De Leon deli in downtown Spokane, at 825 W. Riverside Ave.
Before it's ready, the masa Mario De Leon makes will be a mixture of coarse corn flour, baking powder, salt, lard, warm water and pureed guajillo peppers. He says the addition of lard can be disconcerting for some non-Hispanic customers, but it's an essential ingredient.
At De Leon's, they use lard flavored by cooking carnitas – shredded pork meat – for the deli. "That's what will give the flavor to you," De Leon says.
There's no written family recipe, but De Leon shares the essential ingredients and technique.
He recommends starting with coarse corn flour, baking soda and salt, and whirring it in the mixer before adding the wet ingredients. The guajillo peppers are boiled and pureed in a blender with garlic, cumin and black pepper.
His other tips: Add warm water to the masa or the dough will be too stiff. And take it easy when mixing.
"You don't want to mix it too much, because if you mix it too much the flour will get hard," De Leon says.
For the beef tamales, chuck roast is boiled the day before and chopped. Then the chopped beef is stirred into a large pot of heated lard and more pureed guajillo peppers.
Once the masa is ready and the filling has been made, it's time to spread the masa onto corn husks. The husks are soaked in water to soften them.
Margarita Blanco's practiced hand makes it look easy to spread the masa. For beginners it can be a little tricky to get the hang of it. She shows a visiting reporter how to start with a spoonful in the center of the husk, then use the back of the spoon to spread it to the edges in a thin layer. She leaves the tapered end of the husk clean.
Then, the beef filling is spooned onto the center of the masa. The clean end of the husk is folded first over the dough and then folded into thirds into a small packet. The finished tamales are placed seam-side down in a tray.
Before they are ready to be eaten, the tamales must be steamed for two hours. De Leon's sells both tamales that are steamed and ready to be eaten (or frozen and later reheated), or tamales that must be steamed at home.
Not everyone has the right equipment, or the patience, for steaming tamales at home. Those who do are rewarded by another comforting tradition.
"Then you get that homemade smell of tamales," De Leon says, inhaling deeply at the thought.
Besides flavor, there is another way to tell if you're getting a great tamale.
"If a tamale doesn't come out of the husk in one piece then it's not going to be good," he says.
Making tamales at home is time-consuming, so invite friends and family over to help.
The ingredients for the traditional tamales can be found at De Leon Foods grocery, including the meats. Some of the ingredients are also available in the Hispanic section of many grocery stores.
Here are a few recipes to help get started at home:
Beef Tamales
From Chef Tyler Florence, the Food Network.
2 pounds beef shoulder roast
Salt and pepper, to taste
2 onions, peeled and sliced
1 garlic bulb, cloves removed and peeled
4 ounces dried New Mexico chilies
2 ounces ancho chilies
2 ounces pasilla chilies
2 tablespoons cumin seed, toasted
1 tablespoon salt
2 bags dried corn husks, about 3 dozen
Masa dough:
4 cups masa mix
1 tablespoon baking powder
2 teaspoons salt
4 cups reserved beef broth, warm
1 cup vegetable shortening
Season the beef shoulder all over with salt and pepper then brown in a large heavy pot over medium heat. Once browned on all sides, add enough water to cover the roast along with 1 sliced onion and about 6 cloves of garlic. Cook until the meat is fork tender and comes apart with no resistance, about 2 hours.
When done, remove the roast to a platter to cool; reserve the beef broth. Hand shred the meat and set aside.
To prepare the sauce, remove the tops of the dried chilies and shake out most of the seeds. Place the chilies in a large stockpot and cover them with water. Add the cumin, remaining sliced onion and remaining garlic. Boil for 20 minutes until the chilies are very soft. Transfer the chilies to a blender using tongs and add a ladle full of the chili water (it is best to do this in batches.)
Puree the chilies until smooth. Pass the pureed chilies through a strainer to remove the remaining seeds and skins. Pour the chili sauce into a large bowl and add 1 tablespoon salt; stir to incorporate. Taste to check seasonings, add more if necessary.
Add the shredded beef to the bowl of chili sauce, and mix thoroughly. Refrigerate until ready to use.
Go through the dried cornhusks, separate them and discard the silk; be careful because the husks are fragile when dry. Soak them in a sink filled with warm water for 30 minutes to soften.
In a deep bowl, combine the masa, baking powder and 2 teaspoons salt. Pour the broth into the masa a little at a time, working it in with your fingers. In a small bowl, beat the vegetable shortening until fluffy. Add it to the masa and beat until the dough has a spongy texture.
Rinse, drain and dry the corn husks. Set them out on a sheet pan covered by a damp towel along with the bowls of masa dough and beef in chili sauce.
Start with the largest husks because they are easier to roll. Lay the husk flat on a plate or in your hand with the smooth side up and the narrow end facing you. Spread a thin, even layer of masa over the surface of the husk with a tablespoon dipped in water. Do not use too much. Add about a tablespoon of the meat filling in the center of the masa. Fold the narrow end up to the center then fold both sides together to enclose the filling. The sticky masa will form a seal. Pinch the wide top closed.
Stand the tamales up in a large steamer or colander with the pinched end up. Load the steamer into a large pot filled with 2 inches of water. The water should not touch the tamales. Lay a damp cloth over the tamales and cover with lid.
Keep the water at a low boil, checking periodically to make sure the water doesn't boil away. Steam the tamales for 2 hours. The tamales are done when the inside pulls away from the husk. The tamale should be soft, firm and not mushy. To serve, unfold the husk and spoon about a tablespoon of remaining beef filling on top.
Yield: About 3 dozen tamales
Green Chile Chicken Tamales
Tamales con Salsa Verde y Pollo, From Bon Appétit, May 2003
Masa labeled "masa preparada para tamales" often contains baking powder and salt, so don't add either if it does. Soak the husks three hours ahead or overnight.
For the filling:
1 8-ounce package dried corn husks
1 pound tomatillos, husked, rinsed
4 (3-inch-long) serrano chiles, stemmed, chopped
4 large garlic cloves, chopped
1 1/2 tablespoons olive oil
2 cups low-salt chicken broth
4 cups (packed) coarsely shredded cooked chicken (about 1 pound; from purchased rotisserie chicken)
2/3 cup chopped fresh cilantro
For the dough:
1 1/3 cups lard or solid vegetable shortening
1 1/2 teaspoons salt (omit if masa mixture contains salt)
1 1/2 teaspoons baking powder (omit if masa mixture contains baking powder)
4 cups freshly ground masa dough for tamales (34 to 36 ounces), or make masa dough with 3 1/2 cups masa harina (corn tortilla mix; about 17 ounces) mixed with 2 1/4 cups warm water
2 cups (about) low-salt chicken broth
Place husks in large pot or large bowl; add water to cover. Place heavy plate on husks to keep submerged. Let stand until husks soften, turning occasionally, at least 3 hours and up to 1 day.
Preheat broiler. Line heavy baking sheet with foil. Arrange tomatillos on prepared sheet. Broil until tomatillos blacken in spots, turning once, about 5 minutes per side. Transfer tomatillos and any juices on sheet to processor and cool. Add chilies and garlic to processor and blend until smooth puree forms. Heat oil in medium saucepan over medium-high heat. Add tomatillo puree and boil 5 minutes, stirring often. Add broth. Reduce heat to medium; simmer until sauce coats spoon thickly and is reduced to 1 cup, stirring occasionally, about 40 minutes. Season with salt. Mix in chicken and cilantro. (Can be made 1 day ahead. Cover and chill.)
For dough: Using electric mixer, beat lard (with salt and baking powder, if using) in large bowl until fluffy. Beat in fresh masa or masa harina mixture in 4 additions. Reduce speed to low and gradually beat in 1 1/2 cups broth, forming tender dough. If dough seems firm, beat in enough broth, 2 tablespoons at a time, to soften.
Fill bottom of pot with steamer insert with enough water (about 2 inches) to reach bottom of insert. Line bottom of insert with some softened corn husks. Tear 3 large husks into 1/4-inch-wide strips to use as ties and set aside. Open 2 large husks on work surface. Spread 1/4 cup dough in 4-inch square in center of each, leaving 2- to 3-inch plain border at narrow end of husk. Spoon heaping tablespoon filling in strip down center of each dough square. Fold long sides of husk and dough over filling to cover. Fold up narrow end of husk. Tie folded portion with strip of husk to secure, leaving wide end of tamale open. Stand tamales in steamer basket. Repeat with more husks, dough, and filling until all filling has been used. If necessary to keep tamales upright in steamer, insert pieces of crumpled foil between them.
Bring water in pot to boil. Cover pot and steam tamales until dough is firm to touch and separates easily from husk, adding more water to pot as necessary, about 45 minutes. Let stand 10 minutes. (Can be made 2 days ahead. Cool 1 hour. Cover and chill. Before serving, re-steam tamales until hot, about 35 minutes.)
Yield: About 26 tamales
Local journalism is essential.
Give directly to The Spokesman-Review's Northwest Passages community forums series -- which helps to offset the costs of several reporter and editor positions at the newspaper -- by using the easy options below. Gifts processed in this system are not tax deductible, but are predominately used to help meet the local financial requirements needed to receive national matching-grant funds.
Subscribe to the Spokane7 email newsletter
Get the day's top entertainment headlines delivered to your inbox every morning.
---