A&E > Food
Honey see, honey do
Mace Mead Works brings honey wines to Spokane
Wed., June 20, 2012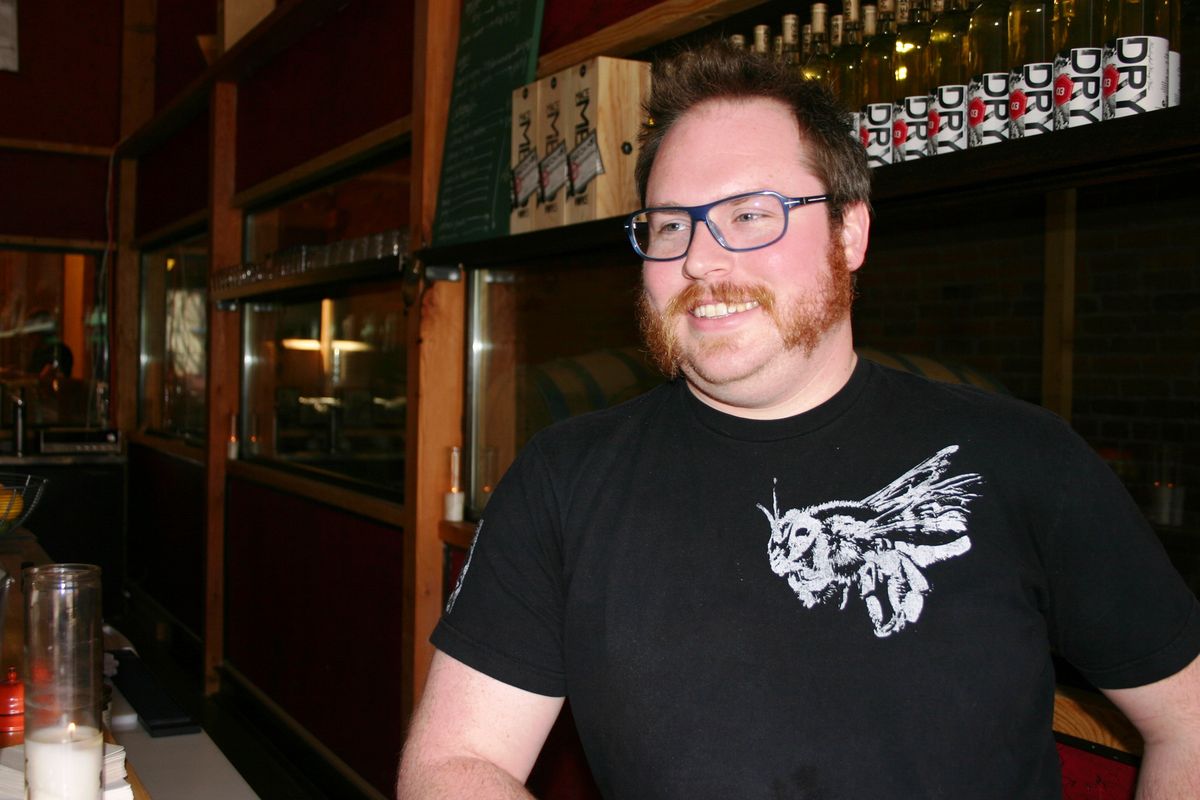 Reggie Mace makes mead from local honey at the new Mace Mead Works in Dayton, Wash. (John Stucke)
DAYTON, Wash. – Mace Mead Works will help you forget everything you know – about honey wines.
Reggie Mace ferments his mead from honey he buys from local beekeepers, but the result is not the cloyingly sweet, syrupy libation that may be familiar to some. Instead, the honey wines are dry or semi-sweet with subtle floral flavors and aroma from the honey and yeast used in fermentation.
Mace opened his mead tasting room and bar in Dayton in August and began selling mead by the bottle in March. Mace Mead Works began distributing to area stores recently and Mace will be in the Spokane area to offer tastes of the wines Thursday and Friday. 
"We approach mead making like a winemaker would with grapes," Mace said. "We try to pull the best qualities out of every honey … and the different types of flowers that the bees foraged. There is a range of flavors there, so our goal is to try to celebrate those flowers and microclimates like you would a vineyard and varietals with winemaking."
Mace first started playing around with meads as a homebrewer during college. "To be honest, I wasn't terribly satisfied with it when I was approaching it from a brewing perspective." 
It wasn't until he got a job at the Walla Walla winery Dunham Cellars that he found another way to approach his mead making. The winemaker at Dunham taught Mace how to do a cold fermentation on white wine and he began to apply the same concepts to mead. "It instantly improved it," Mace said.
The business plan came next in 2009 and a year later Mace and his wife, Minnie, found the future tasting room location.
A mead tasting bar in tiny four-block historic downtown Dayton may sound like a dubious recipe, but for Mace it was perfect. He and his wife bought a house in the small farming town about five years ago. Mace was working in Walla Walla and the housing prices there were out of reach.
They have fallen in love with the town since. Although tiny and often missed by those on the way to Walla Walla, Dayton has three fine dining restaurants, including the venerable Patit Creek, Manila Bay Café and The Weinhard Café. Microbrewery Skye Book & Brew is along the main drag and the well-regarded Monteillet Fromagerie is just outside of town.
"It kind of just made sense to do something out there, so we wouldn't be thrown into the mix with a hundred other wineries like in Walla Walla," Mace said. "We stand out a little bit more in Dayton."
Although few knew what to expect from the mead, local residents and area travelers have been open to trying a new wine, he said.
"There wasn't much basis for people knowing what it is. Most people have never tried it before," Mace said. "Although there is a small handful of homebrewers and hobby winemakers around here who have played around with it themselves." 
Shortly after opening, Mace said they began experimenting with cocktails made with mead, rather than spirits – which also drew people curious about the concoctions.
"We've had a lot of fun with those," Mace said. "We come up with new ones all the time and we have fun naming them."
They added a few recently that have a political flair – including a Yerba mate iced tea cocktail called Yerbama 2012. The new jalapeño and pink grapefruit mead cocktail is called the Pinko.
Right now, the most popular drink is one inspired by the classic caipirinha cocktail called Brazilian Girl (recipe follows).
Mace Mead Works offers two meads right now – a semi-sweet and a dry – which sell for about $20 per bottle. Each batch is labeled with details about the honey used and the finished wines weigh in at about 9 to 10 percent alcohol by volume. They have been growing with demand and make about 50 cases each month.
To control the sweetness and flavors of the meads, Mace said he ferments each batch dry and then sweetens them with fresh honey to finish the wines. "I'm always trying to make a balanced wine, whether I'm using honey or grapes. It's really important that whenever you're using sugar as part of the flavor, the residual sugar, whether that is sugar from riesling grapes or from honey, it is always really important to have a balance with the acids and make sure that they don't mask all of the aromas."
Mace also makes red wines under a second label that are available at the Dayton tasting room. He recently released his three 2009 wines – syrah, carmenere and petit verdot – under the label The Mortal Vintner. Those wines sell for $42 to $47 per bottle.
Making mead, Mace said, embodies much of his personal philosophy by supporting local agriculture, craft and environmentalism.
"By buying honey directly from a beekeeper, I know everything about that honey and I know where it came from and I know that those bees that produced that honey are playing a very important role in supporting our local economy," he said.
Local journalism is essential.
Give directly to The Spokesman-Review's Northwest Passages community forums series -- which helps to offset the costs of several reporter and editor positions at the newspaper -- by using the easy options below. Gifts processed in this system are not tax deductible, but are predominately used to help meet the local financial requirements needed to receive national matching-grant funds.
Subscribe to the Spokane7 email newsletter
Get the day's top entertainment headlines delivered to your inbox every morning.
---