A&E > Food
Deep fall flavors
Pumpkin bread or muffins batter works well with fruit, nut, chocolate add-ins
Wed., Oct. 17, 2012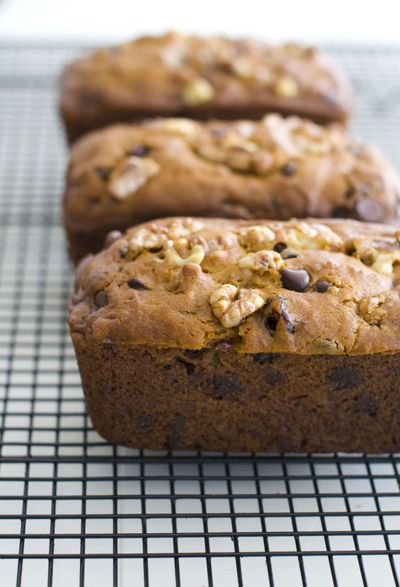 For me, nothing signifies the end of summer as poetically and viscerally as seeing pumpkins in a patch. One look at that field and I start salivating for all of my favorite pumpkin dishes.
I love the earthy simplicity of pumpkin pie. And I feel like a pioneer when I wash the seeds that I have taken out of my carved pumpkin and roast them. No surprise, but that was always my favorite part of carving a pumpkin when I was a kid! Pumpkin and sage also dress up cheese grits this time of year, and I've even added pumpkin to chili. But I never thought of adding chocolate to pumpkin until last year.
For some reason, I became obsessed with baking chocolate pumpkin bread and asked everyone I knew if they had a good recipe. I was looking for a dense quick bread with a deep pumpkin flavor that could stand up to lots of add-ins. I love slicing a loaf of bread and seeing the cross-section of fruit and nuts and chocolate.
After I tried a few that were less than stellar, I mentioned my quest to an industry friend, who gave me a pumpkin muffin recipe that turned out to be excellent. I adapted it to make pumpkin bread, but you could easily use my version for muffins, as well. It is an oil-based quick bread and I use untoasted walnut oil, but you can use any neutral vegetable oil.
I also reduced the sugar a bit and added light brown sugar and extra spices to give the loaf a deeper flavor that would stand up to the dark chocolate chips and walnuts that I used. When I make this bread closer to Thanksgiving, I add dried cranberries for a seasonal touch, but the bread also is good with the addition of golden raisins and dried cherries.
Finally, I decorate the top of the bread with whole walnut halves or a layer of chopped walnuts. I love the look and the texture of this extra touch. It dresses up a simple loaf of quick bread and gives it a rustic, homemade but professional presentation.
A note about pumpkin – I have tried every type of pumpkin, from roasting my own and making puree to testing all of the brands out there. I will never roast a pumpkin for baking again. The pulp was watery and did not have that concentrated flavor I love. I also suggest staying away from pumpkin pie "filling." I prefer Libby's pure pumpkin puree.
Pumpkin Bread with Dark Chocolate and Walnuts
4 eggs
3/4 cup granulated sugar
3/4 cup packed light brown sugar
15-ounce can pureed pumpkin
1 1/4 cups walnut oil (not toasted)
3 cups all-purpose flour
2 teaspoons baking soda
2 teaspoons baking powder
1 generous teaspoon cinnamon
1 teaspoon table salt
1/4 teaspoon ground dry ginger
1/4 teaspoon nutmeg
2 cups dark chocolate chips
2 cups lightly toasted walnuts, plus more for decorating the top
1 cup dried cranberries (optional)
Heat the oven to 350 degrees. Coat two standard loaf pans with baking spray.
In a large bowl, beat together the eggs, both sugars, pumpkin and oil until smooth. In a second bowl, whisk together the flour, baking soda, baking powder, cinnamon, salt, ginger and nutmeg. Add the dry ingredients to the wet and mix well. Fold in the chocolate chips, walnuts and cranberries, if using.
Fill each of the prepared loaf pans about three-quarters full with batter. Drop each on the counter a few times to release any air bubbles. Sprinkle additional walnuts over the top of each loaf, using your hand to gently press them into the batter. Place the pans on a baking sheet to make it easier to pull out of the hot oven.
Bake for 50 to 60 minutes, or until a toothpick inserted at the center of each loaf comes out clean. Let cool for at least 1 hour before slicing into thick chunks.
Yield: 2 loaves, 16 slices
Approximate nutrition per serving: 590 calories, 36 grams fat (8 grams saturated, 54 percent total fat calories), 9 grams protein, 64 grams carbohydrate, 39 grams sugar, 45 milligrams cholesterol, 5 grams dietary fiber, 390 milligrams sodium.
Local journalism is essential.
Give directly to The Spokesman-Review's Northwest Passages community forums series -- which helps to offset the costs of several reporter and editor positions at the newspaper -- by using the easy options below. Gifts processed in this system are not tax deductible, but are predominately used to help meet the local financial requirements needed to receive national matching-grant funds.
Subscribe to the Spokane7 email newsletter
Get the day's top entertainment headlines delivered to your inbox every morning.
---