A&E > Food
For Padrtas, the Bridge for now, future
Wed., July 31, 2013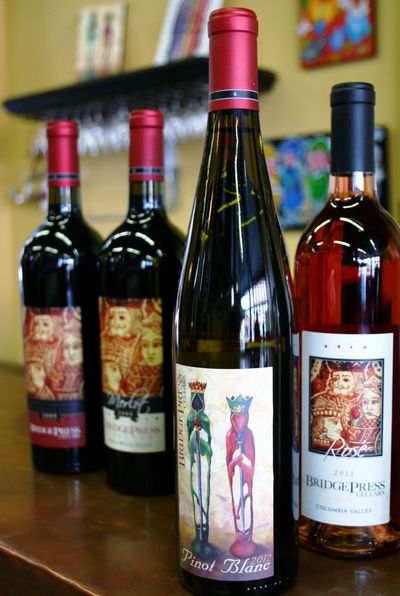 Bridge Press Cellars opened in 2009 with the immediate distinction of being the state's 600th winery.
In the four years since, both the industry and Melody and Brian Padrta's small winery have grown. Washington state now has more than 750 wineries and 350 wine grape growers. At Bridge Press Cellars, the Padrtas have expanded from reds made exclusively from Walla Walla Valley grapes into new terroir, including the rehabilitation of an old building near the corner of Pacific and Browne into a winemaking and tasting room they share with partners Mark and Valerie Wilkerson of Emvy Cellars.
We sat down with the Padrtas at the new facility to talk about the beginning of Bridge Press Cellars and the future.
SR: How did Bridge Press Cellars begin?
Melody Padrta: It was 2009 when we went after our winery license and I was very surprised when the wine commissioner personally gave me a call stating that we were the 600th winery in Washington State. He did a phone interview with us and we were very excited about it. We actually did one of our blends as the Bridge Press 600 to represent Washington state and have had recognition from L.A. to New York in the newspaper.
SR: How did you get started? Were you making wines at home?
Brian Padrta: Our first vintage was in 2005 and we started by purchasing a ton of grapes from Seven Hills Vineyard. Michael Manz who was the winemaker for Mountain Dome helped me make the first two vintages – 2005 and 2006 – before he unfortunately passed away. Then, his brother John Mueller and I took a few classes down at Walla Walla Community College and since then we've just been learning as we go along.
SR: How many wines did you make that first year?
Brian Padrta: At that time, we made wine through the license of Grande Ronde (Cellars). We did 125 cases of cabernet and in 2006 we did cabernet, and then in 2007 we added a merlot. Since then, we've added a red blend, a rosé, a pinot blanc and a Riesling. This was the first year we did a Riesling.
SR: When you started, you were making wines at the Mountain Dome facility. Did you plan to always make wines there? Or, did you intend to get big enough to need a place of your own?
Brian Padrta: I'm a doctor and we didn't really plan to take quite so much time making wine, but it kind of evolved into a bigger operation, like it often does for a lot of people. But we still are pretty small. We still only make right around a 1,000 cases each year.
SR: When did you start looking around for a new facility? Did you always intend to buy and rehabilitate an old building?
Melody Padrta: After Don Townshend bought Mountain Dome, he needed the space there because he has a lot of wines and we had to find a new home. We already had the Marketplace Wine Bar across the parking lot, but knew that we needed to figure out what we were going to do next. Then, this building became available. It was almost two years ago that we purchased this and have been working on it ever since. We did our first production here last fall.
SR: When you first came over to look at this place what did you think?
Melody Padrta: I thought, "Oh my gosh, this is awful."
SR: What was it like?
Melody Padrta: Mark and Val Wilkerson, our winemaking partners from Emvy Cellars, came over to look at it with us. The only saving grace was the second floor. We figured, "OK, that is a beautiful space, maybe something can be done on the main floor and basement." It was pretty cut up and filthy.
Brian Padrta: It had been about 15 years since anyone had been in here.
SR: What is up there?
Melody Padrta: It is a potential events center – 7,000 square feet, has its own stage, original maple hardwood floors … There is a view of the Clocktower and (Riverfront Park) Pavilion from up there. It was the only clean part of the place … well, kinda.
Brian Padrta: We wanted to rehab a building in downtown, both us and Emvy. It was a goal to bring an old building back.
SR: Have you refurbished the second floor as well.
Melody Padrta: We haven't done anything yet. We actually have it up for lease right now. We hope to partner with a wedding planner, event coordinator or a caterer, or something. There is a potential for a kitchen up there. There is actually an old Wolf Jr. stove up there right now.
SR: I'll bet you found some treasures in here?
Brian Padrta: We've actually been able to incorporate some of the things we found. There was an old fire door downstairs that now serves as the door to the case storage area.
Melody Padrta: At one time, there was a printing company here and this humongous paper cutter is in here. There was no elevator in the building, so when they vacated the building I'm sure they didn't want to carry that back up the stairs. I don't even know how they got it down there. Or, the Wolf stove upstairs. I'd be interested to know how that made it up there.
SR: What is the history of the building?
Brian Padrta: It was the meeting hall for the Foresters of America. They were a fraternal organization of foresters in the early 1900s. The building was started in 1900 and finished in 1905 … They used it as their meeting hall.
Melody Padrta: They had their facility on the upper level and then there are three bays here on the main floor that they leased out. They had their own private entrance to get in up there. They had the building until 1949 when they lost their liquor license and had to move elsewhere. We don't know why.
Brian Padrta: At one time, it was also a USO club. Then in the 1980s, it was a punk rock club called the Grotto. I think that was the last thing that was up there.
Melody Padrta: I think there may have been a couple of dance instructors who used the ballroom upstairs after that.
SR: You're partners with Mark and Valerie Wilkerson of Emvy Cellars in the facility. Do you also make wines together?
Brian Padrta: We use some of the same grape sources and I'm the primary winemaker for Bridge Press Cellars. Mark Wilkerson and John Mueller do the winemaking for Emvy Cellars, but we do a lot of things together for production like racking and some of the everyday work.
The wines are kept separately in the barrels and blended separately.
SR: Where are the wine grapes for Bridge Press Cellars grown?
Brian Padrta: That was the original focus of our whole program. We really wanted to develop the unique expression of Walla Walla terroir … We think Walla Walla fruit is great to balance power and elegance for very age-worthy wines. We want to make fruit-forward wines, with good structure and focus on acidity to make them very food friendly.
We source all of our grapes out of Walla Walla. We use three vineyards: Seven Hills Vineyard, which gives us a really lush, red fruit with a little less tannin and a little more feminine character. Our other primary vineyard is Pepper Bridge Vineyard, a little bit darker fruit. It gives us more structure in the wine, more masculine. And then XL Vineyard is sort of somewhere in the middle.
And then, we source our pinot blanc grapes out of the Willamette Valley, out of Dundee (Ore.), which are really known for their pinot noir and pinot blanc grapes.
SR: When did you decide to add some whites to the portfolio? What made you expand beyond red wines?
Brian Padrta: In 2010. We realized we needed more wines to run this place and people were asking for them.
Brian Padrta: We like pinot blanc because not a lot of people in Spokane are doing it. It is really a nice food wine (with) nice acidity and a nice minerality.
SR: Will you stay committed to Walla Walla for your red grapes?
Brian Padrta: We are thinking of expanding our cabernet out into Red Mountain fruit. We want to increase the structure of the wine. We may do that this year.
SR: You also make a rosé?
Brian Padrta: One of the ways to increase the structure and mouthfeel of the reds is to do a what is called "saignée method" which is where you pour off about 15 percent of the juice the morning after we crush and that increases the complexity of the remaining red wine, but also gives you a rosé. The first few years we threw it away, and then somebody told us we could make rosé with it. The first rosé we made was in 2008.
It has been one of our bestsellers. We don't make a lot of it, just between 50 and 75 cases depending on the harvest. It is made primarily from merlot and cabernet franc grapes.
SR: You added a Riesling this year, right?
Brian Padrta: Yes. We found those grapes in the Columbia Valley. We just released it. That is the nice thing about white wines, you can get those out fast.
Melody Padrta: Some of our customers are hesitant to try the Riesling because they are expecting it to be very sweet, but ours is off-dry and it has a little bit of lemon meringue and a little acidity
SR: Do you have plans to expand the business?
Brian Padrta: We're really limited with time. Space is no longer an issue. Right now, we sell out essentially everything we make and we'd kind of like to keep it that way. We might get a little bigger with this new location but we like to focus more on quality rather than quantity.
Local journalism is essential.
Give directly to The Spokesman-Review's Northwest Passages community forums series -- which helps to offset the costs of several reporter and editor positions at the newspaper -- by using the easy options below. Gifts processed in this system are not tax deductible, but are predominately used to help meet the local financial requirements needed to receive national matching-grant funds.
Subscribe to the Spokane7 email newsletter
Get the day's top entertainment headlines delivered to your inbox every morning.
---