A&E > Food
Farrow's 'Pumpkin' goes beyond the classics
Wed., Oct. 29, 2014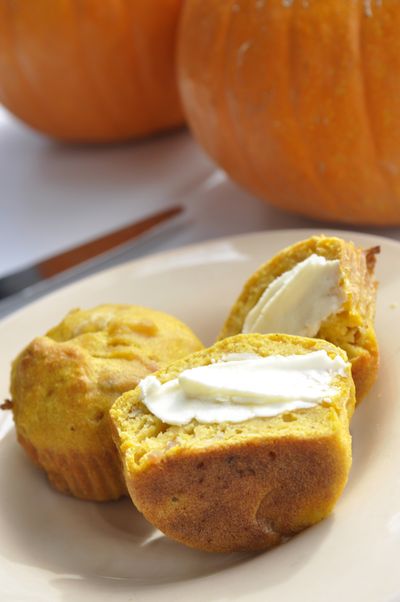 Quick look: More than 40 pumpkin recipes are packed into this slim volume, which declares the key ingredient to be "not just for Halloween and Thanksgiving."
What's inside: There are classics like toasted pumpkin seeds and pumpkin pie. But look for pleasantly unexpected pairings, too – like swordfish and pumpkin penne, pumpkin gnocchi with chili butter, and prosciutto-wrapped pumpkin wedges – which just might inspire home cooks to come up with their own pumpkin flavor combinations.
The introduction offers a brief history of pumpkins as well as tips for selecting and storing them, nutritional information, and making and storing your own pumpkin puree. After that, the book is divided by appetizers, snacks and sides; lunch and dinner; baking; and sweet treats and desserts.
For starters, there's pumpkin and apple soup, mashed pumpkin and potatoes, pumpkin and beet ravioli, and pumpkin oven fries. Meals include pumpkin and pine nut risotto, beef and pumpkin curry, and a pumpkin, ricotta and spinach tart.
The baking chapter includes a pumpkin and orange drizzle cake, a layered pumpkin and banana teabread, and bacon and pumpkin muffins. On the sweet side, there's pumpkin meringue pie, pumpkin amaretti cheesecake, and rhubarb, ginger and pumpkin crumble.
Recipes are easy to follow, and most are accompanied by color photos. They also include cooking and prep times as well as serving sizes.
What's not: While some recipes are naturally gluten-free, this book doesn't offer alternatives for those that aren't.
Look below for the recipe for bacon and pumpkin muffins.
Bacon and Pumpkin Muffins
From "Pumpkin" by Joanna Farrow
These savory snacks are easy to make and require few ingredients, many of which home cooks likely have on hand.
The recipe creator no doubt decided to leave out salt because of the smoked bacon, but my taste-testers found the muffins a bit bland. If I make them again, I would add ½ teaspoon of salt to the batter and bake them with grated sharp cheddar on top for added flavor.
It's best to use fresh pumpkin; when I substituted canned puree, my taste-testers found the muffins to be a bit lacking in pumpkin flavor.
1/4 cup olive oil
1 large onion, finely chopped
4 ounces smoked bacon, diced
2 cups self-rising flour
1/2 cornmeal or fine polenta
2 teaspoons baking powder
10 ounces pumpkin, peeled, seeded and finely grated
3 eggs
1 cup milk
Line a 12-cup muffin pan with paper muffin cups. Heat oil in skillet and sauté onion and bacon for 5 minutes until lightly browned. Sift flour, cornmeal and baking powder into a large mixing bowl. Stir in onion, bacon and grated pumpkin. Beat eggs with milk and add to bowl. Mix until just combined. Divide mixture among the paper cups and bake in preheated oven at 400 degrees for 20 to 25 minutes or until risen, golden and just firm. Transfer to a wire to cool. Serve buttered.
Tip: As a variation, omit the bacon and add ½ teaspoon chili powder when sifting the dry ingredients.
Yield: 12
Local journalism is essential.
Give directly to The Spokesman-Review's Northwest Passages community forums series -- which helps to offset the costs of several reporter and editor positions at the newspaper -- by using the easy options below. Gifts processed in this system are not tax deductible, but are predominately used to help meet the local financial requirements needed to receive national matching-grant funds.
Subscribe to the Spokane7 email newsletter
Get the day's top entertainment headlines delivered to your inbox every morning.
---