A&E > Food
Salsas supply summer flexibility
Wed., July 8, 2015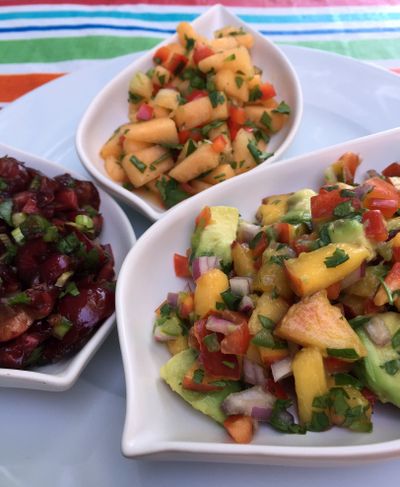 There's no need to fire up the stove in this heat. Why cook, when you can chop?
Summer salsas take some prep work, but the result is a tasty, refreshing mixture versatile enough to scoop with chips, top grilled salmon fillets or dress up chicken or pork. Salsas make a great substitute for salad dressings, too.
I love tropical fruit salsas, but at this time of year you can save on the food miles those mangoes and pineapple must travel by choosing locally grown fruits for your salsa instead. Peaches, nectarines, melon, cherries and berries all make delicious salsas. Choose the perfectly ripe fruits from the local farmers markets for the best flavor.
Let your family or friends help with the chopping, and these mixtures come together fast. They are forgiving, so don't be afraid to substitute ingredients if you don't have something on hand or if you need to turn down the heat.
Lemon juice easily substitutes for lime, for example. If serrano chilies are too spicy for your family or guests, try a jalapeño instead. Don't have green onions on hand? Try a sweet onion instead.
Since they are made from fresh fruits, vegetables and herbs, they will appeal to anyone. Just take care when you choose how to serve them to consider your gluten-free, vegan or vegetarian family members and friends.
Here is a trio of recipes to help you get started. We served the nectarine and avocado salsa on grilled tilapia for a delicious take on fish tacos. The recipe author suggests serving it on grilled chicken kebabs seasoned with lime juice, chili powder and garlic.
The cherry salsa was divine on salmon, but would be equally delicious on pork or chicken.
Chef and cookbook author Mark Miller suggests serving his melon salsa on empanadas, grilled tuna or cold shellfish.
The truth is, these salsas are equally delicious and versatile. And, in this heat, no one would blame you if you just served homemade salsa and chips for dinner.
Nectarine Salsa
From Cooking Light , www.cookinglight.com
2 cups diced nectarine (about 3)
1/2 cup diced red bell pepper
1/4 cup thinly sliced red onion
2 tablespoons fresh cilantro leaves
1 1/2 tablespoons fresh lime juice
2 teaspoons minced seeded jalapeño pepper
1/4 teaspoon kosher salt
1/2 cup diced peeled avocado
Combine nectarines and next 6 ingredients (through ¼ teaspoon salt) in a bowl. Gently stir in avocado.
Yield: 6 to 8 servings
Cherry Salsa
From the Food Network, www.foodnetwork.com
4 cups cherries, stemmed, pitted, and chopped
8 green onions, chopped
1 cup chopped fresh cilantro leaves
1/4 cup lemon juice
1 jalapeno pepper, chopped
1 clove garlic, chopped
Mix all ingredients in a medium bowl until combined.
Yield: 6 to 8 servings
Melon Salsa
From "Coyote Café" by Mark Miller
1 ripe cantaloupe (about 2 pounds)
1/2 sweet red pepper, seeded
2 serrano chilies, finely minced
2 tablespoons finely chopped cilantro
1 tablespoon unseasoned rice vinegar
Juice of 1 lime
Sugar, to taste
Cut melon and red pepper into ¼-inch dice. Combine with chilies, cilantro, vinegar and lime juice. Add sugar, if necessary. Let sit for 30 minutes in refrigerator before serving. This recipes should be used the same day it is made.
Yield: 2 ½ cups
Local journalism is essential.
Give directly to The Spokesman-Review's Northwest Passages community forums series -- which helps to offset the costs of several reporter and editor positions at the newspaper -- by using the easy options below. Gifts processed in this system are not tax deductible, but are predominately used to help meet the local financial requirements needed to receive national matching-grant funds.
Subscribe to the Spokane7 email newsletter
Get the day's top entertainment headlines delivered to your inbox every morning.
---