A&E > Entertainment
Bennidito's delivers classic combination
Beer made in-house at second pizzeria location
Fri., July 10, 2015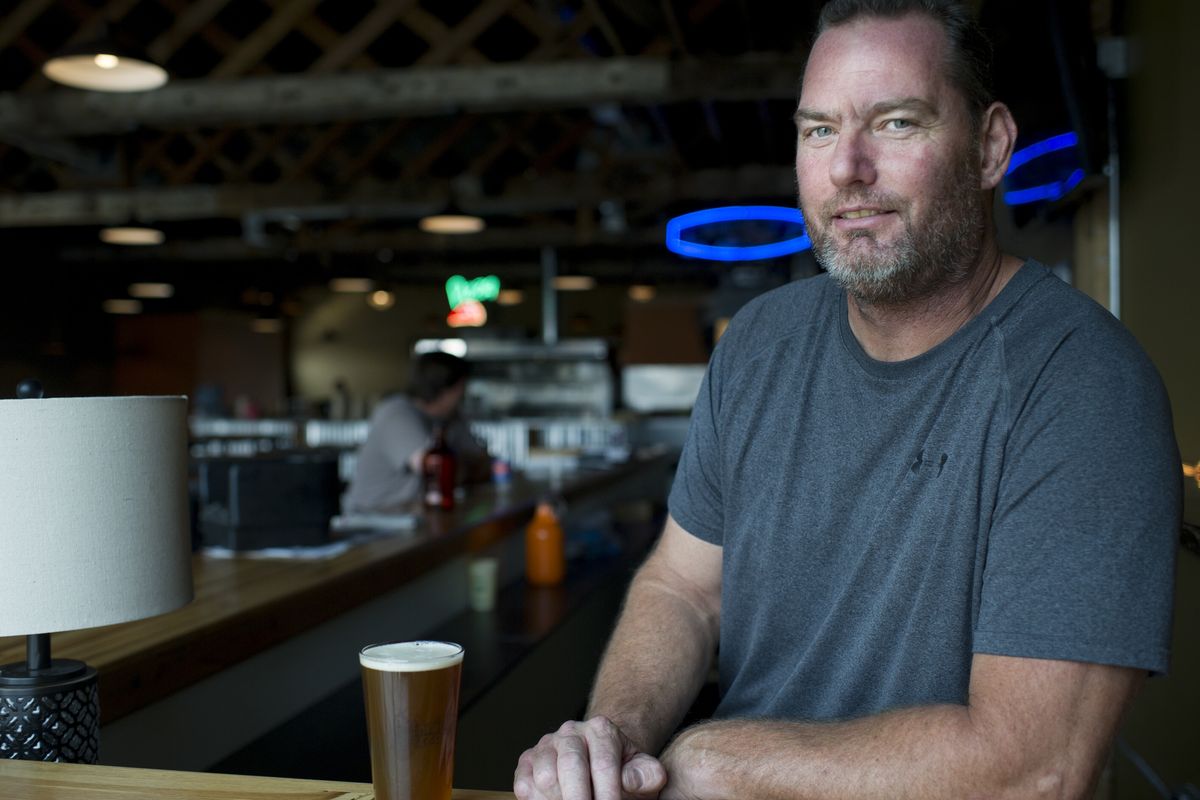 Chris Bennett, owner of Bennidito's Pizza, poses for a photo at his new Bennidito's Brewpub at 1909 E. Sprague Ave. in Spokane. (Tyler Tjomsland)
Now you can get a homemade pint from Bennidito's along with your pie.
Bennidito's Brewpub, an offshoot of the popular South Hill pizza place, opened Wednesday on East Sprague Avenue with an in-house brewery that will serve both restaurants.
Owner Chris Bennett, known for a quality beer selection on his original location's 10 taps, has long wanted to open his own brewery. The plan gained steam when he got to know one of his customers, Zach Shaw, who had brewed commercially in Northern California.
Bennett bought a used 10-barrel system from Seattle's Schooner Exact three years ago and thought he had a location lined up in the Garland District, but that fell through. Instead, he landed at a pair of buildings on Sprague just west of Napa refurbished by Dave and Cody Coombs, who also developed the Perry Street Brewing space.
A smaller cinder block structure that once was the BJ Motors auto showroom houses the brewery. Across a secluded courtyard, the pub occupies the former Honeycutt Real Estate quarters (originally a grocery store), with its high, open-beam ceilings, wood floor and large windows looking out onto Sprague.
"It just feels like a brewpub," said Bennett, who likes being located centrally between downtown, the Perry district and the Valley.
The city also plans a focused redevelopment project in the area similar to what was done on South Perry, with new sidewalks, streetlights and drainage.
When the street work is done, likely next year, Bennett plans to install sprinklers allowing him to increase the brewpub's seating capacity above the current 99 people and 18 tables (compared with 25 at the similarly sized South Hill location).
The décor is a combination of recycled materials from the site, other repurposed items – the tables were made from railroad pallets – and leftovers from the former North Side Bennidito's. Old signs from the real estate operation and the rest of the neighborhood adorn the walls.
Bennett also is collecting historic Spokane brewery photos to display, from the olden days of Schade and Bohemian to the more recent likes of Fort Spokane and Birkebeiner.
Shaw – who as co-owner of the short-lived Pacific Hop Exchange was part of the '90s Bay Area brewing scene that spawned such breweries as Lagunitas and Russian River – is taking a bit of an old-school approach with the beers.
"A few of us first-generation guys are talking about getting back to basics, lowering the alcohol, bringing the IBUs down a little bit, having a completely balanced product," he said.
"You still get a mouthful of hops, but you don't get a mouthful of alcohol. How many 8 percent beers can you drink?"
Initial offerings include a fairly malty, nicely flavorful IPA (5.8 percent alcohol by volume, 65 International Bitterness Units) hopped with Columbus, Cascade, Chinook and Mosaic, and a Checkerboard Pale (5.2, 40) which will also be on tap at that neighborhood watering hole.
There's also a small-batch single-hop pale featuring fruity, piney Zythos. Future styles will include a traditional Irish stout reflecting Shaw's heritage, and a brown ale that's the basis for the whiskey he wants to someday distill.
Bennett would like to eventually have half the pub's 12 beer taps (one nitro) filled with house-brewed offerings. There are another four taps for wine, two white and two red.
Along with pizza (slices available all day), the menu features both hot and cold sandwiches made with meats smoked in-house as well as salads.
The full kitchen sets Bennidito's apart from most local brewpubs. "A lot of breweries are scared to death to get into the food business, but you sell a lot more beer if you have food," Bennett said.
Down the road, he hopes to brew some collaboration beers with other breweries he's gotten to know, while Shaw talks of a cycling club (he's an avid rider) and events with area home brewers.
Blackbird flies
Speaking of spinoffs, Manito Tap House's new sister establishment, the Blackbird, has opened in the historic Broadview Dairy building at 905 N. Washington St. (former home of Caterina Winery).
It's a bit more upscale than Manito, from the wood-fired grill and smoker that turn out much of the Southern-accented menu, to the chic black-and-gray color scheme accented by plenty of wood and other reclaimed materials (each of the red plastic chairs is fashioned from 111 recycled Coke bottles).
The carefully selected contents of the 34 taps (compared with 50 at Manito) are digitally displayed above generic black and white handles. But where the Blackbird really shines is its cellared bottle selection – more than 100 varieties so far and growing, centering around barrel-aged, Belgian and sour styles.
Two of the draft selections are served straight from the cellar at a proper 45 degrees for bigger beers (look for Goose Island's much-ballyhooed Bourbon County Stout any day now).
There's seating for around 100 people both inside (plus two banquet/meeting rooms) and on the spacious patio. Hours are Tuesday through Friday from 11 a.m. to 11 p.m., Saturday and Sunday starting at 8 a.m. for breakfast, with Mondays to be added later.
Freshly tapped
• Cheney's New Boundary Brewing has debuted its Horizon IPA (6 ABV, 83 IBU), hopped with Centennial, Cascade and Amarillo.
• The latest limited-release lager from Orlison is the Asian-inspired Toasted Dragon (4.9, 35), brewed with lime, basil, ginger and Szechaun peppercorn for a bit of a spicy kick. It's available in the brewery's first 22-ounce bottles, while the three best-sellers from the regular lineup – Clem's Gold, Havanuther pilsner and India Pale Lager – are switching to 12-ounce cans from the previous 16-ouncers.
Save the date
• Top Frog Brewing in Newport celebrates its second anniversary on July 18 from 1 to 8 p.m. with live music, food and 10 beers on tap, including four new ones: a wheat, red ale, Oktoberfest and Sour Jack Rye aged in whiskey barrels.
This story was changed on July 11, 2015 to correct an error. The original version of this report gave the incorrect location for Top Frog Brewing.
Local journalism is essential.
Give directly to The Spokesman-Review's Northwest Passages community forums series -- which helps to offset the costs of several reporter and editor positions at the newspaper -- by using the easy options below. Gifts processed in this system are not tax deductible, but are predominately used to help meet the local financial requirements needed to receive national matching-grant funds.
Subscribe to the Spokane7 email newsletter
Get the day's top entertainment headlines delivered to your inbox every morning.
---